Improvement Kata/Coaching Kata Remotely
Develop Scientific Thinking, the Foundation of Lean Management in the 21st Century
The ability to reach goals consistently and profitably amid obstacles and changing business needs is critical to your success, your team's, and the organization as a whole. The key is to develop a way for you and your team to dependably and quickly navigate the challenges and uncertainties standing between where the organization is now and your objectives.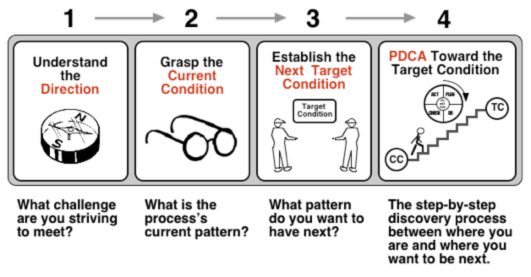 In this online workshop, you'll learn how to use the Improvement Kata, a practical and proven method to systematically navigate that "gray zone" between the current state and your target.
Then, in the Coaching Kata portion of the training, you'll learn an effective way to teach the method to your team, so they achieve goals that appear beyond their reach. Dealing successfully with the challenges and uncertainties in the "gray zone" is a key to creating a company culture based on continuous improvement where people, coached by their managers, make daily improvements based on the scientific method of plan, do, check, act (PDCA).
"Kata" – a term for daily practice routines borrowed from Japanese martial arts – is so powerful because it's a practical business technique for applying (PDCA) in rapid cycles. It's a methodical and shared way of working and working together toward objectives. Instead of arguing over "my idea versus your idea," you and team members have a conversation about what will be your next experiment/your next learning step and how to run it quickly.
Schedule:
Topic

Activity

Week 1:

Week 2:

Session 1

Oct 25
11am-1:30pm

Introduction – Improvement Kata/Coaching Kata

Participate in an introductory experiential for the routines of the Improvement Kata and Coaching Kata .

Session 2

Oct 26
11am-1:30pm

Kata roles in developing scientific thinking in a learning organization.

Examine organizations practicing Kata and the relationship to the achievement of Hoshin Kanri, Policy Deployment and/or Planning Goals and Objectives.

Session 3

Oct 27
11am-1:30pm

Improvement Kata Routines – Understanding the Challenge and Grasping the Current Condition

Practice the routines on a real process brought to you via video.

Session 4

Oct 28
11am-1:30pm

Improvement Kata Routines – Establishing a Target Condition and Developing a Target Condition Mindset

Practice the routines on a real process brought to you via video.

Session 5

Nov 1
11am-1:30pm

Improvement Kata Routines – Recognizing Obstacles and Experimenting to Overcome them through PDCA Cycles

Practice the routines on a real process brought to you via video.

Session 6

Nov 2
11am-1:30pm

Coaching Kata Routine – Practice Routines

Practice the routines on a real process brought to you via video.

Session 7

Nov 3
11am-1:30pm

Building Coaching Capability and Capacity Throughout an Organization

Examine your organization's expanding Kata practice across your organizations.

Session 8

Nov 4
11am-1:30pm

Recap of the Improvement Kata/Coaching Kata and the link to deliberate practice driving towards an adaptive mindset and culture of innovation

Examine the impact of Kata in an organization's culture; developing the willingness and ability to take on tougher and tougher objectives in ever-increasing challenging environments.
What You Will Learn:
How to intentionally practice the routines of the Improvement Kata to develop scientific thinking in yourself.

How to intentionally practice the routines of the Coaching Kata to develop scientific thinking in others.

A proven way to expand effective coaching across your organization to develop scientific thinking and a culture of adaptiveness and innovation.

How to practice and coach scientific thinking, the foundation of lean management in the 21st Century

Plus, you'll learn and practice with a Kata Master Coach, who has over 12 years experience teaching, implementing, and coaching the Kata method at organizations around the world.
Who Will Benefit:
Leaders who want clarity about what their management teams should do to gain a competitive advantage in today's markets through innovation, adaptability, and continuous improvement.

Human resource and organizational design professionals charged with leadership development who want to involve more people in continuous improvement, adaptation, and innovation.

Value-stream mappers who want a systematic way of really achieving their future-state design goals.

Managers who want to lead and manage more effectively in today's challenging environment.

Teams of three or four people from the same organization learning and practicing the Improvement Kata and Coaching Kata together.
Recommeded Reading:
Toyota Kata Managing People for Improvement Adaptiveness and Superior Results
---
Sign up to be notified about additional offerings of this workshop
Bring this workshop to your company with On-Site Training Learn more »
---
Cancelation Policy
You can cancel your registration for online/live-streaming workshops at any time prior to the first workshop session for a full refund. Once you have attended a workshop session, you cannot cancel your registration. To cancel please call LEI at (617) 871-2900.