Explore the process that's foundational to assuring every individual becomes engaged by arming them with methods they can use to overcome obstacles and improve their work process.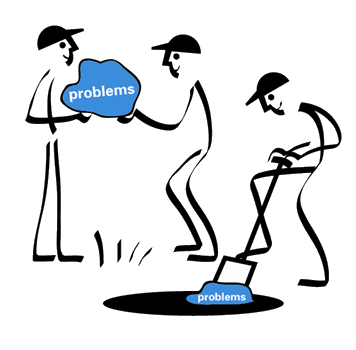 Overcoming obstacles to achieve or elevate a standard 
In a lean management system, everyone is engaged in ongoing problem-solving that is guided by two characteristics:
Everything described or claimed should be based on verifiable facts, not assumptions and interpretations. 
Problem-solving is never-ending; that is, it begins rather than ends when an improvement plan is implemented. The implementation process is a learning opportunity to discover how to make progress toward the target condition. 
Lean thinkers & practitioners understand that the problem-solving process is impeded if you make the common mistake of mechanically reaching for a familiar or favorite problem-solving methodology or, worse, jump quickly to a solution. 
Leaders and teams avoid this trap by recognizing that most business problems fall into four categories, each requiring different thought processes, improvement methods, and management cadences.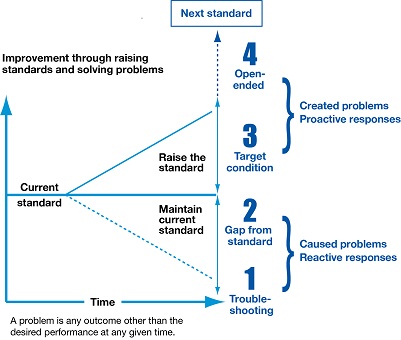 The Four Types of Problems
Type 1: Troubleshooting: reactive problem-solving that hinges upon rapidly returning abnormal conditions to known standards. It provides some immediate relief but does not address the root cause.
Type 2: Gap from Standard: structured problem-solving that focuses on defining the problem, setting goals, analyzing the root cause, and establishing countermeasures, checks, standards, and follow-up activities. The aim is to prevent the problem from recurring by eliminating its underlying causes.
Type 3: Target Condition: continuous improvement (kaizen) that goes beyond existing standards of performance. It may utilize existing methods in new, creative ways to deliver superior value or performance toward a new target state of improvement.
Type 4: Open-ended: innovative problem-solving based on creativity, synthesis, and recognition of opportunity. It establishes new norms that often entail unexpected products, processes, systems, or value for the customer well beyond current levels.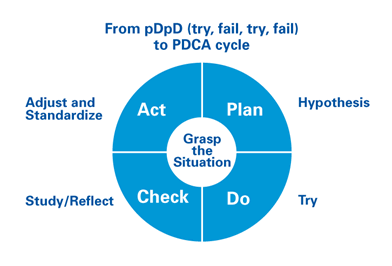 By helping everyone in the organization to understand the importance of taking ownership of seeing and solving all types of problems, lean thinking & practice:
Engenders a sense of empowerment and autonomy in all workers, which in turn promotes engagement in and ownership of the work process
Enables organizations to overcome obstacles at their source, so they do not become more significant problems upstream
Ultimately, building a problem-solving culture creates a competitive advantage that is difficult for competitors to match.