The Lean Transformation Framework
What is the Lean Transformation Framework?
The Lean Transformation Framework is a proven, systematic approach to resolving problems at every level of the enterprise, from executive-level strategy to frontline operations. Whether you lead an established organization or a startup, you can use the Framework to address any troubling issue by answering its five questions. The questions guide you through the fundamental questions of purpose, process, and people, which will help you to identify solutions that align with all three.
After decades of practical, hands-on lean practice, lean practitioners now understand that the best way to learn about lean transformation is by improving some element of a work process. Moreover, the lean community discovered that this improvement process requires asking the questions that LEI incorporated into the Lean Transformation Framework.
They are as follows:
What is the value-driven purpose? Or what is the problem to solve?
What is the work to be done (to solve the problem)?
What capabilities are required (to do the work to solve the problem?)
What management system — operating system and leadership behaviors — is required?
What basic thinking, including mindsets and assumptions, are required by the organization as a purpose-driven socio-technical system?
These questions are fractal — meaning that the same questions apply whether working at the macro enterprise level or the level of individual responsibility. So anyone at any level of enterprise — from the CEO to the frontline supervisor — can use the Framework.
When using the Framework, it's vital to understand how each question — and answer — relates to the others to maintain momentum toward achieving transformation.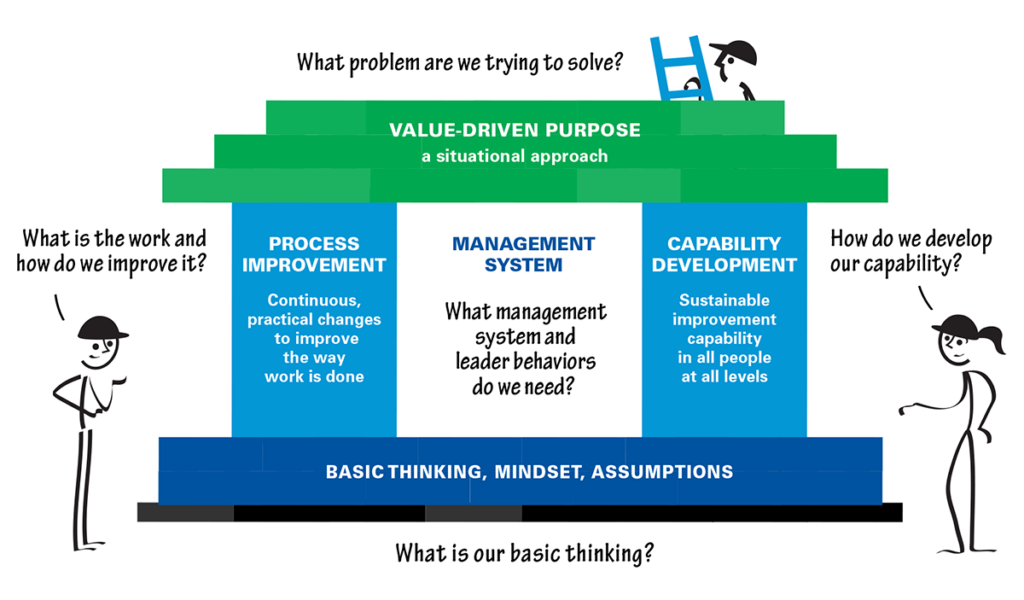 Here's a little more detail about each question.
What problem are we trying to solve?
This question clarifies whether you've clearly defined your organization's True North or value-driven purpose. If you make headphones, for example, have you specified your value proposition from your customer's viewpoint in terms of quality, cost, and lead time?
Then, what is your current situation versus that target? For example, if you make custom headphones to order and it takes one month to deliver, but your customers expect delivery in two weeks, that gap becomes your problem to solve.
What is the work, and how do we improve it?
Based on a quarter century of practical experience, LEI believes organizations must focus on improving the frontline work to resolve business problems and, ultimately, achieve their organizational purpose. So to solve the business problem clarified in Question 1, the Framework calls for closely analyzing, describing, and breaking down the work process to determine how to improve it.
In the headphones example, you'd go to the gemba, where the work of producing the headphones occurs, to study the work and ask: What, in the work process itself, is preventing us from achieving our objective of a two-week lead time? Is it design? Production? Logistics? Something supplier-related? Of course, you'd use lean practices and tools proven to help answer these questions, such as value-stream mapping, standardized work, A3 problem-solving, and others.
How do we develop our capability?
Once we clarify the problem to be solved and the work-process improvements that will resolve it, we often find that we cannot make the necessary changes with our current capabilities. Continuing with our example, we may require new design, production, or logistics capabilities to improve the lead time to deliver our headphones in two weeks.
Furthermore, a natural part of a lean transformation is developing the capability to transform. Across the organization, how capable of solving problems and continuously improving is each individual? Have we specified the skills we need and a plan to help everyone develop them?
What management system and leader behaviors do we need?
As we develop our people's capability of improving their work processes, we will encounter problems in the management system. Discovering this is a natural by-product of this type of development. Issues with the management system often relate to how the organization is structured or leadership practices and behaviors. For example, if we want everyone to be capable problem solvers, what organizational structure is needed to build this competence? How do leaders at every level connect to the day-to-day work at the gemba? How does communication and review of the work occur daily, weekly, monthly, or annually to confirm we are achieving our objectives and to allow management to step in and offer support as needed? And what leadership behaviors are necessary to ensure that problems are quickly surfaced and resolved?
What is our basic thinking?
The final Framework question helps identify the fundamental thinking or mindset behind our lean transformation. While the example we've laid out may seem straightforward, it's clear that one of our basic assumptions in taking lead time from four weeks to two is that, as a business, we will first and foremost focus our work on fulfilling the customer's needs. And if you follow that same logic through our set of questions, you'll see that another part of our basic thinking is that we will focus on increasing the value-added work. Also, we will show respect for the people doing the work by ensuring that every step of their work process adds value for the customer. So, as these few examples show, the answer to Question 5 becomes clear as we work through the transformation process by improving the work.
You can think through any given problem at any level in the organization using this set of five questions. Give it a Try!