Training Within Industry (TWI)
Training Within Industry (TWI) was a series of training programs developed during WWII enabling U.S. companies to hire and train huge numbers of new workers to replace those who had gone to war.
TWI had three main training programs, collectively referred to as "J" programs:
Job Instruction taught supervisors and experienced workers how to teach people how to do work with reduced defects, less scrap and rework, fewer accidents and less tool and equipment damage.
Job Methods taught workers to make improvements methodically by making the best use of people, machines, and materials to produce greater quantities of quality products in less time.
Job Relations taught supervisors how to handle people problems effectively and fairly by gathering facts, weighing them, making a decision, taking action, and checking results.
While TWI concepts were forgotten in the U.S. amidst post-war prosperity, struggling Japanese companies, including Toyota, adopted them. In fact, TWI's Job Instruction program is still the primary training tool used by Toyota's team leaders worldwide. In recent years, a TWI revival movement has appeared in the U.S. and other countries.
TWI Job Instruction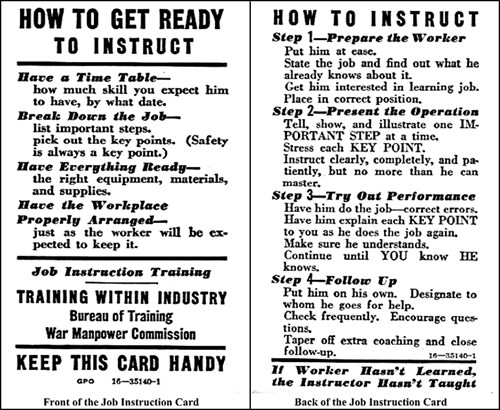 Job Instruction is a four-step method that teaches an individual how to do a job correctly, safely, and consistently while meeting all requirements. The four steps are:
Prepare the worker
Present the job
Try out the job
Follow-up
The training experience includes seeing the job, hearing the job described, trying the job (hands-on) immediately, describing the job, and being supported until fully competent. The worker benefits by gaining competence quickly. Companies see an increase in quality and productivity.
The trainer relies on a set of notes, if you will, called a "Job Breakdown Sheet." This template breaks the job down into "Important Steps," "Key Points," and "Reasons Why." This information is shared with the worker a little bit at a time, at an appropriate pace for the individual. I've heard this described as "layering" or "just-in-time" training.
Templates and Cards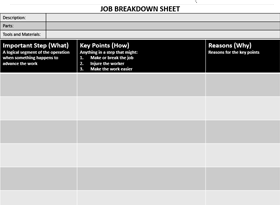 Job Breakdown Sheet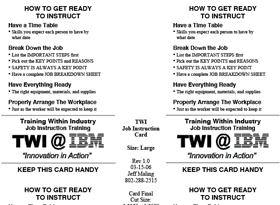 TWI Job Instruction Card
TWI Job Relations Card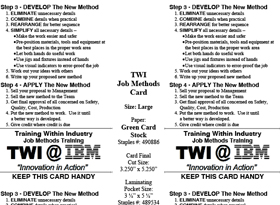 TWI Job Methods Card
Additional Resources on TWI