A few steps from the Stonybrook T station in the Jamaica Plain neighborhood of Boston is Community Servings, a nonprofit organization that delivers roughly 2,000 meals, mostly to critically ill individuals, within the greater Boston area per day. Founded in 1989 to serve individuals living with HIV/AIDS, Community Servings now serves clients battling 35 different types of illnesses. Upon entering the main building, just after passing the words "Delivering meals, delivering hope" above the door, one quickly gets the sense this is not your average food bank. This place feels more like a high-powered community organization and well-oiled machine, and in many ways it is both.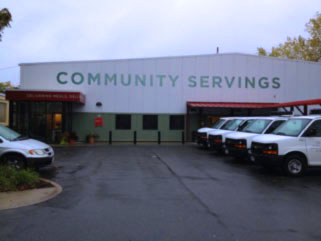 What makes Community Servings unique?
Once a small nonprofit, Community Servings has become a regional nutrition program serving individuals in 18 cities and towns throughout Massachusetts
Since relocating in 2007, the organization has its own social enterprise arm serving prepared meals to local schools and nonprofits, which brings in over 400K annually
Staff run nutrition and nutrition therapy programs for individuals and nonprofits and host monthly nutrition talks open to community members
Community Servings welcomes and trains 1,500 volunteers per month, who together donate 4,500 hours of labor per month (the equivalent of 30 full-time employees)
The organization just wrapped up its annual Pie-in-the-Sky fundraiser over the Thanksgiving holiday. Community Servings partnered with car-sharing company ZipCar this year to make it even easier for people to volunteer and deliver pies throughout the Boston area
For more information about Community Servings, visit servings.org
With ties to Boston's business and philanthropic communities and partnerships with local schools and recidivism programs, even its own social enterprise arm, this organization plays a crucial role in the city's ecosystem, not just the lives of its clients. Take one look at the kitchen, just how many things are going on at once, and it becomes clear that this team has complex production and delivery processes to manage every day. Like any organization though, people struggle to minimize, or better yet eliminate, errors that happen along the way. Leadership struggles with day-to-day challenges alongside looming questions about long-term sustainability.
In an ideal world, a charitable organization like Community Servings wouldn't have to worry about such things; "food insecurity" and poverty wouldn't exist, so there would be no need for such work to be done. But the facts remain. As of 2011, 10% of Massachusetts families were food insecure. These households either went hungry or didn't have enough to eat. Ninety five percent of Community Servings' clients live below or just above the poverty line. All are unable to cook or shop for themselves and most critically ill individuals—those living with HIV/AIDS, cancer, multiple sclerosis, or kidney failure, for example—have very specific nutritional needs. It's not enough to make reasonably nutritious food available, these people require specially prepared meals in order to enjoy a certain quality of life and in some cases, to stay alive.
"A lot of people talk about hunger, but we're actually doing something about it," Executive Chef Tim Williams says. "I've worked with food my whole life, I'm formally trained, I've worked internationally, and I think about food totally differently now. People need help out there, people are hurting. Food insecurity is real."
As a result of their good work, Community Servings receives roughly 1 million per year in corporate and foundation grants. They are now planning to expand operations. CEO David Waters and Chef Tim Williams know they have a responsibility to not only continue delivering on the Community Servings mission as operations grow and evolve, but to do so in the most efficient and effective way possible. In this case, having efficient organizational and production processes isn't just good business; it means this organization's money (and its donors' money) goes farther toward feeding more people.
At the Lean Enterprise Institute (LEI), our partner organizations usually come to us, or a learning relationship develops over time due to an interest in lean thinking and practice on the part of the partner. In the case of Community Servings, our newest partner, the learning relationship has evolved differently.
We first heard about this organization's good work through President of Lean Enterprise Partners Dave Logozzo, and then we reached out to Community Servings with an idea. Might our summer interns Jikku Mohan and Olivia Talman, a graduate student at UMass-Amherst's Isenberg School of Management and a Boston University undergraduate student respectively, volunteer as part of their learning engagement with LEI? Mohan and Talman would do the regular work of Community Servings volunteers while applying lean thinking to what they observed of organizational processes, receiving guidance from LEI coaches Mark Reich and Danielle Blais. In the fall, Blais would take lead on a more formal learning partnership between the two organizations. Community Servings welcomed the engagement, and in July 2012, both teams dove into the work.
According to LEI COO John O'Donnell, "For most of us, offering support to community organizations means volunteering time or making a donation, both vitally important gifts. With this partnership, however, LEI provides another, different type of support: methods to help community-based organizations work smarter. We can help organizations work more efficiently by eliminating waste, increasing safety, reducing costs, and raising customer satisfaction. When we share this knowledge, we help nonprofits make more effective use of two precious resources: volunteer time and donor funds." David Waters agrees and thinks of the partnership this way: "Community Servings is both a nonprofit social service agency and a small manufacturing business. As the latter, our challenges and operations are no different than any other company applying lean principles."
This is part 1of the Community Servings story. In part 2 of this story, we focus our attention on the work of identifying the organizational need, the real business problem and opportunity Community Servings aims to address with some assistance from LEI. Read on to learn more about the work people do every day at Community Servings and the community need, this holiday season and all year long.
Read part 2 of the Community Servings story »