Cries echoed as thousands of people fled the rising plume of lightning and volcanic ash cast miles into the Caribbean air in April of 2021. La Soufrière volcano had erupted on the main island of St. Vincent and the Grenadines, eclipsing the sun. Its toxic powdery residue blanketed the streets, city infrastructure, and homes of those evacuating to safety, causing roofs to cave in and walls to buckle under its weight. When residents returned, many found their homes destroyed and their lives inundated by ash. In fact, according to the UN Development Programme's post-disaster needs assessment, the eruption resulted in 41,216 damaged homes, of which 3,240 were moderately and 104 were severely damaged. In total, the damage to private property was estimated at XCD 263.5 million (UNDP, 2021). As of August 2022, more than 3,000 of those homes still need repairs.

One of those homes belongs to Vernette and Ken, whose roof collapsed inward from the weight of the ash, bowing the block walls outward from the stress, burying most of their home and personal belongings. Despite their best efforts to recover and provide a safe place for their family, the eruption's effect on the island worsened. Then, one night while in a deep sleep, a mudslide dislodged a large boulder that tumbled down the mountainside and collided with the back of their already severely damaged home. Now ten months later, Vernette and Ken are staying in a friend's home, with little to no predictability of when they will ever be able to return to their own home and regain their livelihoods. Yet, through it all, Vernette remains optimistic. "I'm grateful for the support we have received," she shared, "but I long for peace of mind…to sleep and stay dry from the rain in my own bed." 

When Andy Stofleth, executive director of SBP Caribbean Region, considered how SBP could best assist in ash disposal for the island, he asked a brilliant question: What if the problem could be part of the solution? From the back of his mind came the memory of a video he had watched several months prior. It described how the Ancient Romans used volcanic ash as a key ingredient in their concrete mixes due to the strength of its binding properties. Roman architects used this concrete to build many seawalls and even the Roman Colosseum, which has stood the test of time for nearly 2,000 years. Perhaps SBP could use this ancient Roman process to rebuild the structures that the ash had damaged, saving significant disposal and building materials costs in lieu of trucking and shipping the ash away from the impacted communities.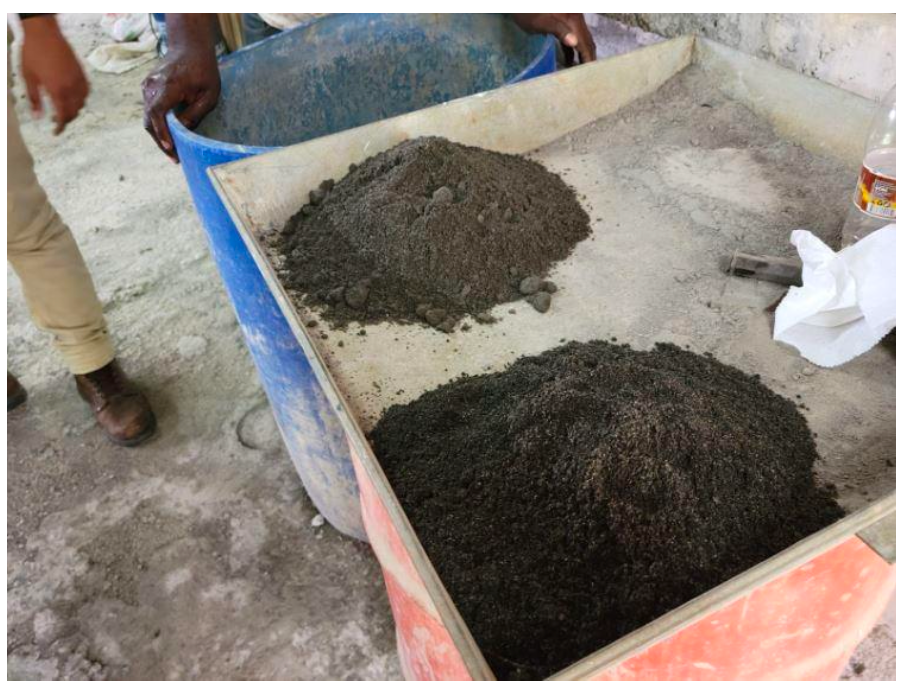 In June 2021, Andy met with the government's Roads, Buildings and General Services Authority to discuss his concept. The government authority was open to Andy's idea because of the high demand for affordable building materials on the island. Their engineers soon tested the volcanic ash in various mix designs to determine what ash ratio they could include without compromising the compressive strength of the blocks. 
Early testing determined that volcanic ash could replace up to 15% of the cement in the 1:5 cement ratio of traditional cinder blocks without any loss of strength. That's 15% less cement needed to be purchased and shipped overseas, significantly reducing the carbon footprint of our material. So, block producers could use this ash as a cheap and abundant additive to increase volume and reduce the cost per block.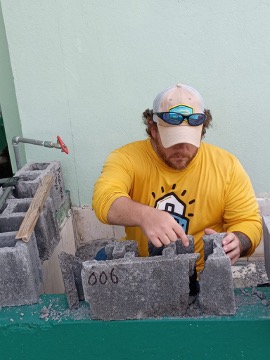 After validating the proof of concept and identifying immense demand, SBP received funding for a four-month pilot program to produce 160,000 blocks in partnership with the government of Saint Vincent and the Grenadines. Together they began working to collect volcanic ash cleaned from roads and infrastructure nearby the impacted northern communities. 
To date, 100,000 cubic yards of volcanic ash have been cleared, collected, and piled through this initiative. In October 2022, SBP began using a portable block-making machine and hiring local laborers from the impacted communities to produce concrete blocks near the ash collection sites. These blocks meet building code requirements, are more affordable, and are ultimately more carbon friendly. SBP will use the concrete blocks produced by this initiative to build affordable housing and rebuild partially damaged homes for vulnerable families displaced by the volcanic eruption. The pilot program will support 64 home repairs and rebuilds. Pending receipt of additional funding, Phase II will create 160,000 more blocks for houses, schools, and clinics.

SBP incorporates many of the best practices from our major partners. For example, SBP's continuous improvement model, based on the Toyota Production System, has guided our operations toward building a predictable approach to reconstruction and finding and eliminating waste in the process. UPS, another one of our strongest partners, shaped our shipping warehouses. With the rising cost of disasters, it's important that we adopt this continuous improvement mindset and develop systems that deliver benefits while reducing waste and creating efficiencies.
Our long-time partners at Waskey will also assist remotely in developing a quality-assurance process while providing technical consultation due to their expertise in precast concrete products. One of the Gulf South's leading producers of concrete products, Waskey's CEO David Ducote was instrumental in helping SBP establish operations in the Bahamas after Hurricane Dorian in 2019, where 500 homes have been repaired in the last three years.

Guided by our partners' expertise, this volcanic ash upcycling project creates carbon-friendly efficiencies and reduces the costs of transportation and cleanup. Ash is stockpiled near the impacted communities, and SBP brings in a portable block-making machine, producing blocks nearby the community to be rebuilt. This approach is not only incredibly cost-saving but also reduces the carbon footprint of the cement's journey to the island and the transporting of ash away from the impacted communities.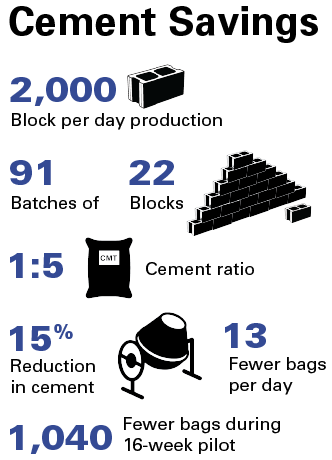 By starting locally, this pilot program will allow SBP to create an open-source guide for other governments and humanitarian agencies to follow during post-disaster recovery. As SBP tests this model at scale, it demonstrates an effective solution to a significant post-disaster problem. There are 1,300+ active volcanoes around the world where governments, NGOs, and businesses may one day replicate this process, reducing carbon emissions caused by the cleanup, all while saving millions of dollars in construction costs. 
By resurrecting this ancient but applicable innovation, Andy has implemented a cost-saving and carbon-reducing solution to the ash problem that also improves the resiliency of homes. It is an innovative, replicable, and scalable project that drives so many compelling wins. With the help of our key partners, he's reducing costs and shipping, creating local jobs, getting people home sooner, and, importantly, adding to community resilience. 
Phase II of the St. Vincent and the Grenadines Ash Block Project will begin once $1.248M in additional funding is secured. If you would like to donate and help families return home following the La Soufrière volcanic eruption, click here.
---
References
La Soufrière Volcanic Eruption Sector Reports. SAINT VINCENT AND THE GRENADINES. UNDP, 2021.