Value Stream Mapping
Value-stream mapping (VSM) is diagraming every step involved in the material and information flows needed to bring a product from order to delivery.
Value-stream maps can be drawn for different points in time as a way to raise consciousness of opportunities for improvement (see illustrations below). A current-state map follows a product's path from order to delivery to determine the current conditions. A future state map deploys the opportunities for improvement identified in the current-state map to achieve a higher level of performance at some future point.
In some cases, it may be appropriate to draw an ideal-state map showing the opportunities for improvement by employing all known lean methods including right-sized tools and value-stream compression.
Watch an Introduction
Current and Future State Example Maps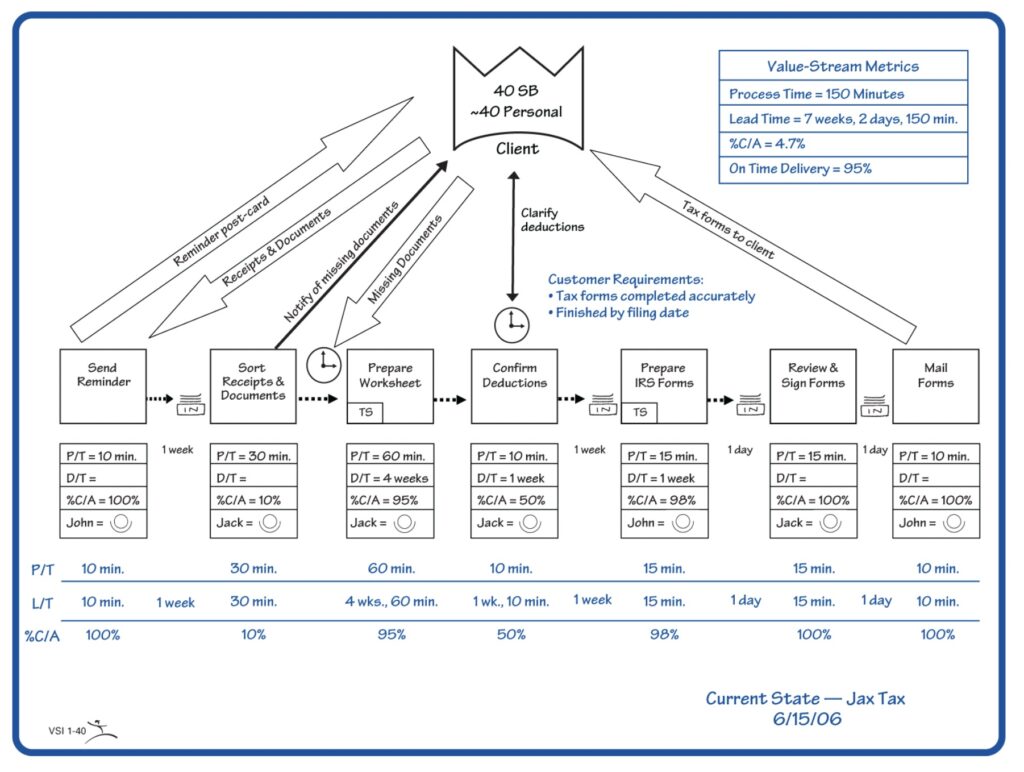 Value-Stream Map Zones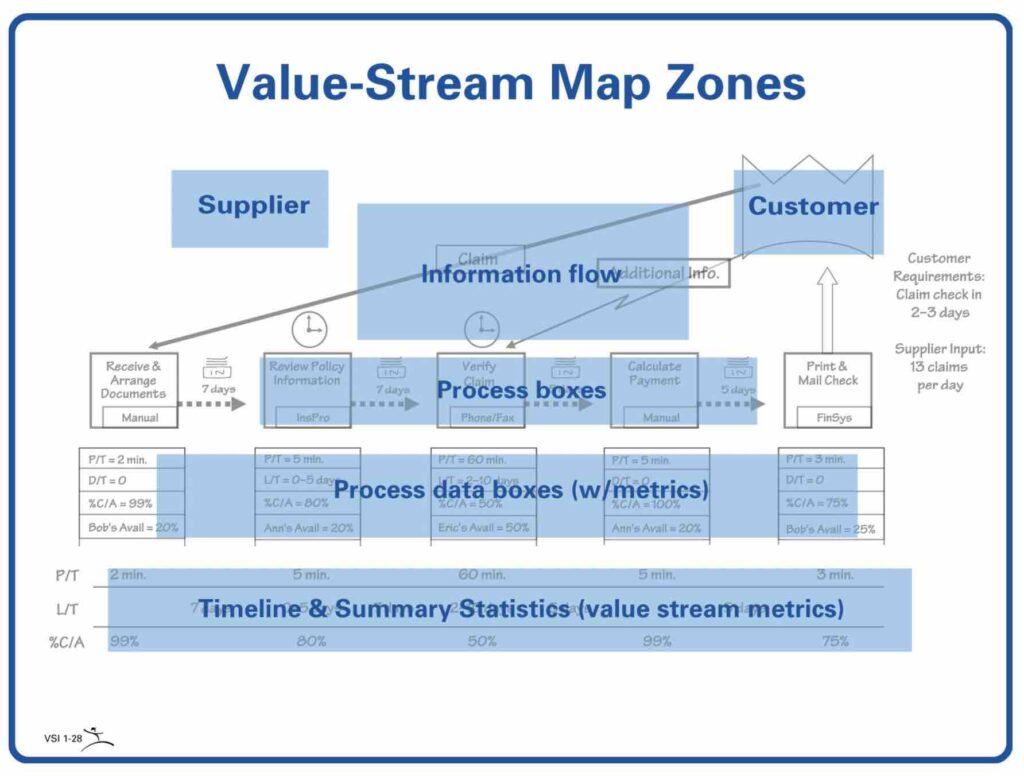 Learning to See Workbook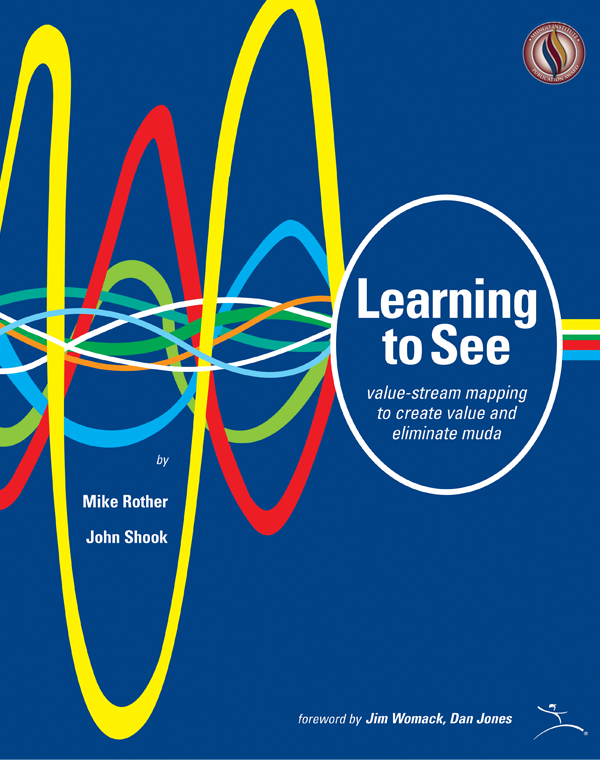 Learning to See
Value-stream maps are the blueprints for lean transformations and Learning to See is an easy-to-read, step-by-step instruction manual that teaches this valuable tool to anyone, regardless of his or her background.
This groundbreaking workbook breaks down the important concepts of mapping into an easily grasped format. The workbook, a Shingo Research Prize recipient in 1999, is filled with actual maps, as well as engaging diagrams and illustrations.
Having a perfectly drawn current state map is not the point. The main intention of current state mapping is going through the process of trying to understand the dock-to-dock flow.
Why Value-Stream Mapping Is an Essential Tool
It helps you visualize more than just the single-process level. You can see the flow.
It helps you see more than waste. Mapping helps you see the sources of waste in your value stream.
It provides a common language for talking about a process.
It makes the decisions about flow apparent, so you can discuss them. Otherwise, many decisions and details just happen by default.
It forms the basis of an implementation plan. By helping you design how the whole "door-to-door" flow should operate, value-stream maps become a blueprint for lean implementation. Imagine trying to build a house without a blueprint!
It shows the linkage between material flow and information flow. No other tool does this.
Where to Start
Select a product family
Have one person personally lead the mapping effort
Begin at the "door-to-door" level to capture the complete flow
Consider both the material flow and information flow
Value-Stream Mapping versus Process Mapping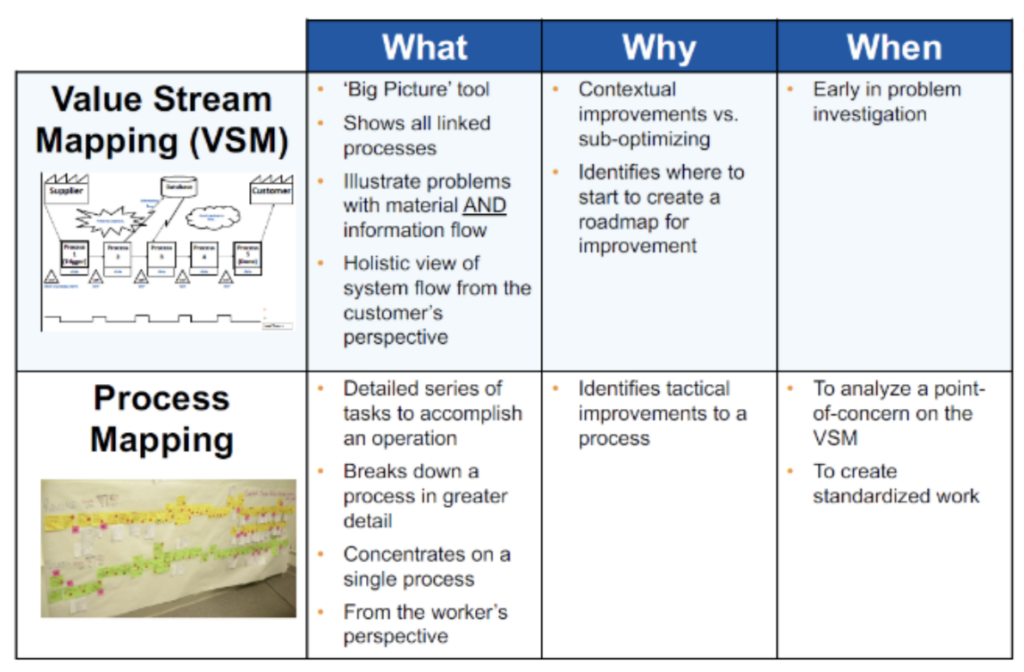 Examples across Industries
Top 5 Articles
Download value-stream mapping icons