Chief architects for lean transformation have been seeking effective ways of realizing tangible gains for years. That's why our global team of lean coaches designed their research for our recently published white paper, "Five Guiding Principles to Transform Healthcare," with a goal of seeing patterns across countries and organizations. Such patterns, we believe, will help chief architects accelerate their lean transformation at any level or stage of work.
When we launched this study, we suspected that we had a common point of view, given that all of us use the lean transformation framework in our coaching work, which grounds us in common thinking and approaches. And the more that we explored how each of us applied our thinking and approach to the current situation at eight healthcare organizations in five countries, the more that we started to document what we thought were similar patterns of thinking and behavior. These became the five guiding principles that healthcare (or any, for that matter) organizations can follow to speed up the development of the lean capabilities they need to transform themselves.
Because we did not approach this work from a singular perspective, we were able to step back and see patterns that we might have otherwise missed. Learning to study and reflect together helped us become better coaches. We had to do better and go faster. But above all we were able to formulate some clear principles to guide transformation.
As the work developed we came to call ourselves "tailors," in the sense of people who customize your clothing. We hope that the primary audience for this paper (chief architects or chief architects in training) will benefit by finding ways to customize the work they are doing based on this resource. Just as tailors will adapt material for each client's size and shape, so too will those reading this paper apply what works for them for their particular situation.
Here is a list of tips that we developed: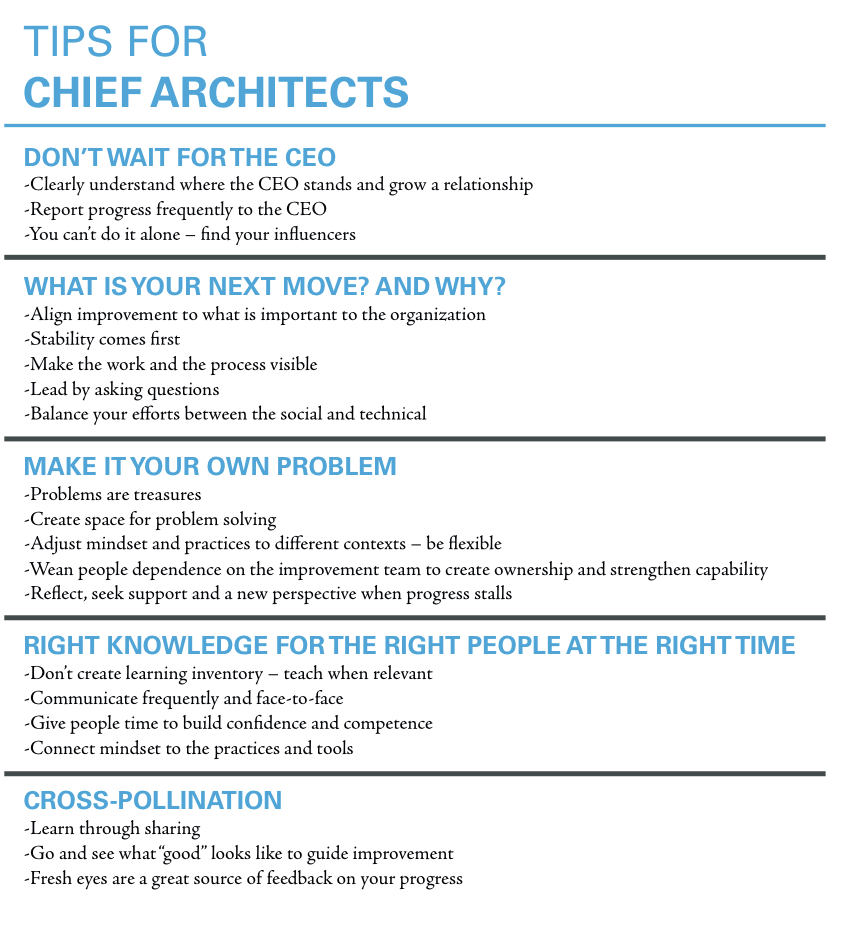 You can download a free copy of the white paper here.
Also, I expand on how the five guiding principles were developed in the WLEI podcast "5 Guiding Principles for Tailoring a Path to Lean Transformation."
Virtual Lean Learning Experience (VLX)
Subscribe to the Virtual Lean Learning Experience, a continuing education service offering the latest in lean leadership and management.