PDCA, the unassuming four-step cycle of plan-do-check-adjust, is the secret sauce of learning and improvement. This scientific method of structured problem-solving brought us the industrial revolution, chemistry, modern medicine, physics, computers, space travel, the internet and the world as it exists today. It seems quite natural that we would apply this potent tool to our work processes to address issues around flow, variability, overburden, and non-value added work.
Indeed, the PDCA mindset captures the essence of lean problem solving. By leveraging the scientific method to address problems, we pursue the goals of lean. Habitual use of this approach builds our ability to understand what our customers value, create and flow that value, and relentlessly strive to improve – all while fostering a learning culture built on respect for people and continuous improvement.
Easier said than done. A scientific mindset searches for facts by testing hypotheses, runs experiments to validate what we think we know, relentlessly uncovers new truths, and revises our thinking based on fact-based learning. It sounds easy but it is deviously tricky, because our mind assumes our current perception and understanding is accurate and we know what we are talking about!
As lean practitioners, we owe it to ourselves and to the world to honor the process, practice PDCA and engage the scientific method with deep respect and mindfulness.Here's the amazing thing: very few people actually embrace the scientific method when applying PDCA. I certainly don't mean to offend anyone here, so how can I make such a bold claim? My findings are based on over 200 A3s created by people I have coached, and on the numerous A3s I have personally developed in my formative years of lean practice. All of these examples used an A3 form to structure the PDCA thinking process, but they failed to coach the A3 owner to go deep enough to perceive actual conditions and generate anything that might be called a discovery. These attempts at problem-solving often implemented solutions that were known before the A3 was even started. They simply captured preconceived ideas on paper and declared them as lean improvements.
In Atomic Habits, author James Clear writes, "The challenge for anyone interested in making progress is to simultaneously have (1) the confidence to go after what you want, (2) the humility to accept who you are right now, and (3) the willingness to build skills that bridge the gap between 1 and 2." Before you can "accept who you are right now," you must have the ability to make that determination accurately. Not only do we need to understand and accept who we are, but also where we are. This is known as grasping the situation in lean problem-solving.
In order to grow, a person needs to clearly see the gap between where they are and where they need to be. Gaps exist in every aspect of life: our performance, capability, trust, understanding, comfort level, alignment, teamwork, leadership – the list is endless. To see these types of gaps clearly, the level of perception we're talking about requires a new degree of self-awareness, non-judgment and neutrality. If we want to "go and see" to understand and grasp the current situation deeply, we must develop greater self-awareness in ourselves, and coach others to do so as well.
To develop an ability to see what is really happening and accept things as they are is more difficult than it sounds. In fact, fewThe key element which enables us to know what is really happening versus what we think is happening is mindful self-awareness.  of us experience this degree of mindful awareness more than a few times in our lives. Think back to a moment when time seemed to stop, and you were totally absorbed in the present moment. You were all there with no distracting thoughts or mental commentary. Things appeared to be more vivid; sounds and smells felt more acute. This often happens in times of great wonder like the birth of a child and at times of great peril like a near-death experience.
The key element which enables us to know what is really happening versus what we think is happening is mindful self-awareness. The difference between these two states of mind is enormous—it is the chasm between our prejudgments and unconscious bias, and the actual facts of the situation. In PDCA problem-solving, we are taught to continually grasp the situation and reflect on where we are in the process. Each step of the way we ask questions such as: "What is happening?" "What should be happening?" "How do actual outcomes compare to my expectations?" "How do my actual behaviors compare to my intended actions?" "What surprised me?" "What can I learn from all this?"
The answers to these questions require curiosity, insight, and honest unvarnished perception of what truly exists—and not what we assume or hope is there or needs to be there. I once had a coach who called this "brutal honesty." It was brutal because we had to face the unembellished reality however painful it might be.
The key to mindful problem-solving is pausing long enough to ask questions such as:
How do we know what we know?
How much of our thinking is based on evidence?
How can we validate our understanding?
How can we be curious about what we don't know?
Seek Problem Statements Based on Curiosity
I was recently coaching a group of highly-skilled project managers who were concerned that their performance measurement system was no longer aligned with the business. They felt disconnected with the rest of the organization and believed the measures were driving wrong behaviors.
Here is an early version of their problem statement:
The current metrics system doesn't drive the right behavior resulting in the lack of problem-solving and inconsistent team behavior and focus.
The team was quick to suggest "solutions" ranging from developing new metrics to adopting whatever metrics were in use by the business. I asked them how they knew this was a problem. They responded by saying, "we are not supporting the business," "there is no alignment," and "we are not driving the right behaviors." I felt the team was caught in a loop that looked like this: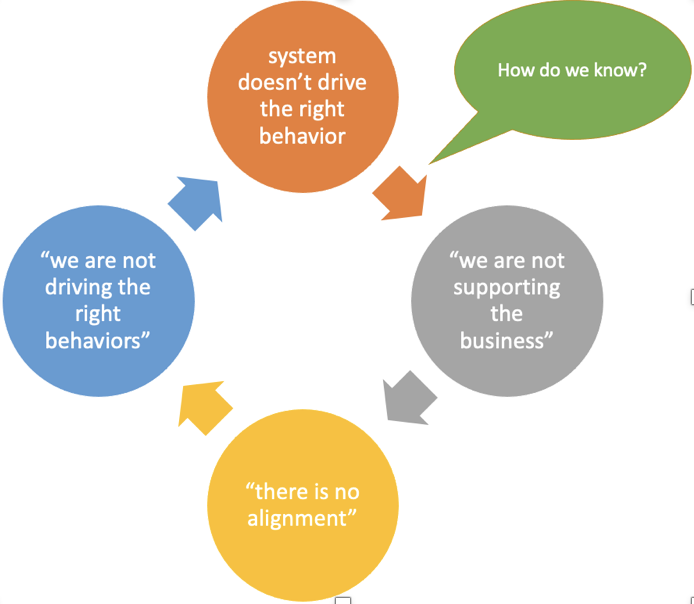 I asked the team what the impact of no support, alignment, and wrong behaviors was. They struggled for a while to answer, so I followed up with, "how do you know the impact is negative and to what degree?"
That question seems to trigger a moment of clarity as someone responded, "our project delivery metrics have been dismal for over a year!"
Another team member asked, "so are we saying that our current metrics system is causing our poor performance? If so, what can we do to prove it?"
At that moment, I could feel the collective awareness of the team shift. It was like they were all waking from a dream. They let go of the original problem statement loop they had been stuck in and moved on to the freedom of a new way of looking at the situation.
Their next problem statement was based on curiosity:
Current project delivery performance is significantly underperforming. Over the past year, our blended performance has been at a 62 while our target is 90. The business impact has shown up as late project launches, cost overruns, and lack of promised functionality. Estimated business value of this performance gap represents hundreds of manhours and as much as four million dollars annually.
Note how the team's second problem statement does not assume a cause (the metrics system) nor suggest a solution (fix the metrics system). It also focuses on a gap (blended performance metric) and not symptoms (lack of alignment and bad behavior). At this point the team is attempting to see the reality of the situation and identify what they need to learn to understand cause and effect.
If we fail to develop our self-awareness, we are sentencing ourselves to life in a prison of our own making.The current state section of the A3 is waiting for them to dive deep into the symptoms and detailed characteristics of the problem. After performing this work, the team may discover the need to modify their problem statement again. That is a good sign. Changing your belief based on new evidence and learning is a wonderful thing—and the essence of PDCA!
If we fail to develop our self-awareness, we are sentencing ourselves to life in a prison of our own making. It may be comfortable to see the world in a way that confirms our limited and current  beliefs, but this safe perspective prevents us from gaining access to the underlying truth of what is really happening. This path of comfort comes at a cost—we miss the insight, the breakthrough and the joy that comes from seeing deeply what is real and responding to the facts.
As lean practitioners, we owe it to ourselves and to the world to honor the process, practice PDCA and engage the scientific method with deep respect and mindfulness. All we need to do is pause, become aware, practice, and persist!