Jim Morgan, PhD, author, and LEI senior advisor of LPPD at the Lean Enterprise Institute, previews the six guiding principles of LPPD and explains why they are critical to the successful new product, process, and service development. Morgan developed the principles over 20 years of working with organizations–including as a product development executive at Ford, and most recently, COO of startup Rivian–to improve their product, process, and service development capabilities.
Product development is essentially about creating new value, whatever form that value might take–a service, a physical product, a process–and the impact that it can have on an organization is absolutely massive because it represents all of the value-creating activities that are ongoing in that organization. If it's fragmented, you can create silos in your organization. And it can lead to delays, cost overruns quality problems. It can do tremendous damage both to the culture of the organization and to the overall performance of the organization.
So if you're thinking about improving your product and process development system, we want to provide some guiding principle in the sense that we want to share what good looks like.
What's so powerful about lean product and process development is that it takes a systems approach to improving your development performance. It works with people, with processes, and technologies in order to optimize the overall system.
What's so powerful about lean product and process development is that it takes a systems approach to improving your development performance.
But people can become very dogmatic about their lean, which can limit their thinking, their ability to innovate, and their opportunity to make these principles their own.
These principles have evolved over 20-some years of working with organizations on their product development capability. And in that work, we've identified six guiding principles or key characteristics of effective development systems.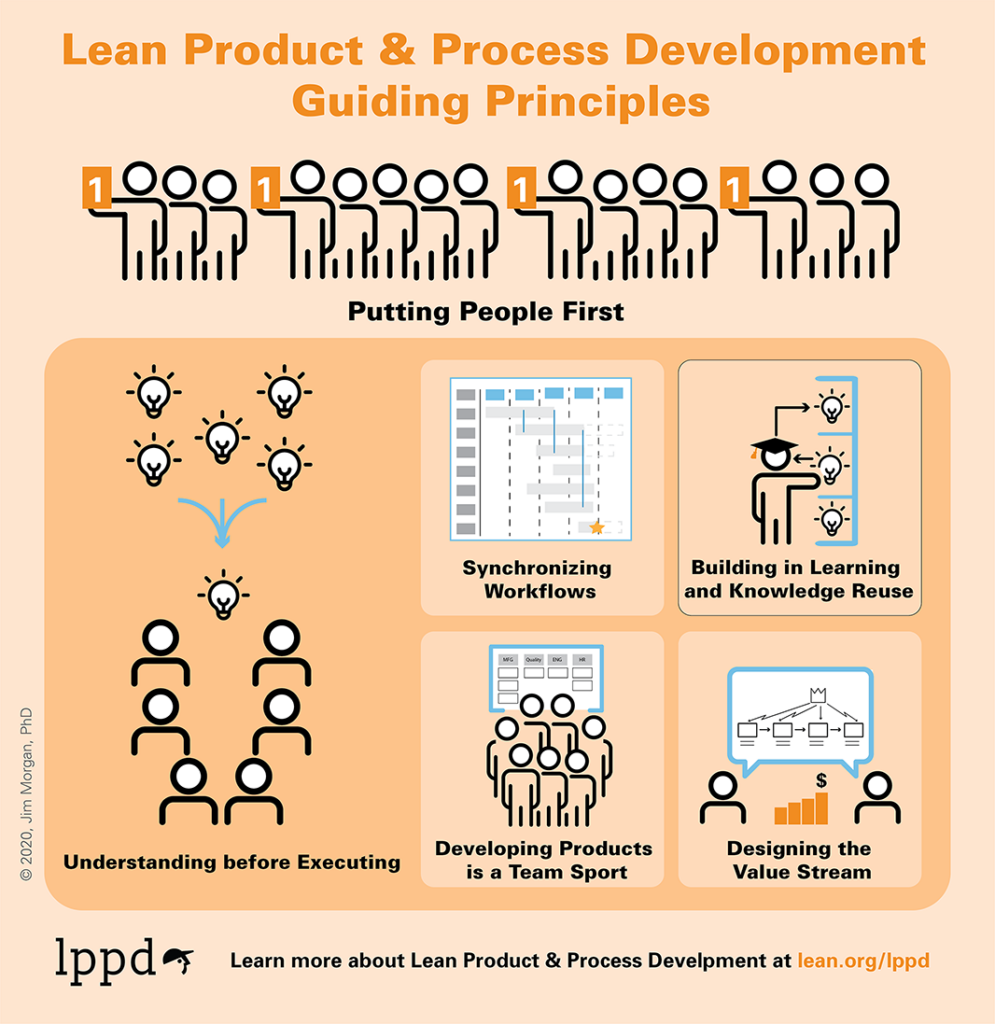 Putting People First: Organizing your development system and using lean practices to support people to reach their full potential and perform their best sets up your organization to develop great products and services your customers will love.
Understanding before Executing: Taking the time to understand your customers and their context while exploring and experimenting to develop knowledge helps you discover better solutions that meet your customers' needs. 
Developing Products is a Team Sport: Leveraging a deliberate process and supporting practices to engage team members across the enterprise from initial ideas to delivery ensures that you maximize value creation.
Synchronizing Workflows: Organizing and managing the work concurrently to maximize the utility of incomplete yet stable data enables you to achieve flow across the enterprise and reduce time to market.
Building in Learning and Knowledge Reuse: Creating a development system that encourages rapid learning, reuses existing knowledge, and captures new knowledge to make it easier to use in the future helps you build a long-term competitive advantage. 
Designing the Value Stream: Making trade-offs and decisions throughout the development cycle through a lens of what best supports the success of the future delivery value stream will improve its operational performance.
These principles have been successfully applied to a wide variety of industries from automotive to sub-sea to consumer electronics, appliances, heavy equipment, and even a clinical process in a healthcare environment. Our aim is to continue to grow our community, to help other organizations improve their development capabilities and their work environment. So I hope you'll join us in changing the way new value is created.