When the flood waters of Hurricane Katrina receded, they uncovered tens of thousands of homes in devastated areas like St. Bernard Parish, Louisiana, that needed rebuilding. But the subsiding waters also exposed a rebuilding process that needed rethinking.
Zack Rosenburg and Liz McCartney, co-founders of the nonprofit St. Bernard Project, have been rebuilding homes damaged by Katrina since 2006 when they gave up their Washington, D.C. jobs as an attorney and teacher, respectively, and moved to work full-time rebuilding homes in the New Orleans area. With help from the Toyota Production System Support Center (TSSC), the St. Bernard Project also has transformed the work of disaster recovery by applying lean management principles.
That new process was rolled out in Joplin, Missouri, devastated by a tornado in 2011, and also is operating in New York and New Jersey towns ravaged by Superstorm Sandy in 2012. LEI recently talked to Zack about rethinking disaster recovery, the overall work of the St. Bernard Project, and how its culture changed as a result of working with TSSC.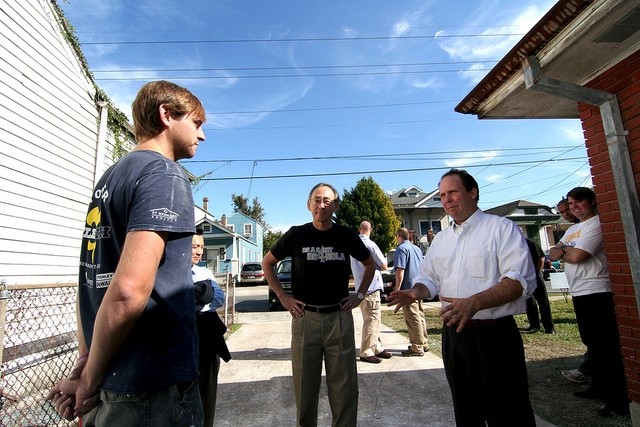 Co-founder Zack Rosenberg | Courtesy of St. Bernard Project
LEI: What is the St. Bernard Project?
Rosenburg: The St. Bernard Project exists to make sure that communities, families, and small businesses recover from disasters in a prompt, efficient, and predictable way.
LEI: How do you do that?
Rosenburg: In a number of ways. We have what we call a Disaster Resilience and Recovery Lab that we're just building out now. It's been funded by Zurich Insurance, and is supported by Toyota, UPS, and Farmers Insurance.
There are two components to the lab's work: pre-disaster and post-disaster. In pre-disaster, the notion is to work with small and midsized businesses, homeowners, and municipalities to make sure they understand and mitigate risk. We pick 15 communities every year that are at risk of disasters, and we look to change behaviors to make sure risk is understood and mitigated.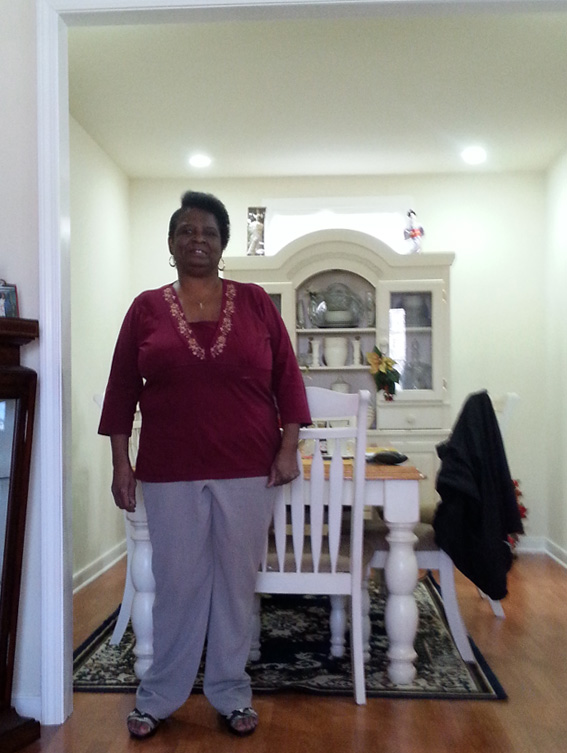 St. Bernard Project client Sylvia Henderson stands in the archway of her rebuilt home.
After a disaster, we focus on residential recovery, for the most part by rebuilding homes for families. Again, we aim for a prompt, efficient, and predicable recovery and we do it in two ways. First we what do, we rebuild houses. We just completed the recovery in Joplin, Missouri. It was supposed to take five years. We finished in three and a half. TSSC's training really was essential and sped up our production there by about 30%. Secondly, we train other organizations on how to utilize the St. Bernard Project model. We think that in America, it shouldn't matter whose line you get in for how fast your home will be rebuilt or whether your home will be rebuilt. We learned from Toyota the notion of yokoten – if you do something well, you have to share it.
We understand that for most companies in the for-profit world, you keep your trade secrets proprietary. But we think in the human-serving nonprofit world, it's really essential to train other organizations to do what we do to raise the efficacy of the disaster recovery industry. We're also building partnerships with funders who will require St. Bernard Project training before dispensing grant money to rebuilding organizations.
LEI: I just visited a woman whose home was severely damaged by Katrina in 2005. She moved back in the week before Thanksgiving last year. Basically, she said she has spent nearly 10 years arguing with insurance companies, dealing with various government or agency bureaucracies, and trying to correct shoddy work by private contractors until St. Bernard rebuilt her home. Why is Katrina recovery taking so long?
Rosenburg: Just some base facts: our waiting list at St. Bernard Project [for Katrina recovery] has over 100 clients. We're getting 15 requests for help every week. That's more than we got at this time last year. We can't see bottom. I think there are two main reasons why families aren't home. The first is that Katrina was an enormous storm. It was the largest to hit in the last 50 years.
Second, America's model of post-disaster recovery hasn't changed in 30 years. When Liz and I first came to New Orleans to volunteer for a few weeks, we saw that the traditional model of post-disaster recovery simply wasn't working. There was a fidelity to process. In other words, there was justification for doing things the way they were done because that's the way they had always been done. It takes two to three years for government money to finally hit the ground. For nonprofit groups, there's not a standardized way of doing things. There are no lessons learned or best practices.
That's why we created the lab – to take the learnings and best practices we have and share them with other organizations. In New York, we've rebuilt more than three times as many houses as any other organization –this little teeny group, started by a lawyer and a teacher, who knew nothing about construction. We and our board took that New York experience as the imperative to train other organizations.
LEI: You mentioned the association with Toyota. What did it bring to the St. Bernard Project? How do work differently now than you did before Toyota's involvement?
Rosenburg: Toyota has invested its TSSC nonprofit entity with us and taught us how to reduce our construction time by 48% from 120-something days per house to 61 days per house.
Most importantly, though Toyota did two things. One, it helped us change our identity and our culture. And second, they gave us our operating philosophy, the lens through which we see the world and how we identify and solve problems.
When we first met Toyota, we had built more houses by far than anyone in New Orleans but we were stuck; we weren't getting any better. We didn't have a culture that talked about problems. So as a prerequisite, TSSC made it clear that it needed executive level support and an organization-wide culture that cherished talking about problems. That's really where our core ethos of constructive discontent came from.
Constructive means you have to be hearable. The worst thing is for a good message or process to be assassinated or tainted with a crummy delivery, which is anything that distracts from the message, such as negative emotion or personal attack. It ensures that the listener knows the speaker means no harm, but simply wants a more productive and better result.
Second is discontent. If you don't want to get any better – if you are satisfied with results – you can't do anything differently. You can't.
But if you are not satisfied with the results, you have to change. You have to try new things; you have to innovate. Frederick Douglass said, "If there is no struggle, there is no progress." For the people who depend on our service, we have to be continually progressing but we have to be willing to struggle. We have to be discontented. It's the culture that will cause constant improvement.
LEI: We're inviting attendees at the Lean Transformation Summit conference to volunteer rebuilding homes on Friday, March 6. What will they do, what will they see?
Rosenburg: They'll do drywall, insulation, flooring, painting, or light carpentry, all under fantastic supervision by well-trained AmeriCorps members.
What they will see is a wonderful part of America that is still in recovery. They will see families that remind them of their own families. We serve people who own homes. We've all been taught that the American dream is work hard, buy a house. These are people who achieved the American dream, but who still aren't home. The Summit volunteers will help make sure these families know their humanity and citizenship have meaning. Even though recovery is taking a long time, the rest of the country is behind them.
See Zack and his team discuss more about their work at the 2015 Lean Transformation Summit via livestream. Tickets are sold out, but live streaming options are still is available. Attending the Summit? Learn how to join LEI staff and your colleagues at Volunteer Day with the Saint Bernard Project.