Throughout my career I have often hit the 'fear of failure' mindset that stops people from taking or making the next step to fixing issues. Folks hesitate, spin their wheels or ponder too long on data in pursuit of perfection. Ever seen that in your organization?
Then there are other conditions that contribute: the need for a quick fix, not thinking before one acts, the need to avoid finger pointing, potential ridicule for tabling an out-of-the-box idea, and the blame game to pass the problem onto another function or department; all these have often been cited as the barriers to doing the right thing in a planned, timely, and executional manner.
How have I gotten around these type of mindsets and behaviors? After all I used to be this way early in my career as I did not know necessarily better. I would follow and copy what the last guy did, or adopted the cultural setting around me.
This took time and learnings from other experienced folks to change my mindset and set me on the right path. For me, it's now about promoting an atmosphere where team members feel safe first and foremost, and by this, I mean emotionally safe, physically safe and professionally safe. These are 3 characteristics often practiced in Toyota organizations, I learned these working with my mentor while working in the automotive sector.
Coupled with this, I have learned to encourage and foster the empowerment of employees to take responsibility and own issues. After all, their name goes on the 'A3' as the problem solver lead and ultimately the subject matter expert for the problem resolution once the A3 is ironed out with the recommended corrective and preventive actions. Give people the power to experiment and test hypothesis, and if these tests fail then don't worry, try again and again if necessary, what did you learn that can improve the next experiment.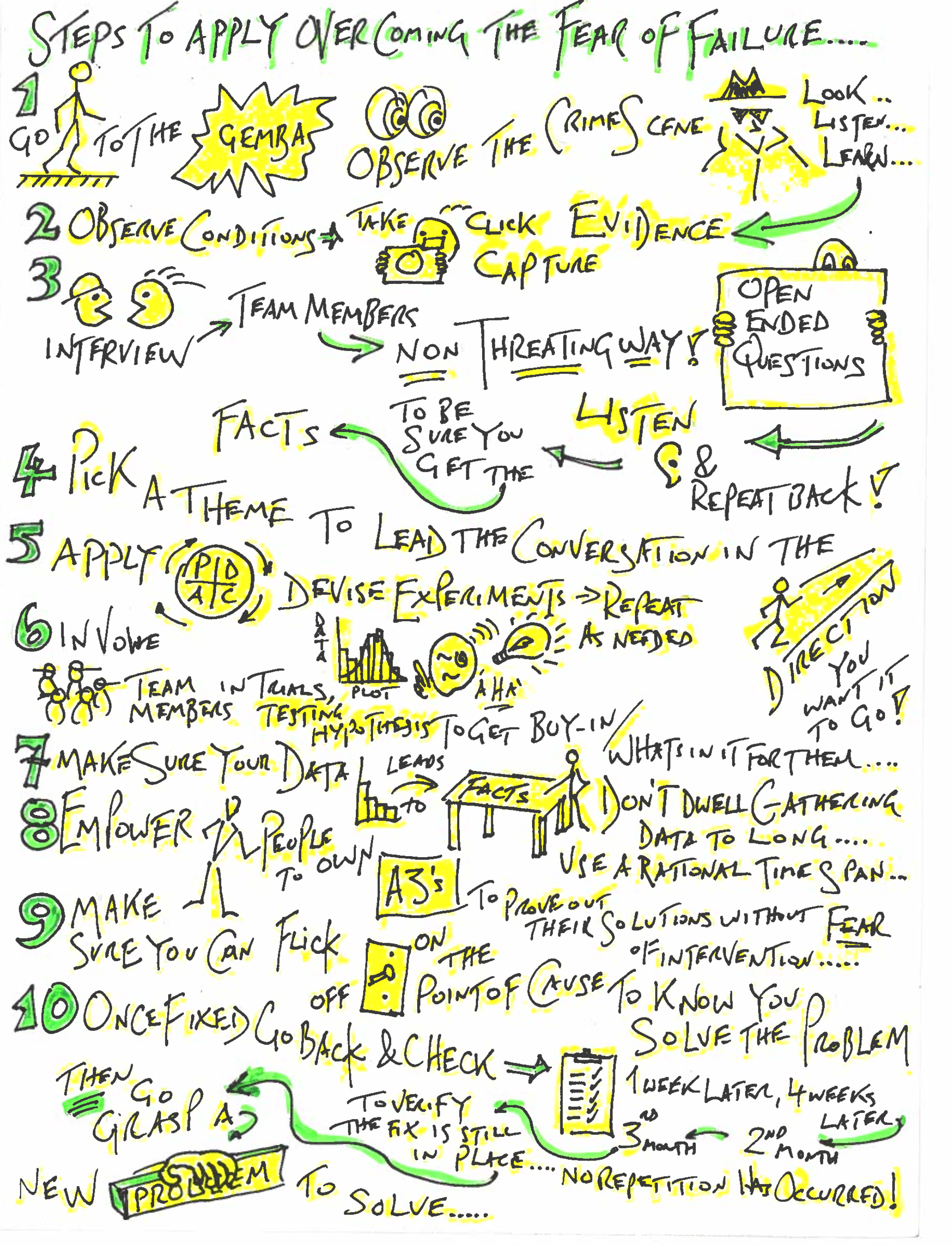 The tendency in most situations for companies is to apply Band-aid solutions or to extend containment measures that sit in place for extreme periods of time, as folks feel pressured to get fixes in place to get the customers off their backs. This temporary ease-up can stall more thorough root cause investigation, as folks get diverted to the next 'hot potato' issue and they don't circle back to capture or examine all the 'fresh evidence at the crime scene' before it can be removed, hidden or altered with workarounds as folks cover their tracks to deflect being caught out.
So, what are the steps to apply in such situations?
Go to the Gemba (always) and closely observe the crime scene: look and listen to learn.
Observe conditions, take photos or film (if allowed) to capture conditions.
Interview team members, make them feel safe by asking open-ended questions, in a non-threating or authoritative manner. Use active listening, repeat back to them what they told you, so you properly understand what they said. You would be amazed how facts are missed by not listening properly.
Start the conversation with a theme not necessarily linked to the issue but lead the conversation in that direct ultimately.
Apply PDCA once you have devised experiments to attempt to replicate your issue & prove point of cause.
Directly involve all team members were possible in testing hypothesis (get buy-in / what's in it for them – reduced burden, inconsistency, strain, allow them to do a quality job – not make defects).
Make sure your data allows you to table and act on facts, what you see, hear and learn. Don't dwell to long on data gathering, use a rational time span to lead to facts upon which decisions can be taken.
Promote empowerment to remove the fear factor, you own the issue, you name on the A3, go test and prove your solutions without fear of intervention.
How do you know you've solved the issue? You should be able to replicate the failure mode, turn the problem on and off.
Once the fix is in place apply the go back and verify rule, each week for 4 weeks go back and check the fix is in place, then once the second month go back, once the third month go back. If no repetition, go grasp you next problem. After all, having no problem to solve is a problem – Right?
(Watch the video below for more from the author on this topic.)