Jim: Thirteen years ago, when I opened the doors at the Lean Enterprise Institute, I thought there was an important need for a nonprofit organization to provide practical advice as well as thought leadership for managers trying to apply lean thinking around the world. My idea was to package the needed tools in clearly written formats, develop ways to teach them in workshops and seminars, hold periodic conferences to share ideas and instill courage, and continually push ahead with new thinking for new conditions. Since its founding, I believe that LEI has played a significant role in the advancement of lean thinking.
I knew at its founding that LEI wasn't the work of one person for a few years, and we needed collaborators who could someday carry on. So one of my first acts in the summer of 1997 was to ask John Shook, then director of the Japan Technology Management Program at the University of Michigan, to join me at LEI as my deputy. With experience as the first American manager at Toyota in Japan, helping manage the transfer of the Toyota management system across the Pacific, John had the ideal combination of deep knowledge and practical experience to someday succeed me.
John, as you can guess, said no. He had other ventures to pursue. But he did suggest that he help LEI introduce central lean concepts and helpful tools to the burgeoning Lean Community. So John joined with Mike Rother to introduce value-stream mapping as a simple, practical tool that soon became the LEI workbook, Learning to See, our first best seller. As the years went by I repeated my requests to John to join me. And he always suggested a project instead, of which the most notable was his remarkably lucid explanation of lean management and the A3 process in Managing to Learn. Over the years John also participated frequently in our courses and conferences, including supporting many of the members of the Lean Global Network around the world.
About a year ago, after beginning to shift LEI beyond lean tools into lean management, I realized that it was time to "repurpose" LEI for the next phase of its life. I set out to do this myself, remembering our LEI mantra that purpose comes first, then the processes to achieve the purpose, then engaged people to conduct the processes needed to achieve the purpose. But I soon stopped short, asking the simple question: "Why should I lead a strategic thought process about the future direction of LEI when I am nearly at retirement age?" The obvious answer was that I shouldn't. Instead I needed to turn this task and the next phase in the life of LEI over to a new leader.
So I asked John to succeed me rather than be my deputy. And this was finally the right time for the right request. Since February we have been engaged in passing the baton of leadership. In doing this we have been inspired by the thinking of Taiichi Ohno, the architect of the Toyota Production System, who often talked about baton passing as a critical task in value-creating processes with multiple participants. (See "The Skill of Passing the Baton" in Ohno's Toyota Production System).
Ohno observed that work along a value stream is almost always a team process. Because no single participant runs the whole race to the finish, handoffs between teammates are required. He noted that in relay races (in which runners have defined zones for their handoff, unlike swimming and other types of relays where the previous contestant must reach a specific point before the next contestant can start moving ahead) the runners must work out a method to cleanly hand off the baton to avoid dropping it while maximizing the speed of both runners, and therefore success of the team. So Ohno asked what employees could learn from runners.
One critical idea was "mutual assistance teamwork" where team members support each other, as a runner waiting for the next stage of the race would react to the runner in the previous stage, who might be struggling, and reach back to provide support and execute a clean handoff. The help the next runner can provide is illustrated below in cartoons prepared by our friend Toshiko Narusawa, co-author with John of Kaizen Express.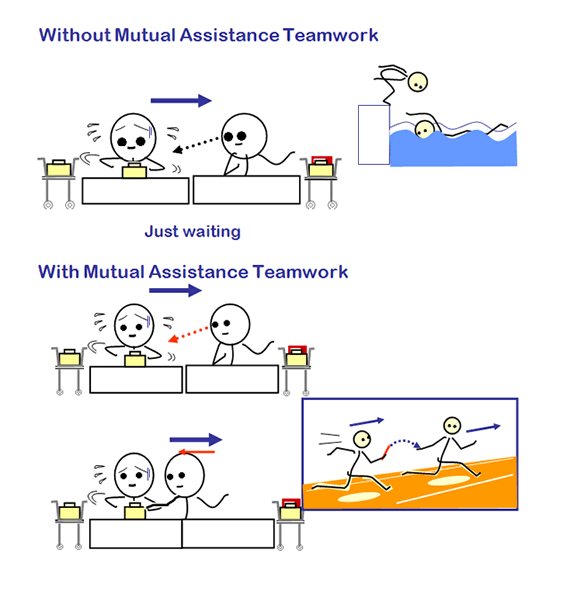 In translating this factory example to LEI's leadership situation, John has been progressively helping out with my tasks for many months, so that the handoff will be clean while preserving LEI's momentum. And I will continue providing mutual assistance to John for some ways further along the path.
Just yesterday, we traded places at the LEI board meeting and passed the baton. John is the new CEO and chairman of the Lean Enterprise Institute while I have assumed John's previous role as senior advisor. Remember, of course, that lean thinkers never retire and they don't fade away either. They just keep finding new ways to contribute to the Community.
This means that it is time to change voices, and that John now has the baton for the next leg of our journey. However, as I pass the baton and let John speak directly to you, let me take just a few seconds to thank the members of the Lean Community and the readers of these e-letters for the enormous amounts of encouragement and assistance I have received over the past 13 years. Together I think we have walked a good ways further up the lean mountain.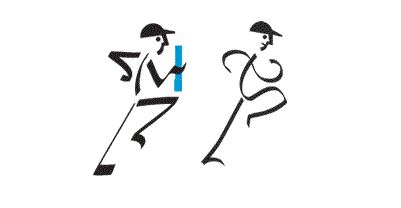 John: I'm delighted and honored, if somewhat surprised, to find myself accepting the challenge of leading LEI into this next phase.
The lean landscape has changed considerably since Jim established LEI 13 years ago. From an early emphasis on lean tools for simple waste elimination in manufacturing firms, attention has steadily shifted to a focus on the underlying management principles, systems, and practices that generate sustainable success in any type of organization. Management, whatever that is, has been a focus of LEI over the past few years. I expect that focus will continue, though we will not leave our roots which derive from deep concern about how people do things, how individuals do their work, how firms achieve their purpose.
But, more than tangible teachings, perhaps Jim's greatest contribution has been to provide for countless individuals encouragement, in the real sense of the term, giving them courage to try new things. Or to try old things in different ways. I don't know if there's a stronger embodiment of showing respect than providing that courage.
Without Jim's encouragement, I certainly would not be here at the Lean Enterprise Institute. I probably would not have had the courage to leave Toyota many years ago to discover new ways of exploring the many things I had learned or been exposed to at Toyota.
Perhaps it goes without saying but I feel it is important to emphasize that I won't try to be Jim. No one could, and I won't even try. Jim has a genius for breaking complex issues down to essential elements and reframing problems into a context and language that can focus energies on what you can do NOW. I will do my best to continue the effort to break complex issues down to essential elements, framed as problems that we can tackle, conditions that we can improve, challenges that we can explore and from which we can learn. Compared with Jim, I will probably tell you less what to do than ask questions to explore.
Jim is handing a baton to me. But, you – our Community members – are also members of our team. As we together challenge the problems of sustainable lean transformation of all work, I hope we can support each other as a big mutual assistance team – working and exploring together as a Community of practice and learning.
Until next month,
John
John Shook
Chairman and CEO
Lean Enterprise Institute, Inc.
jshook@lean.org