"Safety has become bureaucratic accountability up to people, not an ethical responsibility to those doing the dangerous work."
—Sidney Dekker
In a safety function it's critical to ensure you also directly connect with the people who do the dangerous work. Sidney Dekker, renowned human error and safety author and expert,advises that safety is really about the gap between how work is planned to be done and how work is actually done. The power of Gemba is in exploring this gap.
As director of health and safety at an environmental and engineering firm involved in construction activities, Haley & Aldrich, when I do a gemba walk, I don't necessarily ask questions about safety. I engage in conversations with staff members, and ask them to teach me about how they do their work and what concerns them about their work. At my organization, this is aligned with our safety culture where we "empower all staff to intervene to improve safety, and our underlying, systems, processes and behaviors." We recognize success will only occur when all of our staff members are confident that their voice matters. They must feel they have the power to change what is wrong, and they must truly believe that we care enough to hear their concerns and work with them to correct flaws.
I also never walk alone, and most of my team members will tell you I never walk in silence. The most powerful way to identify gaps between planned and actual work and to influence trust is to positively engage in conversations. I have found that asking two simple questions Dekker introduced helps to identify where flaws exist:
"Tell me the workaround you had to do today to get your job done," and
"Tell me what frustrates you when you are trying to get your job done."
We ask each person to not only identify improvements, but also to intervene. The nuance is that an intervention and discussion should lead to a solution; "engagement" is not about having people passively witness and report an event. It is infinitely harder to engage a person in actively participating in improvements than it is to engage them in passively identifying improvements for others to correct. But this is critical, because the people who touch the value stream have an intimate understanding of where the shortcomings exist, and the best knowledge of how to fix them. Their voice needs to be heard for several reasons, from respect for them as an individual ("who wants to work in a place where we have no voice?"), to ownership for the fixes ("this wasn't done to us, it was corrected by us"), and to illustrate that it is better to voice concerns than to develop shortcuts and workarounds to deal with issues that are invisible to others.
The other nuance is that we ask those in a leadership position, perhaps even those who own the system in question, to be vulnerable, to take the time to hear the issue, and to recognize it as an opportunity for learning and improvement. In my own experience with this, I admit it's difficult at times to hear issues. When this happens, I try to focus on the strength it took for the person to illuminate the issue, when they could more easily have dismissed it as not wanting to "rock the boat."
Many times Gemba is discussed as an ideal way for improving how work is done, and I agree it is a valuable tool. I would also say to truly be successful there must be a foundation of trust. Gemba can be invaluable in building trust and investing personal capital in the very people that are imperative to a strong safety culture. I define personal capital as the investment I make in time and concern for a fellow staff member, the amount of respect I have for that person, and the relationship we build. It is much easier to ask from a position of learning and improvement, and not of blame, when there is trust built on respect and understanding.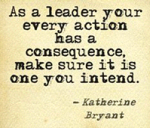 Trust is powerful, fragile, and hard to build, yet very easy to destroy. Gemba is the basis for the conversation, and the mechanism for building personal capital, but flaws shared in trust must be acted upon and handled with care. It takes quite a bit of effort to grow the trust, but very little to deplete it. Jim Womack states that "the flaws of the value stream in question are often embarrassing for those directly involved." How can I ask a person to trust me to do the right thing with the information they are willing to share, if they don't know who I am, or what I want to do with that information?
I recently had the opportunity to visit a site, in which we are monitoring construction for our client. Our duties include soil compaction testing, which is performed using a nuclear density gauge to test the compaction of the soil. The gauge is regulated by the Nuclear Regulatory Commission (NRC) because it utilizes small sealed sources. As with all things regulated in this manner, there are very prescriptive measures for use and storage. For example, during transport and storage the device must be kept in its case. In its case, the total weight of the device exceeds 80 pounds, and the case dimensions are 31″ x 14″ x 19.5″. Moving this device is not easy and presents hazards due to the size, weight, and the awkward posture necessary to carry it.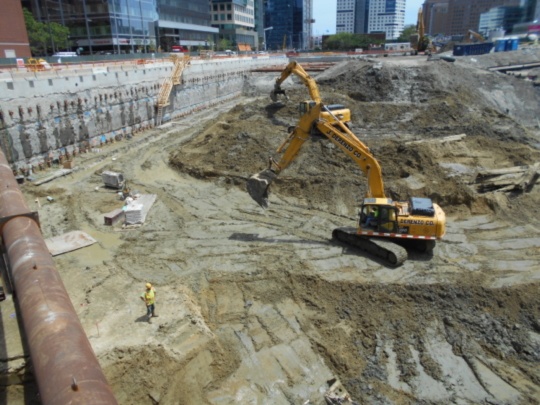 Site photograph
While walking the site with the field staff, I asked what frustrated him when he was trying to get his job done. He responded that our Radiation Safety Operating Procedure required him to carry the gauge in and out of the excavation each day so that it could be secured in a trailer each night. He suggested that placing a locking metal jobsite box, or "gang box", in the excavation would afford us the same level of security, and reduce the exposure to an injury presented by lifting and transporting the gauge in and out of the excavation multiple times each day. To enter and exit the site, one has to negotiate uneven terrain, construction equipment, debris and multiple ladders.
A short review of the regulations indicated that there are requirements defining expectations for securing a gauge, but there are many ways to comply with the requirements. The decision to include the provision to store the gauge in a trailer in our Operating Procedure was based upon someone removed from the work making a decision that fit their idea of the process.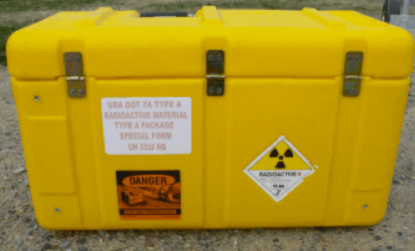 Nuclear Density Gauge case
By going to where the work is performed and engaging the people responsible for completing it, I was able to better understand their concerns, the issues in implementing our policy, and I was able to work with the people actually performing the work to develop potential solutions. The idea of the jobsite box may provide us the level of security required by the regulations, allow our field staff to secure the gauge close to where the work is being performed, and remove the risk of constant carrying of the gauge. This is a simple yet elegant solution to a problem that may seem trivial until you understand that the worst injury to one of our staff occurred as a result of carrying a nuclear density gauge.
I encourage everyone to witness the power of Gemba by actively participating in it. Take other leaders with you to your work sites, let them see the work firsthand, and ask them to engage in learning from the worker what frustrates them on a daily basis. Do this and watch a positive, safe, and productive learning culture grow.