Connecting frontline problem-solving to high-level business objectives is no easy task. But to move the needle on revenue, cost, quality, or any target, leaders must eventually move away from discussion in a conference room around Excel spreadsheets to problem-solving at the gemba.
A director of back-of-house operations at a hospitality group's largest restaurant faced a daunting target from executive leadership to double the operating margin. The director identified food waste reduction as one focus area to achieve the target.
The most glaring type of food waste in the restaurant industry is throwing out food that the kitchen never managed to serve. A less familiar type is serving food that the kitchen never meant to. This story is about the latter.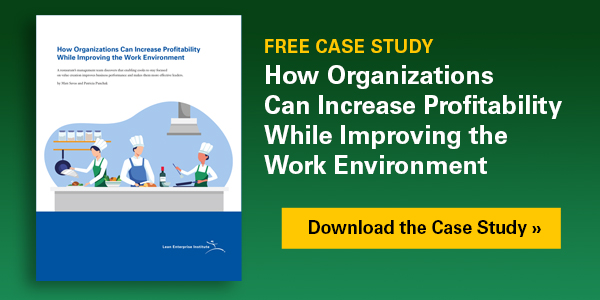 Building a Lean Operating and Management System 
Gain the in-depth understanding of lean principles, thinking, and practices you need to develop and build a customized system that will guide your organization's lean journey toward ever-improving performance.