This selection of webpages and Lean Posts provides vital information that will enhance your understanding of lean thinking and practice.
What is Lean?
The concise definition of the thinking and practice that can transform any enterprise includes the essentials at the heart of lean management.
The Birth of a Better Business System: Lean's Origin Story
Understanding why and how Kiichiro Toyoda invented the Toyota Production System, the precursor of lean thinking and practices, is critical to grasping its purpose and potential in enhancing leadership and organizational performance.
Lean in One Drawing
An LEI faculty member explains why it's vital to view lean thinking and practice as a system.
Why Lean Remains a Superior Business Model and Way of Thinking
The lean business model offers an alternative to conventional thinking that enables organizations to gain a competitive advantage by being better at helping customers to meet their needs. Here's how.
How to Go to the Gemba: 'Go See, Ask Why, Show Respect'
Here are some guidelines LEI Senior Advisor John Shook uses when doing a gemba walk as an outside advisor.
Getting Started with Lean Thinking and Practice
The answer to the novice Lean Thinkers' most common question might surprise you.
Transforming Your Organization with Lean Thinking and Practices
A proven, systematic approach to resolving problems at every organizational level spurs fundamental change that can help create great workplaces and improve business outcomes.
Download the ebook for offline reading: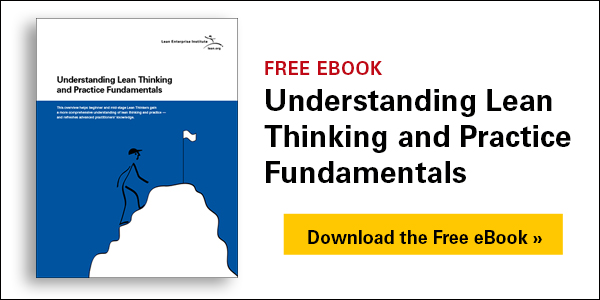 Key Concepts of Lean Management
Get a proper introduction to lean management.