Many lean practitioners understand standardized work as a reasonably straightforward practice that codifies how specific work processes are completed individually and integrated throughout a value stream. But LEI Senior Advisor John Shook asserts that this practice, when deployed correctly, plays a much more critical role in a lean enterprise.
Sharing his in-depth practical lean management experience as the first American manager at Toyota's headquarters in Japan and decades of practice after that, he explains how standardized work is crucial to integrating people and process, which is at the heart of lean thinking and practice.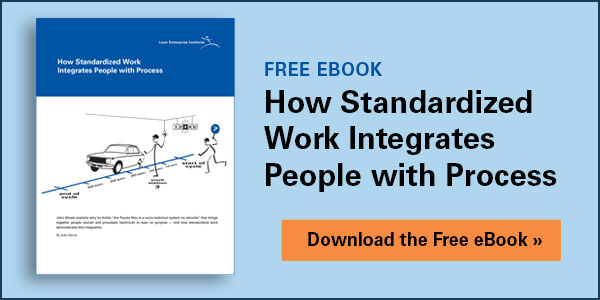 Through the prism of the five neglected, misunderstood, or forgotten aspects of this powerful lean practice, Shook offers a detailed diagnostic that lean practitioners can use to test whether they're benefiting as fully as possible from this fundamental lean practice. Also, he distills the "Purpose, Process, and People" elements in a handy one-page, quick-reference outline. Finally, he shares an annotated illustration of an example of Toyota's "Fixed-Position Stop System," which shows how standardized work integrates people with process into a "socio-technical system on steroids."
Whether you're a novice or an advanced lean practitioner, this compilation of Lean Posts will help ensure you fully understand the power — and gain the benefits — of this fundamental lean practice.
Building a Lean Operating and Management System 
Gain the in-depth understanding of lean principles, thinking, and practices you need to develop and build a customized system that will guide your organization's lean journey toward ever-improving performance.