Social Entrepreneurship is dead. You may have missed this news, unless you started a business thinking the "social" component of your startup would lead you to financial sustainability… and then the funeral slapped you in the face.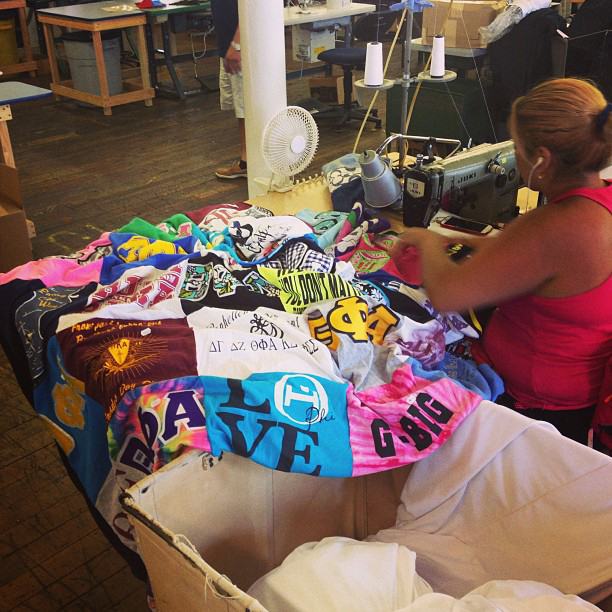 Project Repat production in Fall River, MA
When we started Project Repat last year, we spent a lot of time in "social enterprise" circles, but quickly it became apparent that there were not enough people in the country who knew the phrase existed to be able to run our business on that philosophy alone. Even though many people in Boston were interested in our business because of our social mission, we knew we were not going to last if a handful of "social entrepreneurs" said they liked our mission. It was only when we discovered a way to make a product for a much more affordable price that we became sustainable.
Early on we were told that there were thousands of people who wanted to invest in social enterprises, but these "social impact investors" were difficult to find. As soon as we told investors we were a social enterprise, they lost interest and referred to us as "do gooders," a term synonymous with not making money. When we pitched our business to social impact investors, our 2-3x returns were passed over for the potential of 10x returns in the tech sector.
A few months ago, Daniel Gross wrote in Newsweek/Daily Beast about the success of Chobani yogurt. He tells the story of how everyone told the founder Hamdi Ulukaya that he needed to make yogurt as sweet as possible or the American consumer would not buy it. Instead, he made it less sweet and thicker. In the last 12 months, Chobani has hit over 6 billion in sales. They opened a $450 million dollar plant in Idaho, plus their supply chain partners employ thousands of people here in America. They are doing good while doing well, but interestingly, they are not considered a social enterprise. To many, Chobani is "just" a business, since they are not giving away one yogurt per every one yogurt sold (think Tom's Shoes).
But being just a business—a business focused on becoming as big as possible, while thinking about the social and economic impact of their supply chain—is exactly what has made them successful. Chobani makes a healthy product that is good for American consumers and is investing in American factories in places where de-industrialization has ravished communities. This is the value business can provide. People have jobs, they have food on their plate, and the American consumer has a product that adds value to individuals and communities rather than takes it away.
In the past decade, while banks created instruments they didn't even understand to lure money away from hard-working Americans, and the stock market crashed, the term "for-profit business" has been dragged through the mud. Sometimes rightly so. But there's nothing wrong with business done right: a business offers a product, it is made in an economically equitable and environmentally friendly manner, and it has a good price people are able to pay. People can afford the product because they earn a decent wage.
Every sector's purpose is about giving people the opportunity to make their own economic decisions. We lose our way when we focus on charity. Unfortunately many social entrepreneurs have focused on giving something away, not empowerment. While charity is nice, it doesn't provide systemic solutions, and it's merits are debatable when it comes to actually changing the world for the better.
And as Sarah Mckinney writes, the term "social entrepreneurship" is also confusing to people not engaged in social enterprise circles, which is 99% of the population. If you are a nonprofit, your revenue generation measures can often distract from the mission, and if you are a for-profit, you lose focus on building a product people will pay for. Anytime you aren't focusing 100% on financial sustainability, you won't end up having any economic and social impact. So many social entrepreneurs end up shutting down because, in the end, customers don't want their product. As more people fall through the cracks in America and abroad, everyone is being asked to do more with less. Many new businesses want to compensate for growing inequality, but social entrepreneurship isn't how we do it. Why create new terms like social entrepreneurship? Be simply an entrepreneur.
Due to the success of Tom's Shoes, dozens of buy one give one models have been created, while a few new marketplaces have sprouted up to highlight them. Many of these businesses will fail because they think their story will carry their business rather than focusing on creating value for customers at a price that makes them competitive in a marketplace that is price sensitive. Many social businesses get into trouble doing market research because everyone tells them it's a good idea and the charity component will mean something, both to investors and customers. Unfortunately, once the product goes to market, they find out nobody is willing to pay for it.
Two conversations I had recently cemented this idea for me: one was with a newer clothing company, who, when I asked if they make their products in the USA, said, "No, we make them in China because we give away too much in Africa." Their rational: Don't pay people a living wage in one continent so we can donate a few dollars in another. Why not just pay people a living wage to make the product that adds value right here in your community?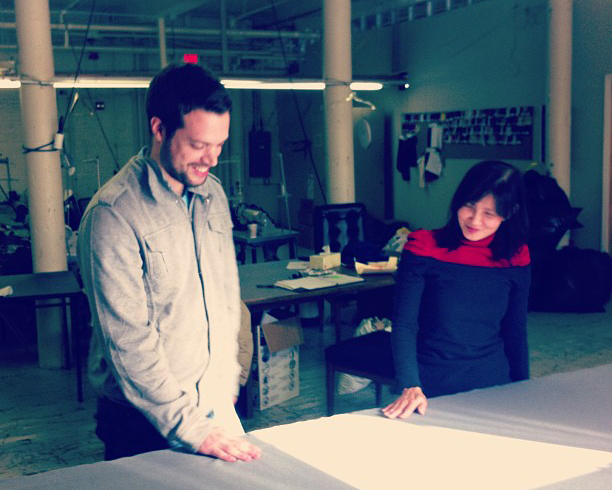 Nathan Rothstein looking over production plans in Fall River, MA
Then I spoke with the founders of Prosperity Candle, who have created a very meaningful "social impact" organization giving women entrepreneurs in conflict zones the opportunity to earn a living making candles. They tell an incredible story, but their candles cost 5-15% more than your average stock candle. When they went to some of the most elite women's colleges in the country seeking a customer for company gifts, they weren't interested because they were 100% price sensitive. Again, what's wrong with just creating a product or service that does well, grows exponentially, and provides a lot of new jobs in the community, adding value to the world?
Cone Inc. did a study few years ago about how much more consumers were willing to spend if the product was making a social impact, it came to over 80%. But I have not seen evidence to back this up. Think about asking someone, would you make the better choice as a consumer if you had the opportunity? Of course we all think we'll make the right (or best-for-the-world) choice, but in most cases, we do what is most convenient for us.
Let's stop pretending we can solve systemic problems by giving someone in a third world country a pair of shoes or glasses, and realize that we are all important actors in oiling the economic engine. If the engine works well, fewer people suffer, and we have more social and economic equity. Business should stop focusing on a overly simplistic view of "doing good" (the one for one idea, or a percentage of profits going to charity) and instead be laser-focused on creating products that add value that people will buy. It's still vital for companies to think of their economic impact, but they should be equally focused on building supply chains that pay workers a living wage. Let's get rid of the term "social entrepreneurship", and focus again on growing businesses that make a positive impact here at home and in the world.