In 2003, I was supposed to be a lean product/process development "expert". At least that's why Ford had hired me.
To be fair, over a 15 year period I had held a variety of product/process development jobs, from model maker to engineer to vice president. I had been a student of lean since I first read The Machine That Changed the World in 1992 and had passionately implemented lean practices throughout my previous company ever since. I had even completed a three-year research study on product development at Toyota, and co-authored a book on the topic for my Ph.D.
But all of this only taught me the mechanics. It took far more for me to fully understand what it took to be a product leader. Upon joining Ford I went through the gut-wrenching experience of releasing nearly one third of the people in my organization largely because of the company's previous insistence on producing products their customers didn't want. Then I spent the next ten sleep-deprived years as part of the team implementing an all new global product development system, while simultaneously rebuilding an entire global product portfolio. Only after this grueling time did I fully comprehend the singular importance of creating great products.
My experience was part of the historic Ford revitalization during which CEO Alan Mulally bet everything, including the blue oval, on a simple goal: create new products that "our customers want and will buy." During this time the company delivered both the products and the system that fueled a revitalization that is still setting records for sales and profits today.
A lot of what we implemented, at least initially, was adapted from lean product/process development research, at the University of Michigan. The research demonstrated that during the period from 1990 to 2002, Toyota was not only much faster to market and far more efficient in developing new products than their competitors, but that their products were of much higher quality both initially (JD Powers) and in the long run (Consumers Reports). In fact, we found that Toyota's product development system was as powerful and profound as their manufacturing system, and perhaps more important to its success. It was Toyota's products that produced industry benchmark transaction prices, established Toyota's sterling quality reputation, dramatically grew their market share, and contributed directly to creating one of the most profitable enterprises on the planet at that time.
Product driven recoveries are of course not limited to the auto industry. A series of innovative products created one of the world's most valuable companies. When Steve Jobs came back to a seriously foundering Apple, he focused the entire company on making "insanely great products." He urged the team to put products before profits. "Get the products right and the profits will follow." They certainly did.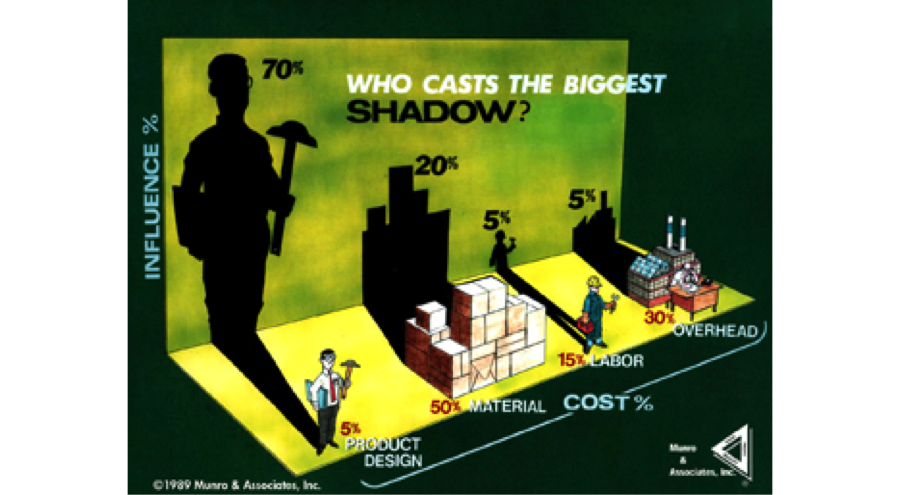 At Ford we learned that (more than just Ford as the graph from Monroe and others shows). Beyond a new product delivery system, a company's product and process development system determines a large portion of the company's operating costs for years to come. Decisions made during product and process development typically determine more than half of your ongoing costs. The much traveled "shadow of the engineer" picture on the right helps illustrate this effect and, while this picture focuses on costs, the same can be said for quality. A truly lean product/process development system can provide organization with dominant competitive advantage.
In light of the evidence, not to mention my recent and fairly traumatic experiences, perhaps I'll be forgiven the shameless adaptation of the famous Vince Lombardi quote for the title of this post. While I am not a fan of mindless sports analogies, Lombardi was a master communicator and this seems the best way to convey the place product/process development should hold in your lean enterprise strategy. Your product is in fact the only reason you exist as an organization… at least as far as your customers are concerned.
So, if I might adapt from the master once more to help me communicate effectively… Delivering product excellence is not a sometime thing, it is an all-the-time thing. Over the top? Perhaps. But what are you doing, right now, to make your products great?