Improvement Kata Seminar (1 Day Class)
This interactive experiential workshop offers the content and activities from Day 2 of our three-day Improvement Kata/Coaching Kata program with the intent to help you understand and begin practicing a systematic routine for continuously improving the work you do.
The Pattern of the Improvement Kata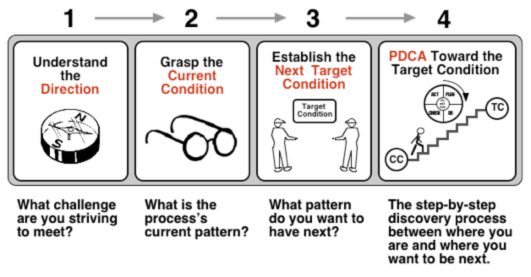 Description
The Improvement Kata and Coaching Kata are an intertwined, innovative management system that provides the means to accomplish two equally important goals:
Practicing a systematic, scientific way for people to work together to achieve challenging objectives that are currently beyond their reach, and…
Developing managers as coaches for creating a culture of continuous improvement, adaption, and innovation. This is done through simple, time-efficient, daily "coaching cycles."
Based on Mike Rother's award winning book, Toyota Kata, this one-day course will:
Help you recognize a different way of managing
Influence how you view your job as a leader and manager.
Help you better understand what's involved in developing these new behaviors in your organization
Prepare you to start practicing at home tomorrow – We call it Quick Start!
Agenda:
Morning:  What are the Improvement Kata & Coaching Kata about?
Review the theory behind Toyota Kata (it helps to know what you're trying to do).

Afternoon:  Improvement Kata Practice with a video example.
Understand the direction
Grasp the current condition
Establish a target condition
PDCA toward the target condition/coaching cycles
Targeted Audience
Senior managers, managers and Lean staff from all industries and businesses that have been implementing lean and/or interested in creating a sustainable culture of continuous improvement through use of the cutting-edge Improvement Kata/Coaching Kata management methodology.
Instructors:
---
Suggested Reading for this Workshop:
This program is offered at customer facilities only, as an on-site workshop. If you have any questions or want to bring this workshop to your organization, please contact us at
info@lean.org
or 617.871.2900.