Change takes courage. It's easy to hide in the shelter of our problems: some problems are emergent (dare I say exciting?) distractions, some come with a practically comforting level of recurrence, then there are the ones that offer the challenge of reaching for (and the safety of never quite having to attain) new levels, and there's always that high-level imaginary blue sky thinking (day dreaming) about a limitless future. In Four Types of Problems, Art Smalley serves up a discerning mental model, a set of practical steps for application, and a supportive companion to our thinking, leaving problems (and their owners) nowhere to hide.
A Mental Model
For the 59% of people who majored in college outside of the STEM fields, models for effective problem solving may never have been explicitly taught, demonstrated or practiced, much less mastered. That's a lot of people left to their own devices reacting situationally, maybe emotionally, through trial and error, perhaps conditioned in systems that reward status quo, to face intimidating business problems unarmed.
Even among the 41% who studied within the STEM fields, the myriad problem solving approaches taught may never have taken a dispassionate step back, as Art has done with Four Types of Problems, to offer a problem type diagnostic.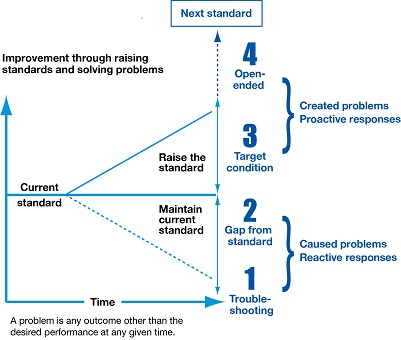 Clearly characterizing four distinct types of problems by their defining features, as Art has done, makes problems quickly recognizable and actionable. Art gives us a framework, a mental model, to effectively approach and assess a situation in order to seek and bring the appropriate kind of thinking to calmly, confidently address the problem at hand.
Step by Step Approach
"To understand today and create tomorrow, it is useful to appreciate yesterday." The book generously details a timeline and explanation of historical problem solving techniques elegantly inviting the reader to move from theory into practice. Stepping into Type 1, we're prepared with an ability to clearly see the type of problem we're working with, why that type of problem happens, how to become capable at handling that type of problem and its limitations in terms of solutions. Art repeats this pattern for each type, navigating the reader step by step through the four types of problems.
While trouble-shooting (type 1) admittedly does not exercise the creative muscles of open-ended innovative (type 4) brainstorming, it is a crucial capability at all levels of the organization, and is fundamental both to address our next-level problems, and to grow our capabilities (skill and understanding) as problem solvers. Art teaches us to walk before we run, and to set the foundation for strong, sustainable solutions.
Speaking for myself, many of the gap-to-standard (type 2) recurring problems that surface in my daily work require the basic standards and visual controls that support good troubleshooting (type 1) before I can begin to truly address them in a way that prevents recurrence (type 2). With Art's step-by-step look at the value and importance of solid, basic troubleshooting, I see how an ability to type 1 problem-solve well strengthens one's overall problem-solving practice at all levels.
An A3 Companion
I'm a student of A3 thinking and practice. Not all 4 types of problems are suitable for A3, but the book is a perfect companion for the type 2 and type 3 problems I'm working through. The type 2 and type 3 explanations of 'necessity' and 'defining features' help to put an A3 background (or business case) in context. Thinking about the triggers (for type 2 problem solving) sources vital data needed for depicting current conditions. Key points for 'defining the gap' and 'breaking down the problem' catalyze the thinking needed for effective problem story-telling. One of the most useful sections, Goal Setting, helps to scope an appropriate, relative, attainable goal statement lending to greater success through the A3's 'right side.' Elements like the simple clarity between accuracy and precision build my ability to set goals. Why is that important? Because: "A clear goal statement specifies when the problem-solving effort is completed." For root cause analysis, the 5W1H spectrum blew my mind, and I can't wait to use it.
"Be Honest and critical in your self-assessment"
Four Types of Problems is an incredibly useful aid. If you are developing a problem solver in your personal life or on your team, or if you're continuously developing as a problem solver yourself, this text will guide and support growth through active reading, application and reflection. In my experience so far, Art has succeeded in presenting a body of work in a way that is understandable, accessible and emboldens you to try.  Change takes courage. This book stands up to give you a mental model, step-by-step approach and companion for demystifying and confronting all types of problems.