In 2018 the Carnegie Foundation recognized the School District of Menomonee Falls a Spotlight Organization–a model in continuous improvement. SDMF is located on the northwest side of Milwaukee. Ten years earlier (2008), Milwaukee Magazine ranked SDMF as underperforming and high spending. I joined as superintendent in 2011. Within my first few days on the job, our high school received a second notice as a "school in need of improvement" and state funding was reduced by $600 per student. Community faith was shaken. Some students performed well, yet we struggled to engage all students to high levels of success. Suspension rates were seven times higher than the state average. Student participation in advanced coursework was low and failed to represent our student demographics. Yet, our spending levels were among the highest in the state. We had good teachers and leaders working in a system full of hidden barriers. The School Board was committed to shifting outcomes, improving culture, building stronger operating systems, and regaining community trust. My improvement background was a match for the Board. Shared passion kicked off the SDMF journey.
Improvers know building the mindset and skillset of improvement is not an "initiative." This work places the daily work of our human systems as the highest priority, and is a critical investment in achieving and sustaining results. For the first few years, we stopped buying stuff, stopped chasing isolated efforts; and focused our people instead on what mattered most to success.
Dollars saved were reinvested to unleash the capability of our people at every level. The Principles of Organizational Excellence and Evidence Based Leadership framework (Studer Education) served as our systemic "backbone" to align our goals, work behaviors, and core processes. It was critical to be crystal clear on what was valued; and then develop our people aligned to those values. We focused on engaging each member, creating an army of improvers. Refined processes defined our "always actions" increasing the likelihood of follow-through. Refined performance management tied together tools for self-reflection and criteria for feedback helping people succeed. Hardwiring grew as barriers were removed and complexity reduced. Clarity with support was key. When performance varies, we seek to learn from bright spots and refine core processes. Resources (accelerators) are better leveraged based on feedback, performance data, and process refinement ultimately reducing costs and preventing exhaustion in people.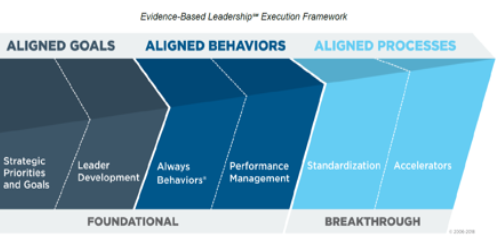 Our improvement coaches, Dr. Janet Pilcher and Dr. Robin Largue, (Studer Education) worked with our full leadership team five to six times a year to frame, deploy, and hardwire our 45-day learning cycles. We worked to build an improvement cadence, cascaded balanced scorecards, and develop our leaders so they could develop their people. All of our leaders engaged.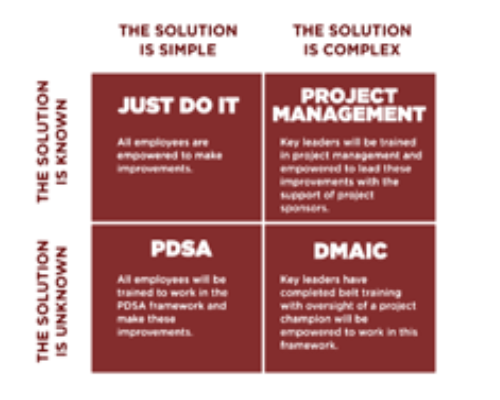 We worked at every level of our system to listen deeply to our people to "see our system at work". We deployed "leader rounding" twice a year with every member in every department. A simple protocol of four questions when executed well is exceptionally powerful.
What is working well?
What barriers are getting in your way; do you have the resources needed to do your job well?
What ideas do you have for improvement?
Who has been particularly helpful to you that I can thank on your behalf?
Leaders rounded with their team members but were not evaluative. Rounding is about listening deeply to better serve people, connect beyond their jobs, celebrate what is working well, and remove barriers.
Deming and Lean influenced my thinking, followed by decades of cross-industry learning from health care and industry improvement. My learning was far from efficient. I've spent decades cobbling together lessons learned across fields to make sense of the translations to education. School systems are filled with dedicated, skilled, student-centered professionals. This is critical to student learning. And, equally insufficient. School districts are typically the largest employers in most communities. These are wickedly challenging systems. It was critical to avoid the trap of overly complicating the improvement journey. Education is littered with organizationally heavy, complicated initiatives that exhaust people, waste resources, and create limited outcomes. The investment in the improvement and organizational excellence coaching was critical to shifting culture and improving outcomes for students and staff.
We scaffolded the Plan Do Study Act process to students and staff. Students and teachers explicitly defined shared missions, standards of work, and how to support and learn together. Learning goals and curricular standards were rewritten in student friendly language. Students are now actively engaged in the learning and improvement cycles. Beginning in kindergarten, students understand the targets, set individual learning goals, and monitor their growth. Students provide feedback on what is working for their learning, share barriers, and provide feedback to their teachers on the supports needed every 10-15 days.
Staff were skilled; classroom to the boardroom. The Board has adopted policies to sustain continuous improvement as the way to do business. Staff at every level now live the mindset and skillset of improvement. They are empowered to initiate change based on the complexity of the challenge. Within their direct work, all staff are encouraged to problem solve, improve processes, and communicate their improvements. "Just do it." If the solution is clear and the project is complex, we deploy a project team with a project charter, milestones, communication systems and tools. If the solution is unknown yet simple, the Plan, Do, Study, Act process (PDSA) is deployed. If the problem is complex, impacts many people, and the solution unknown, the improvement team follows the Define, Measure, Analyze, Improve and Control (DMAIC) process.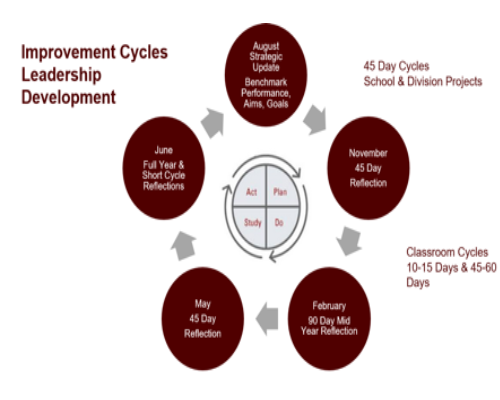 Public schools are critical to improve life chances for 90% of our nation's students. Our daily efforts create a pipeline or roadblock to college, career and life readiness. Our big aims? All students transition successfully to their college and careers aspirations, all students and families feel they belong in our schools, all students and staff members continue to learn and grow, and all students, families and staff identify we are their choice as a place to learn and work.
Our journey? We are a fundamentally different organization. Results matter. Yet, human systems require leaders to engaging. Listen deeply to eliminate the buried hassles to solve problems and improve outcomes.