Earlier this summer I wrote a Post titled "Stop Asking Your Leaders to 'Support' Your Lean Transformation" in which I shared how my Cleveland Clinic colleagues and I think about cultivating a problem-solving mindset and building a culture of improvement. The piece focused on the core (and frequently vocalized) challenge of getting buy-in and support from leaders; and suggested that we've discovered that avoiding vague and subjective requests for help, and working hard to identify clear and specific asks can be a powerful approach. 
I want to thank you all for the great comments you've shared on this topic. Your enthusiasm for the topic got me thinking about how we as a Lean community can work together to countermeasure this "problem" and help each other continue the work of "making things better through Lean thinking and practice." 
One part of the problem is that – as a Lean community – statements about not getting "buy-in" or "support" get repeated and amplified. The perception and the sentiment are perpetuated as we commiserate, or because that's the behavior we observe and begin to model. It can become what "Lean" people do – within an organization or within a Lean community. And in doing so we can not only become terribly annoying but, much more importantly, waste time and energy complaining rather than helping, positioning ourselves as helpless victims of our leaders' "lack of support." All of this gets in the way of good Lean work.
To address this situation, when someone in our organization complains about something we hand them a Kaizen card. The card recipient is expected to take action to solve the problem: write the problem down, specify the target condition, understand cause, develop and test countermeasures. They are asked to make that problem real and specific, and to act on it. Perhaps we can do the same here?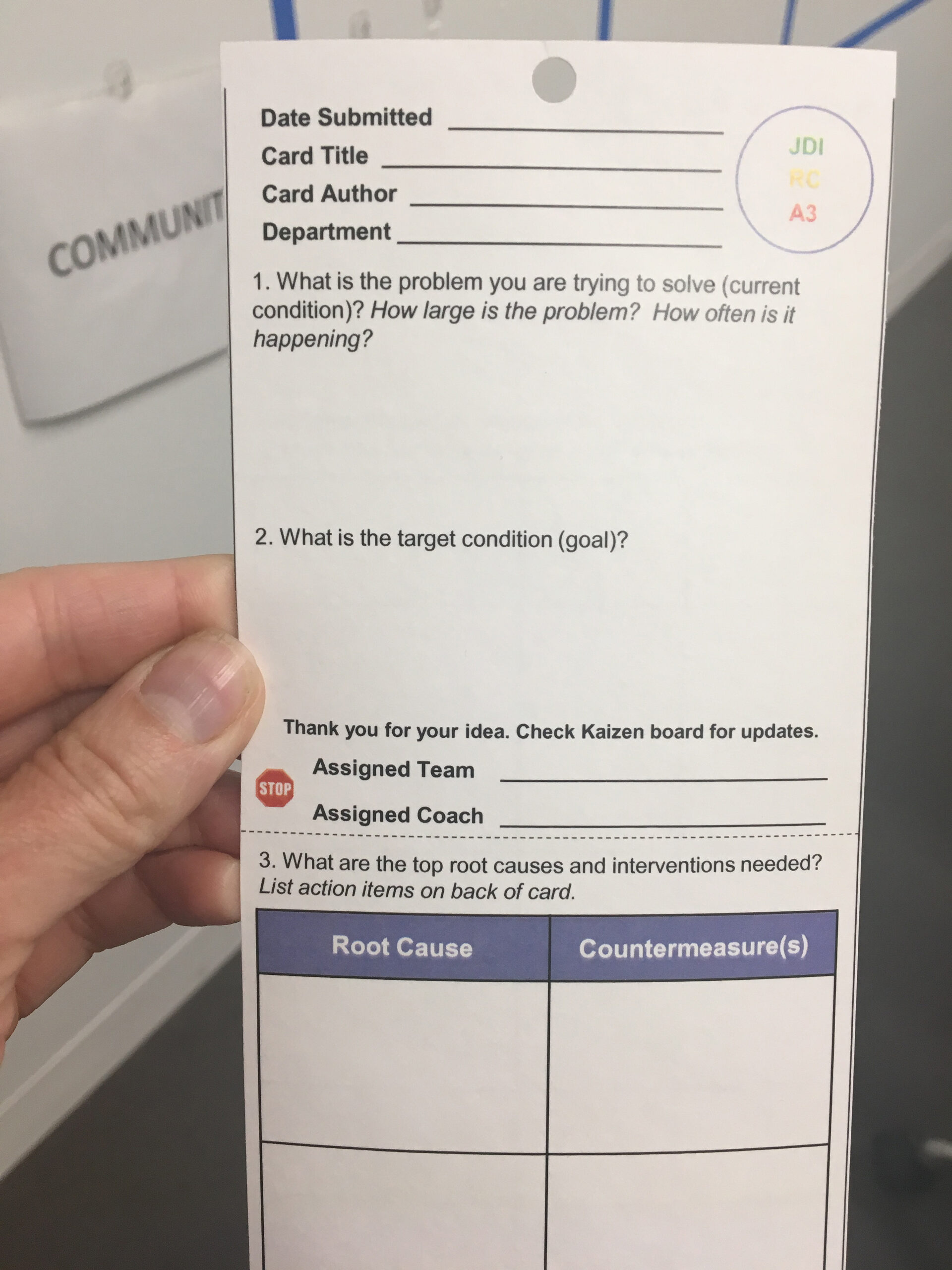 Last month during a breakout session at the Lean Healthcare Summit, a participant shared a story about a Lean team member who complained about physician leadership not being engaged in [insert Lean effort]. The storyteller simply asked, "have you asked them to?" I wanted to go shake her hand. This simple question began to shift a complaint to a problem solving activity – and in doing so got to the heart of the issue. Is this a problem you are actually committed to solving?  What is the current condition? How do you know? How are you learning about it? What have you already tried?
I wonder if, in lieu of walking around with Kaizen cards in our pockets (might not be a bad idea…), we could similarly shift this conversation from a vague complaint about "leadership support" (the lack thereof) to a problem-solving activity within our Lean community by similarly engaging each other to tackle this in the same way we would ask others to solve a problem in their work: to dig deeper into the "problem" to understand and countermeasure it. Maybe – like that breakout session participant – we could all commit to responding with a question whenever we hear a statement like this, in order to shift the dialogue from a complaint to a problem that we can attack like those we face elsewhere in our work:
"What is the problem you are trying to address?"
"What is the current condition? How do you know?"
" What does support look like to you?"
"What specific actions have you asked of this leader to support you and your team?"
"What was the response?" 
"Great! What did you learn?"
"What are you going to try next?"
I'm sure there are better ideas than these – please let me know your thoughts!
Virtual Lean Learning Experience (VLX)
Subscribe to the Virtual Lean Learning Experience, a continuing education service offering the latest in lean leadership and management.