Be among the first to get the latest insights from LEI's Lean Product and Process Development (LPPD) thought leaders and practitioners. Subscribe to The Design Brief, LEI's newsletter devoted to improving organizations' innovation capability. Subscribe now.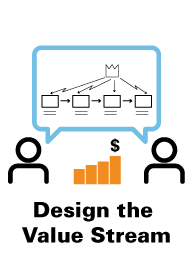 As most of us know, a value stream involves all the actions required to deliver value (the product) to your customer. In their seminal work Learning to See, which introduced many of us to the concept of a value stream, Mike Rother and John Shook explain: "Taking a value-stream perspective means working on the big picture, not just working on individual processes, and improving the whole, not just optimizing the parts." By leveraging a value-stream perspective in product development, we can design every one of those steps, not just isolated product attributes — and in so doing, deliver game-changing value to our customers.  
Our friend and colleague Al Ward was among the first to talk about this profound insight when he said, "the aim of product development is to create profitable value streams." Unfortunately for all students of LPPD, Al died in a tragic plane crash in 2004. But he left us with plenty to think about and work on. And as I was to learn, creating a new value stream is a challenging task. It's more than just moving people from manufacturing or supply chain "upstream" in the development process. It requires a cohesive team and an enabling system to work toward a shared vision of value creation in every step from beginning to end. 
I first had the opportunity to put this perspective into practice with an incredibly talented group of people at Ford Motor Company. We brought engineering, manufacturing, and supply chain together into an aligned team focused on the vehicle body value stream and dramatically improved program outcomes (value creation) and the work experience for team members.  
Later, when I worked at Rivian, we added logistics to our team with significant benefits to both in-process material movement and last-mile product delivery. Since then, our team at LEI has applied this powerful perspective to clinical processes in healthcare, consumer products, energy technology, and many other environments. Most recently, we have been using this thinking to create environmentally sustainable products and processes with encouraging results. But more about that in our September Design Brief. 
Many of the principles and practices we have shared in previous videos contribute directly to the ability to radically change your development focus from an isolated product to a value stream. For example, deeply understanding your customer and context, treating development as a team sport, and synchronizing workflows enable you to work in this profoundly different way. But it all starts with that value-stream mindset and a commitment to designing each value-creating step required to deliver maximum value to your customer.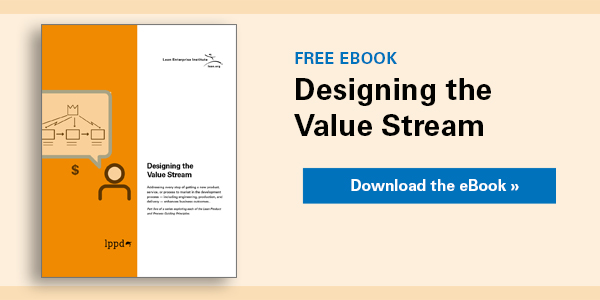 In this month's video, two of our partner companies share their experience creating profitable new value streams. First, a team from TechnipFMC, an energy technology company, explains how they made a pathbreaking product even better by expanding their design horizon to include improving the overall value stream. In the second story, Jaime Ogbourne, continuous improvement manager at Pella Corporation, shares how LPPD-enabled improvements in engineering increased development throughput to the point that it eventually overwhelmed manufacturing. Then he describes how changing to a value-stream approach to their LPPD work in the form of Operational Readiness Levels (ORLs) helped them resolve that problem.  
Designing the Future
An Introduction to Lean Product and Process Development.