"Over time I've come to realize that engaging in this problem-solving process is actually the highest form of respect….The manager truly respects the employee's knowledge and his or her dedication to finding the best answer….Only by showing mutual respect– each for the other and for each other's role– is it possible to solve problems, make work more satisfying, and move organizational performance to an ever-higher level."
                                           –Jim Womack, Gemba Walks, Expanded 2nd Edition, p. 5
At every organization that has embarked on a lean transformation, managers are well aware of the need to "show respect" for their people. In fact, respect for people is one of the pillars of the Toyota Way. Thus, when asked, lean managers will tell you that "employees should be treated fairly, given clear goals, trusted to achieve them in the best way, and held accountable for results," writes Jim Womack, lean management expert and founding CEO, Lean Enterprise Institute (LEI).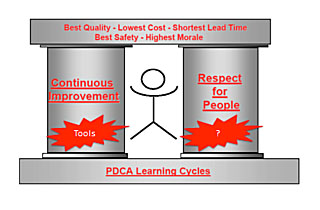 But simply the executive or manager's showing this level of basic respect to employees falls short of the standard of leading with respect required of the Toyota Way. It's no secret that in many organizations, leading with respect remains a challenging– and often neglected– aspect of their lean transformation.
"The lean community was quick to embrace the tools of continuous improvement, the other pillar of the Toyota Way," observes Mike Orzen, president of Mike Orzen & Associates, a consulting firm in Oregon City, OR. "Organizations typically built the muscle around continuous improvement, but unfortunately, many companies have not seen the sustained gains as a result."
One reason, suggests Orzen, who facilitates the LEI workshop "," is a lack of employee engagement. "They aren't finding the engagement, where people do the right things without being told," he says. "Often this is because they built their lean house with only one pillar."
The Lead with Respect workshop was created as a follow-on to author Michael  Ballé's 2014 novel, ," Orzen explains. He worked with Ballé via Skype and email to build the curriculum. The workshop is designed to give senior leaders, managers, improvement leaders, lean champions, and continuous improvement practitioners the tools they need to apply lead with respect principals in their daily work. The two-day workshop focuses on seven core practices:
Go and See for Yourself:  Basic to any lean manager's role is the gemba walk, a foundational practice that remains the basis of showing respect and achieving genuine understanding. The leader needs to observe first hand the work environment, processes, products, and services, as well as the obstacles people face every day.
Creating a Meaningful Challenge:  The "challenge" here is about highlighting specific improvement dimensions in any job.The act of challenging brings an influx of energy and constructive tension to get teams focused on the right problems they need to solve.
Effective Listening:  Listening means understanding the point of view of the employee as well as the obstacles they face.
Teaching and Coaching:  The heart of people development in lean is problem-based learning. Developing mutual trust in problem-solving builds respect. Problem-solving can be taught and once learned, can generate real behavior change and higher levels of performance that help sustain the lean transformation.
Supporting Others: Both visual control-driven kaizen and improvement-driven kaizen need to be supported by management stepping in and showing an interest by highlighting problems and clearing obstacles, as well as recognizing and reinforcing employees' efforts.
Fostering Teamwork:  Teamwork means respecting others' opinions and embracing shared objectives. It also means being able to separate the individual from the problem– being tough on the problem without placing blame so that a genuine win-win outcome can emerge.
Learning as a Leader:  Learning means leaders discern new ways to see the business so that, in solving detailed work problems, they learn to see and discover what topics matter most to the business' future development. Leaders learn to appreciate others' experience and perspectives and discover what others have to teach them.
A key element of leading with respect is the need to create a challenge for employees, Orzen says. "People need to identify with a meaningful goal that they can work toward each day when they come to work. Managers need to challenge people to use their minds and their problem-solving skills."
Equally important to creating a challenge is the need for managers to develop listening skills. "If managers practice listening skills, people start to feel that their voices are being heard," Orzen says. "Effective listening on the part of the manager starts to trigger a change in the way people act. Most people behave and act the way they are treated. Ideally, we want all of these seven practices to become daily behaviors."
Orzen says lean leaders have two jobs:  to get results and to develop people. "The latter challenge is very difficult if the element of respect isn't there," he says. "If you haven't applied these seven practices, you probably have only the façade of lean, because you will lack the level of engagement and accountability needed for lean to fully succeed."
For employees, true accountability means more than their simply feeling that they may get blamed if a solution to a problem fails.  "Real accountability is self-owned, self-assumed," Orzen explains. "If you have trust, people will pick up the mantle of accountability themselves. People get a tremendous sense of pride and self-confidence when they are able to use their brains to think of better ways of getting the work done. They start to feel really good about their work."   
For many organizations, achieving this level of respect and engagement with employees will require managers to renew their commitment to lead with respect, and to become more focused on developing employees' skills as problem solvers.
 "Some people think respect for people is being polite and courteous, but we're not talking about being nice," Orzen says. "This is about the organization being successful. Leading with respect is not a soft skill."
For a deeper dive…
Follow this link to see how the practical, in-depth agenda of the Lead with Respect workshop helps you advance from just showing respect to leading with respect.