After talks by John Shook, Jerry Bussell, and Karl Wadensten in the early part of the morning, day 1 of the Lean Transformation Summit continued with a presentation by Dr. John Toussaint, CEO of the ThedaCare Center for Healthcare Value, about his work with the Healthcare Value Network (HVN).
HVN is a peer-to-peer, collaborative learning community of healthcare leaders committed to lean transformation as part of their organizational strategy. 60+ member organizations come together to exchange ideas and share best practices in order to accelerate each other's lean learning.
To begin, Toussaint gave us the big picture of healthcare in the United States. Costs are increasing and value is on the decline. Very few people on either side of the political aisle are thinking about redesign of the entire system, which is ultimately what needs to happen. We need to move from vertical, siloed organizational models to horizontal models in which the needs of the patient are front and center, he says. For a typical patient, Toussaint found that there are more than 20 different providers, groups, and areas of operations involved that must be coordinated across the continuum of care these days. In a mostly broken system, people end up paying for the wrong things, not real value.
HVN member organizations are taking the lead in changing this, diving into lean experiments and sharing with each other. Toussaint told stories of hospitals and health centers actively working to redesign their operations, get folks closest to the work involved in improving those processes, establish standard work, and push visual management.
And we need to do more, he says. We need to convince other healthcare leaders that lean holds tremendous opportunities for improving the patient experience and invite those folks into the conversation. To this effect, Toussaint and his colleagues at HVN have also partnered with Stanford University on a research project aimed at exploring lean's application in healthcare. Learn more about HVN and check out Dr. Toussaint's forthcoming book, Potent Medicine: The Collaborative Cure for Healthcare.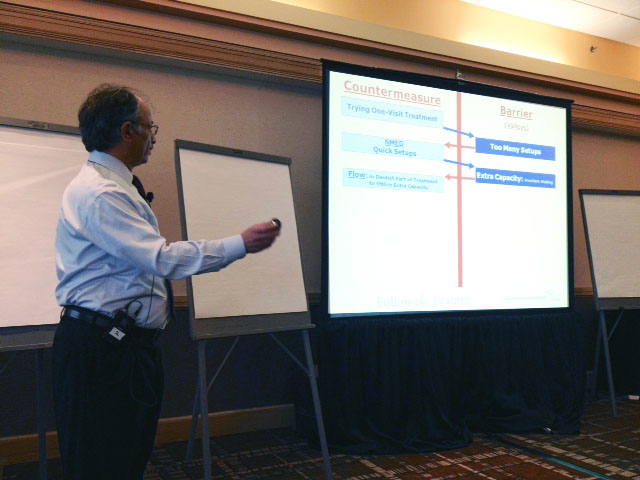 In the afternoon, the Summit continued with learning sessions on seeing the whole value stream, customer collaboration, lean consortia, lean leadership, coaching, and lean learning in dentistry (with Dr. Sami Bahri, author of Follow the Learner). Still inspired by Dr. Toussaint's talk on lean healthcare and wanting to follow up with Dr. Bahri and his team, I chose to attend Dr. Bahri's session.
Bahri told the story of Bahri Dental Group's lean journey, focusing on his team's experiments in collaborative learning along the way. It took 13 years for their initial lean transformation to take place, he says, due primarily to doubt and hesitance on his part. It's good to start small, with small experiments, but Bahri emphasized the importance of persistence—trusting that lean can and does apply to healthcare processes and environments. Applying lean in healthcare might be challenging, but it's absolutely doable and well worth it.
From the beginning, Bahri's goal was to eliminate all wasted time for the patient, to create one-patient flow (think one-piece flow). It's tradition to try to keep the doctor always working, to minimize wasted time and effort in his/her day. Bahri wanted to change all of this, using doctors time well, but making the patient the #1 priority. So Bahri and his team set out to coordinate cleanings, treatments, insurance, and follow up care around the patient, and let work processes and staff roles change accordingly.
Today, patients get cleanings and treatments done in the same visit, 90% of patients experience no wait time, and payment/insurance issues are handled at the time of the visit. Bahri even has an assigned Patient Care Flow Manager on staff. Patients are happier and business has improved. Dentists, hygienists, and staff problem-solve together on a daily basis.
Ever a teacher/learner himself, Bahri continues to explore and make lean ideas his own. He emphasizes that lean is more about creating right processes than correcting wrong ones, an idea that can easily get lost in lean improvement efforts, he says. And he speaks about the importance of integrating one's own knowledge and knowledge within a team, bringing a whole perspective to the work at hand: "I tell my staff, 'just to try to think as one brain for five minutes' and they do."
This kind of coordinated thinking and collaborative learning has become a habit at Bahri Dental Group. Bahri approaches his work with incredible openness and respect for people, two things he says are essential for lean to work. I'll be curious to see what they do next.