Ever walked out on to a shop floor and been faced with organized chaos? You've probably wondered, Which way do I turn; where do I start? All manner of noises and distractions keep the team leaders and supervisors from doing anything but reacting in a panicked state of anxiety.
How do you get an angle on these conditions to induce some degree of control and calm?
Deploy the 7 Manufacturing Basics, a handpicked selection of what I believe are core lean improvement tools, methodologies, and techniques to grasp control of any shop-floor situation. They very much complement what I talked about in my article on the 7 lean quality elements. They are the flip side of the coin to ensure you can cover manufacturing needs as well as protecting your customer.
Through my career at the coalface in production environments, I have used many tools independently to tackle various situations. But as time progressed, it became very apparent that some combination of these lean tools and elements work very well together when deployed in a specific sequence. They should be part of the skill set a team leader uses in daily work on jidoka and kaizen reinforcement, assuring quality, controlling processes, and making incremental improvements often.
Here are my 7 Manufacturing Basics: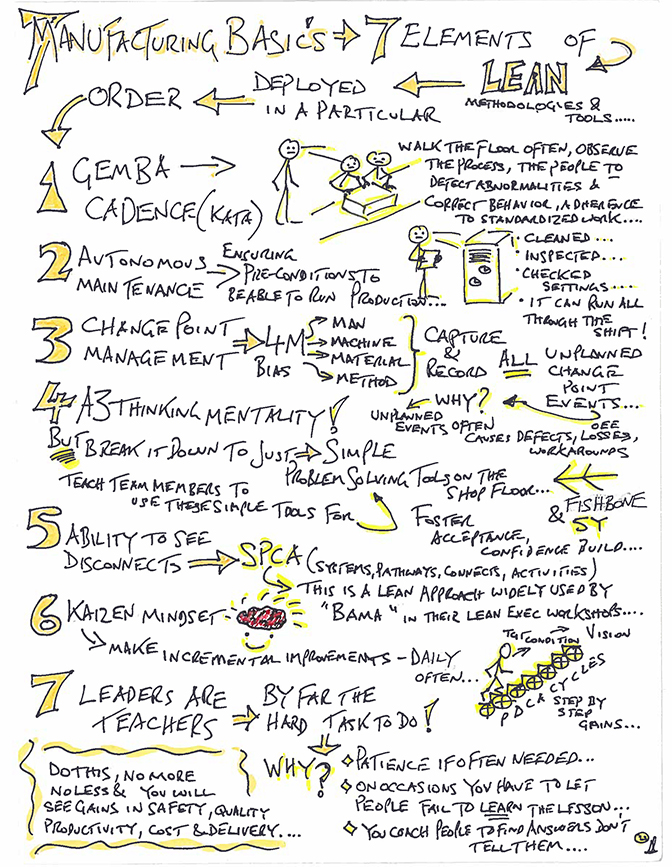 Gemba Cadence – Establishes a fixed routine for observing your people and processes at work in real time.
Autonomous Maintenance – Ensure you have the pre-conditions for production set up before running the process; equipment can run at rate without losses or interruptions.
Change Point Management – Capture and control all unplanned change points. Unplanned events are the "silent killers" that induce, waste, OEE losses, defects, and workarounds.
A3 Thinking Mentality – Teach team members how to do fishbone diagrams and the Five Whys They are the very basics of problem-solving and build the mental muscle for developing A3 capabilities.
See Disconnects in the Entire Processes – Examine the four levels of how any process is configured — systems, pathways, connections, activities — to confirm it is working as intended. (I credit the Blue Grass Automotive Association, where I worked as a facilitator, with this powerful technique.)
Kaizen Mindset – Make one small incremental improvement often, every day if possible. But they must be small gains that can be sustained because they are accepted and adopted by team members.
Leaders are Teachers – Coach people. Don't just tell them what to do, lead them to answers by asking questions which make them think to solve problems. This is very hard to do because we are programmed as leaders to take control.
I have found that applying these seven elements improves people's confidence significantly, which leads to them sustaining improvements over time. Sure, you'll experience setbacks; people will say one thing, then do another. And you'll have to review the elements with people many times. But if you are tenacious and determined enough to try, learn from failures, the formula of 7 Manufacturing Basics will yield results.
Take a look at my sketch and the animated video to see the 'devil in the detail' behind the elements I have listed and see if you can adopt or try these 'hands-on' approaches in your working environment.