How far along are you on your lean journey? Are there areas where your organization is lagging, failing to meet goals? Are your lean efforts linked to your company's stated purpose?
Every organization on a lean journey needs to occasionally step back and evaluate where they are, where they have gaps in performance, and what steps they can take to close those gaps and achieve their overall goals.
"Often an assessment will help stimulate an organization to initiate a dialogue about where they are and where they need to go …"
"What can we use to give us a barometer to measure how we are doing in these major facets of the lean journey?" asks Chris Vogel, an LEI faculty member. "And what should we be doing now to keep the transformation moving forward?"
In helping organizations launch and sustain their lean transformations, Vogel has come across plenty of variation in fully adopting and embracing lean tools and ideas. "There is a great deal of variance between organizations and even within one organization," he says. "Often an assessment will help stimulate an organization to initiate a dialogue about where they are and where they need to go, and how they can take their lean transformation to the next level."
Assessments are aimed at managers or teams getting started on their lean journey, as well as lean leaders who want to assess their ongoing lean efforts and how they can create a plan of action for where they need improvement. Anyone from a supervisor up to the CEO can benefit from a self-evaluation, Vogel suggests. "It's a self-evaluation where they discuss what a lean enterprise should look like and where they are on that spectrum of lean maturity," he says.
A self-assessment should cover:
Attributes of a lean organization and how they work together;
How to assess the current state of the lean transformation in your company, department or function;
How to identify the gaps in performance;
Action steps to take and the sequence to follow to close the gaps;
Where organizations should focus their time and effort to develop its lean capability;
The organization's short- and long-term goals.
A lean practitioner with experience in manufacturing, financial services, and other industries, Vogel is a former senior vice president at Wells Fargo, where he directed the launch of the financial services giant's lean transformation in the mortgage loan processing operation.
The Big Question
Vogel emphasizes the need for organizations to take a high-level, strategic approach when starting out. Such questions as "What should we be focusing on?" or "Where should we get started?" can be difficult, if not downright confusing for a large company.
"The big question for many organizations starting on the lean journey is what should they do first?" Vogel asserts. "Many organizations have been doing problem-solving for some time, but they don't have the linkage back to the purpose. They need to identify their strengths and weaknesses to see where they need to put their effort."
For example, an effective self-assessment tool, should require participants to address the basic lean question, "Do we have standard work?" Says Vogel, "The self-evaluation provides people time to take a step back to reflect, and to make decisions on where they need to move forward, and then how they can take steps to advance those capabilities where gaps exist."
Identifying the gaps in performance and what actions can be taken to close them is a key part of the self-evaluation. "For instance, employees may not be performing activities that are linked to the strategic goals of the company," Vogel says. "Or they may not be very good with standard work. As a result, a variety of actions can come out of this process. The goal is to have every participant identify the gaps and create hypotheses on how they will go about closing those gaps. They should leave the self-assessment with a hypothesis to validate when they return to work."
4 Areas for Assessment
A good self-assessment gauges performance in four key areas:
Purpose,
People and culture,
Process and operations,
"These four things help build an overall capability for the organization to grow and mature," Vogel says. He emphasizes the need for organizations to instill continuous improvement as part of the company culture.
"You don't stop improving — you need to create a rhythm or cadence of improvement within an organization. Without that cadence and discipline, you can reach a learning curve and then start to slide. You want to embed continuous improvement as a cultural norm within the organization."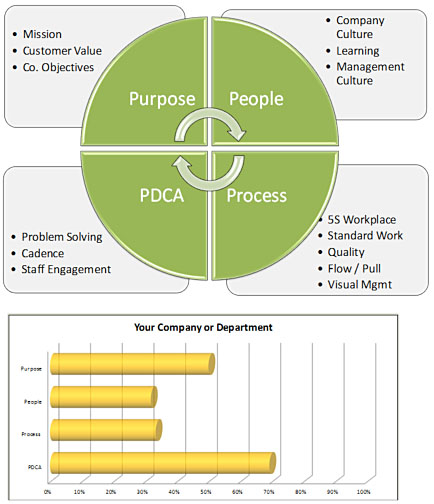 A lean self-evaluation examines performance in four areas: purpose, people and culture, process and operations, and continuous improvement.
Not surprisingly, the self-assessment tool can help companies improve the sustainability of their lean effort. As Vogel puts it, "A lot of times the energy generated around lean has incurred some loss over time. You need to set a realistic time frame and a schedule that helps you sustain that effort."
Toward that goal, the self-assessment — rather than being a one-time exercise — should be done on a regular basis. He suggests quarterly or
semiannually, but at least once a year. "You want to know if you are ahead or further behind," he says. How often the self-evaluation is done should be related to the speed of growth of the company or department, he adds.
Vogel applied the self-evaluation tool to assess a large telecommunication company's progress on its lean path. Asked to identify key performance gaps in their operation, about 150 senior managers came up with a laundry list spanning an array of problems in different processes and operations. The aggregate result was an eye-opener for the participants. "The CEO was surprised at the variation in the results among the gaps they identified," Vogel says. The managers then had to decide which performance gaps needed to be addressed first.
Ultimately, Vogel says, participants in the self-assessment exercise should leave "having identified where they need to go and what they need to do to be effective in taking their lean transformation to the next level."