We had 1300 certified green belts, ran 100's of events, and still did not have a lean culture.

-Kennametal (2017 Kata Summit)
In "Learning to Lead at Toyota," Steven Spear described the transformation of "Bob Dallis," from a leader who decides and implements to one who is capable of developing teams to conduct multiple PDSA cycles every shift at a much faster pace than he could have ever accomplished on his own. This is a stark contrast to classical lean deployment of episodic events facilitated by an improvement team.
Though it largely flew under the radar for some time, Spear's work became the eureka moment answering the lean community's question as to why our companies had yet to achieve Toyota's velocity of improvement. Rather than depending upon the lean promotion office to spread the Toyota Way to its American manufacturing plants, leaders were taught what people development and problem solving should "look like" at each tier of the organization so that the culture of the organization was one in which everybody was engaged in problem solving every day.
If "Learning to Lead" gave us Toyota's blueprint on how to develop leaders, why was there not an immediate shift in the collective focus in the lean community?
Because lean practitioners have deeply ingrained habits too!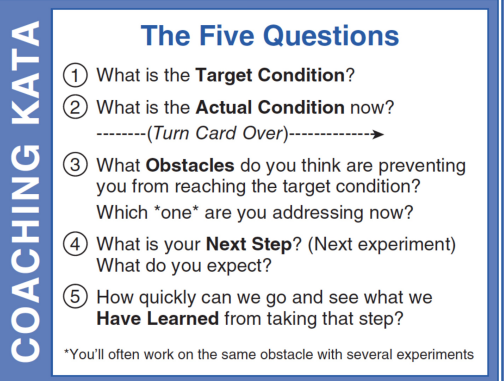 My epiphany occurred in 2012 when I saw Toyota Kata on a bookshelf at the Lean healthcare summit. I had taken some martial arts as a child and was intrigued by the title, but fully expected another book reinforcing the same lean tools. However, like many of us, after picking it up, I read it cover-to-cover on the plane trip back to Seattle and, by the time I landed, knew I needed to change everything I was doing. The "5 question card" was the final cracking of the code to answer how to get started. Or so I thought. Upon returning from the summit, I found an enthusiastic unit manager, and … fell back into my old routine. 
The problem was, I had the knowledge of how to begin, but was lacking the most important piece: a coach! Fortunately, I was introduced to a lean thinker who lived in the area, was invested in improving healthcare, and became a willing mentor. My primary focus since has been in practicing, learning, coaching, and adjusting daily management systems utilizing Rother's kata structure as the backbone.
I would like to share some of my lessons learned along the way in the hope that others may not repeat the same mistakes! Flash forward a few years to another hospital on a different coast; here at Meritus Health, kata has spread like wildfire, but it took a few false starts. While I was fortunate to join an organization five years into its lean journey, shifting lean away from being viewed as an event or project toward being embedded in the culture as "how we approach our work every day" was hardly seamless.
After incorporating kata into our existing A3 course, when it came time to "sign off" on the progress of our students, we were surprised that not a single department had changed its daily routine. In hindsight, the problem was obvious: we were teaching that new habits required frequent (preferably daily) practice with a coach, but our most experienced coaches remained fixed in our established routines!
An object at rest remains at rest, or if in motion, remains in motion at a constant velocity unless acted on by a net external force.

-Isaac Newton
The breakthrough that allowed us to overcome organizational inertia came with a commitment to our kata learners eloquently summarized by Karyn Ross as "challenge and nurture:" you will be empowered to solve challenges daily and we will be right there with you on the gemba in case you get stuck. To date, following kata training, our kata practitioners, (which now include kata-trained leaders outside of the CI office) continue to pair with new learners daily for 30-minute coaching sessions. Combined with leader daily rounding, the impact of this method has been transformational. In fact, after we asked one of our first kata learners to coach one of her peers, this veteran medical practice manager recently told us "I feel like I have a purpose again! I am a teacher."
As a leader or internal consultant tasked with your company's lean transformation as well as a unique set of obstacles you might ask: "Great. Where does that leave me?" Some humble suggestions:
If your executives are convinced, send an advanced group for training.
Bring in an outside coach. The questions are easy, but it is harder than it looks in practice. Furthermore, external coaches help avoid complacency and stagnation.
No resources or internal commitment for coaching? No worries! There has been a groundswell of interest in Toyota kata. Find a coach in your area, or pair up with another beginner, even if they are outside of your industry.
Best of luck on your respective journeys!
Improvement Kata/Coaching Kata Remotely
Learn how to use the Improvement Kata, a practical and proven method to systematically navigate that "gray zone" between the current state and your target and learn how to teach this method to your team.