High mix, low volume operations are a difficult concept to grasp. I should know – in 1992 I purchased a small supplier to semiconductor equipment industry and spent years introducing HMLV principles. Eventually I turned the company around, doubling sales volume, and sold it, with huge thanks to HMLV.
Since then I've thought about the trends, patterns and common themes in lean transformations of all types and how to help others reach their HMLV True North easier. That analysis led me to create the below; the Lean Leadership Model.
In HMLV organizations it's critical to focus on the model's six areas for improvement. There is no perfect sequence for addressing them, but notice how Clear Strategic Objectives is in the center, with links to all the other principles. That's because Clear Strategic Objectives are a HMLV organization's guiding light of how to improve. If we leave any one out, we will never have a supportive ecosystem to sustain the lean tools that we put in place. But today let's talk about one of the most critical of these principles.
In HMLV environments a major problem is flexibility. Demand is constantly changing among your products, which then puts different demands and loads on certain skillsets. So naturally, the more flexible an operator can be in a HMLV environment, the better we can satisfy our customers' shifting needs for a Made-to-Order or Engineered-to-Order organization. That's Developing Team Members.
So to increase that flexibility and begin cross-training, we want to first understand our current state, which we generally do using the below diagram: a Training Matrix. What we're trying to say with the Matrix is "Where am I now?" versus "Where do I want to be?" It has three main components:
The columns display all the tasks for certain areas (color-coded)
The rows show the various people who are able to perform those tasks
The black boxes indicate tasks for which someone is currently qualified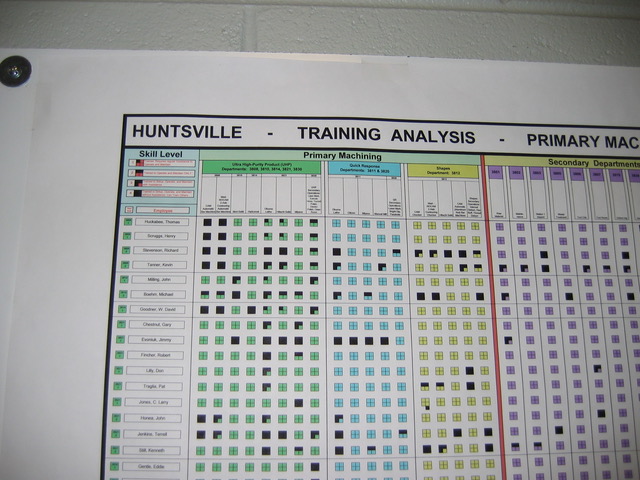 So as a HMLV leader I might look down the fourth column and see very little black. That might be alarming, because I can see that I only have one single person who can do that task. And in HMLV that's a huge problem, because next month my need for those tasks could skyrocket. That's the current state. And I can figure out my future state by indicating on the blank squares who I want cross trained on the skillsets where I'm short.
The benefits are both ways. As the leader I can see which skill sets I need covered, and my people can look at their row to see what skills they have, don't have, and/or want they are scheduled to learn. It's just a simple tool that helps you move towards that coveted sustainable lean leadership system.
Want more information on these tools and more that can help you manage your HMLV organization? Register for Greg's upcoming Chicago workshops on Improving Operations and Managing in HMLV organizations. These workshops on May 24 and 25 are down to the final seats – don't miss out!