This selection of Lean Posts provides vital information that will help you practice these essential problem-solving and innovation-driving routines — and make the plan-do-check-act (PDCA) process a habit for everyone in your organization.
Carrington on Kata
In this 17-minute video, LEI Instructor Beth Carrington describes how practicing the Improvement and Coaching Kata routines help you align your organization, make innovation (large and small) happen at every level, and ensure that teams work toward goals in a systematic, scientific way.
What Too Many Leaders Get Wrong with Coaching Kata
Think you can dive headfirst into Coaching Kata with your direct reports? Think again. Learn what to avoid or stop doing, so you can perfect your practice.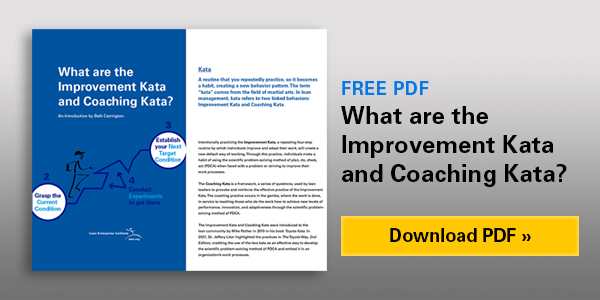 Improvement Kata/Coaching Kata Remotely
Learn how to use the Improvement Kata, a practical and proven method to systematically navigate that "gray zone" between the current state and your target and learn how to teach this method to your team.