"We have to get past this pervasive myth that great products are developed by lone geniuses working in their garage. Or that development is something that engineering or design does," declares Jim Morgan, LEI senior advisor for lean product and process development (LPPD). "The truth is, the best products are created by diverse teams of experts bringing together their skills and experience focused on a single goal."
With those words, Morgan, who has dedicated his career to exploring how development teams consistently design and build successful new products and services along with their high-performance, profitable value streams, highlights the importance of one of several LPPD guiding principles. He refers to the principle Developing Products is a Team Sport.
The coauthor of The Toyota Product Development System (2006) and Designing the Future (2019), Morgan has been working with the LEI LPPD team to distill what they've learned from their real-world experience and research into the principles and practices of successful development teams. The group published its initial findings, Lean Product & Process Guiding Principles, in a series of videos and presentations in LEI's Virtual Lean Learning Experience. By sharing the guiding principles, LEI's LPPD team aims to help other organizations worldwide improve their development processes and, ultimately, build a global community that will share their experiences to advance the art and science of creating new value.
Click here to see an infographic and brief description of the principles.
See the Lean Post and related ebook detailing another guiding principle, Understanding Before Executing.
Exploring the Principle Developing Products is a Team Sport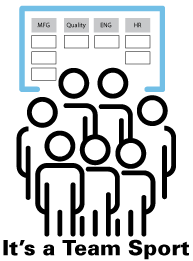 The LPPD team has found that by adhering to the principle that Developing Products is a Team Sport and using the tools and methods associated with it, organizations can bring together people from various disciplines, perspectives, and backgrounds, so they work as a team more effectively. For example, teamwork-enhancing tools and methods — including the obeya system, well-designed integration events, and the concept paper — help development teams direct their energy and passion toward improving new product and services performance and creating high-performing value streams.
Three Lean Posts and a downloadable ebook (PDF) offer more in-depth information about how and why improving teamwork supports new products, processes, and services development.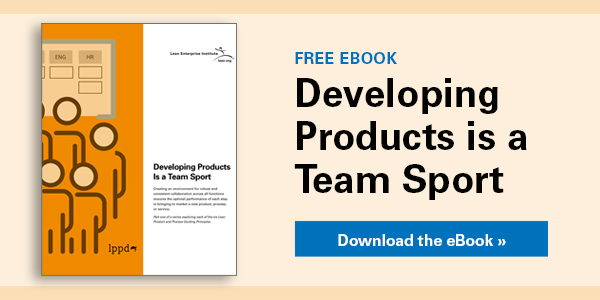 Designing the Future Remotely:
An Introduction to Lean Product and Process Development
Join us for a five-day course (three hours per day) to learn how to accelerate the design and delivery of innovative products or services your customers will love.