"Taking the time to truly understand your customer and their context, understanding exactly how your new product will create value for them, is absolutely critical to your new product's success," declares Jim Morgan, LEI senior advisor for lean product and process development (LPPD). Also, crucial to understand before you start executing on your new product or services development project: the knowledge gaps that stand between your team's current know-how and what they need to learn at each point in the value chain to create that new value — including engineering, manufacturing, logistics, installation, and field service.
These findings highlight the importance of one of several LPPD guiding principles, Understanding Before Executing, identified by LEI's LPPD team. Led by Morgan, the coauthor of The Toyota Product Development System (2006) and Designing the Future (2019), the team has distilled what it's learned from real-world experience and research into the principles and practices of successful development teams. By sharing the guiding principles, LEI's LPPD team aims to help other organizations worldwide improve their development processes and build a global community that will share their experiences to advance the art and science of creating new value.
Click here for an infographic and a quick-read summary of the guiding principles.
See the Lean Post and related ebook detailing another guiding principle, Developing Products is a Team Sport.
Exploring the Principle Understanding Before Executing
The LPPD team found that adhering to the principle Understanding Before Executing — and using the tools and methods associated with it — yields new high-performance value streams. The principle and practices help organizations more consistently design and produce new products and services customers love while also optimizing the value stream that delivers them. Examples include:
The following three Lean Posts, links below, offer more in-depth information about how — and why — this principle should be a vital part of your development process. In addition, the downloadable ebook (PDF), which features the three Posts and other information, is another way to access these crucial insights.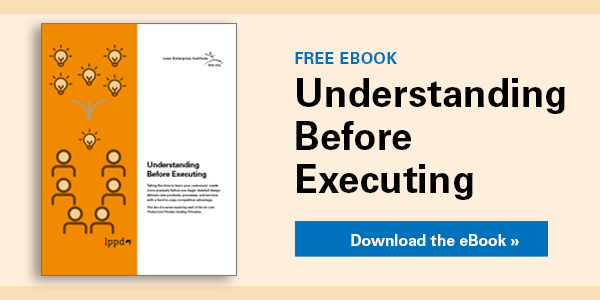 Designing the Future
An Introduction to Lean Product and Process Development.