A visual management tool adapted from lean production auto assembly lines is helping Ohio Mutual Insurance Group build a customer-focused culture in a busy service center.
Andon: Japanese for "lamp," indicates the status of operations in an area at a single glance and signals when an abnormality occurs to summon a quick response.
At first glance, the green, yellow, or red andon cards posted on the center's wall bear little resemblance to the archetypal factory andon board, a lighted overhead display with rows of panels corresponding to work-stations or machines. When a problem is detected, an operator pulls an overhead cord to illuminate a panel and signal management to respond.
There are no overhead boards in the service center, but the principal is the same as in a factory – signal that an abnormality has occurred; take corrective action.
"It's really recognizing a non-standard outcome and then having a plan in place to respond," said Chad Combs, vice president, personal lines underwriting.
Adapting the Andon Concept
The six-member service center team and supervisor at the company's Bucyrus, OH, headquarters, field calls from end customers like any service center. But because Ohio Mutual is an independent agency company, most calls and emails come from insurance agents across seven states in the Midwest and Northeast served by the company. The representatives answer questions for clients and agents but also make changes to policies as requested by agents.
"Not only do our team members get questions, but there's a lot of work they do to implement things agents need," Combs said. Such work includes high-priority "book rolls" when an agent wants to move a policy from a competitor to Ohio Mutual. Team members also handle changes to existing policies, and requests for forms — a total of roughly 60 different types of requests, all arriving daily by email.
"A lot of that work can stack up quickly in a small team," Combs said. "If somebody is out sick or there's a computer system issue, all of a sudden we have 600 items in our queue."
The standard solution to a mushrooming queue was working overtime, sometimes for a couple of weeks. Then, early in the company's lean transformation, which is little more than a year old, the team learned about the andon concept from their coach, Drew Locher of Change Management Associates. He challenged Combs to apply the concept.
Combs chose the service center. But he and Continuous Improvement Leader Bethany Foy didn't choose the term "andon." They wanted to avoid terms rooted in the automotive industry, so people wouldn't get the idea that lean concepts were for manufacturing only. The process they developed with the service center team would simply be called the "red, yellow, green, system."
In creating the system, "first and foremost the standards that are to be maintained must be clearly defined," Locher said. "These can include service levels such as response time to customers, as well as quality, even standard work itself. The key is to identify which standards are really important to the group or organization. Then team members will be able to readily identify nonstandard conditions and escalate accordingly for a quick response."
While it was impractical to install a cord in the office to stop the flow of calls and emails, Combs and the team figured that there had to be critical thresholds that should trigger a response before the queue size became a big problem.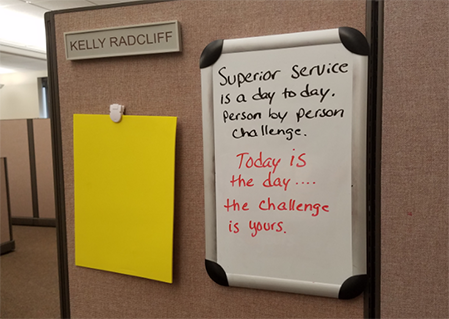 A yellow card triggers action by the service center to quickly reduce the queue of customer questions.
In the system they developed, a green card posted on a wall at the service center's entrance means there are zero to 100 inquiries in queue; no action is needed. Team Supervisor Kelly Radcliff monitors the queue as part of her daily work. When the queue hits 100 to 200 emails, she posts a yellow card. That's also her signal to stop what she is doing and start working on the backlog.
Another threshold within the yellow zone signals her to notify designated standby people in Combs's underwriting unit to log into the system to respond to requests in the queue.
"If it gets beyond that, we tap other associates who used to work in the service center" to help out, Combs said.  
If needed, people still work overtime to get back to "green." But, by quickly responding to thresholds, overtime shifts now are rare. They also are shorter, lasting a matter of hours, not days or weeks.
More than a Signal  
The center's computer system continually monitors the queue but posting the green, yellow, or red cards is done manually by Radcliff to make everyone in the center or passing by aware of its work status.
When co-workers see a yellow or red card, "it's creating awareness around the problem and that this team is responding to it," said Foy. That's important because one of Ohio Mutual's key goals for the lean transformation is to create a culture focused on customer satisfaction.
"We want to be a customer experience organization," Combs said. "We know that drives customer loyalty, and continuous improvement is a way for us to get there."
Indicating there is a problem is only part of the andon concept. "It's okay to have a signal, but we also need to figure out why," Foy said.
"The andon system should trigger not just a timely corrective action to bring the process back into standard, but, when appropriate, preventive action," Locher said.
So, as part of the system, Radcliff records how often red and yellow conditions occur, how long they last, and notes any key details. As a result, the team discovered that a major cause of log queues were interface problems with the software used by agents. For example, if a drop-down menu stopped working, agents writing policies in their offices called the service center for help.
"Then the call volume triples," said Combs. "That has led us to identify those system issues as a top priority in our 2018 objectives." The collected data will provide valuable information about problems to IT troubleshooters.
Impact on Culture
The level of team engagement with the new system has pleasantly surprised Foy and Combs. They think a big reason for acceptance is the positive team feedback it provides.  Team members had previously received feedback on individual performances but not as a unit. 
"Now I think there's team pride," Combs said. "They like 'being in the green.'  The green card shows everyone passing by that the service center team is 'taking care of business.' This team just does great things around customer experience – they're the ones solving problems for customers."
Foy noted that even posting yellow and red cards, while signaling problems, is a positive development in creating a customer-focused company culture.
"Their co-workers see the cards and they know that the team has a lot of work in queue but they're plugging away and doing something about it," she said. "So, even though you have a red card, it is also creating this awareness around the problem and how this team is activating a process to solve it."
At a Glance: Ohio Mutual Insurance Group 
Bucyrus, OH, HQ 
230+ associates 
$235 million+ annual premiums 
Homes, autos, farms, commercial properties covered 
Mutually owned by policyholders
 Origins: 1901, Ohio Mutual Tornado, Cyclone and Windstorm Insurance Association