Face it: Few people are happy with their organization's strategy development and execution process. Each year, as the time for the next year's strategy review and planning nears, executives, division and middle managers, and supervisors wrestle with a mix of optimism and dread. Thoughts of a fresh start – maybe this year we'll get it right! – mingle with doubts as they dust off last year's plan, not seen since sometime last April, let alone completed.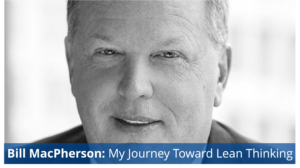 It doesn't have to be this way. Even if your process isn't that dysfunctional, it likely needs to be improved. Research shared in a 2015 Harvard Business Review article found that two-thirds to three-quarters of large organizations struggle with execution.  
To break free of this annual cycle of frustration and confusion that leads nowhere, consider what the Mercer Celgar team has done. Led by Bill MacPherson, its managing director, the British Columbia-based team has embarked on a total overhaul of its planning and execution process. The new approach? Hoshin kanri, which, it just so happens, addresses each of the five reasons cited by that HBR article about why strategy execution fails – and then some.
Finding a Better Way
In Mercer's case, it was MacPherson's leadership philosophy and belief in the importance of self-development, not a dire situation, that drove the change. "I find, as a leader, that the most important thing I do is develop others," he says. "And so, I have to develop myself so that I can lead as a teacher and a coach."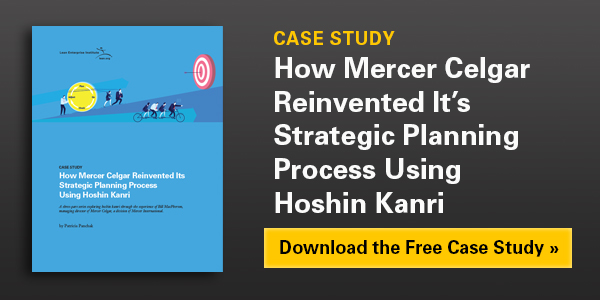 MacPherson explains that he had gained some experience with lean thinking and practice in an earlier position. So, he started reading and learning, eventually being directed to the Lean Enterprise Institute (LEI) by a colleague. Soon after he arrived at Mercer, he read Getting the Right Things Done, a Shingo award-winning book published by LEI. "It just connected with me and resonated," MacPherson recalls. "And I thought, you know what? Let's give it a try." 
Why Hoshin Kanri?
"I bought copies for all the senior directors. We read it together and went offsite and began trying to follow the model in the book." The change from that rudimentary start, he adds, "was a tremendous improvement, [helping] take a lot of competing initiatives and integrating them and beginning to align." 
After two years, 2019 and 2020, the leadership team decided to seek out experienced practitioners for help. Their search connected them again with LEI, where they participated in the institute's Hoshin Kanri Remotely, a nine-session workshop, during which attendees learn and practice the strategy development and deployment approach. MacPherson recalls reading the HBR article during the course and realizing "that strategic planning, hoshin kanri, isn't just cascading objectives down the organization so you have vertical alignment. It's the vertical and horizontal alignment and the top-down, bottom-up strategic priorities meetings – and building that plan together." 
"The understanding really clicked with the senior leadership team of the power of us working together, not just vertically," he adds. But also, "taking senior-level strategic priorities, translating them down to the front line and then letting the front line of the organization put those together and come back up," thus creating a strong agreement on the plan at every level of the business. 
Setting Priorities Strategically
Another crucial lesson the leadership team learned by adopting hoshin kanri was how to prioritize the many competing business initiatives when setting and executing the plan. "We learned a really powerful phrase from hoshin kanri," MacPherson says. "It was not 'no' but 'not now.'"  
With the team aligned on the strategic plan, when other ideas arose, as they do through the year, the hoshin approach provided them a filter to decide how to prioritize new ideas — whether and how to adjust the plan due to new circumstances. "First, does it align with our hoshin objectives," MacPherson explains. Then, if a new idea competes with or becomes more critical than another of the strategic objectives for that year, the leadership team can decide within the context of the plan.  
"It gave us the ability to not be overwhelmed by the continuing evolution — of the plan's contact with reality — and the change that comes with that," he adds. 
Even with hoshin helping with prioritization, the team still tends to include too much in its plans. "You think you're winnowing down, and you're really razor-focused on the things that are going to leapfrog your organization and your daily management system and innovation," he explains. "But it's still too much." MacPherson attributes the habit to conditioning — how leaders of his generation have been steeped in "firefighting-type cultures that are overwhelmed" and where leaders who swoop in and fix problems are celebrated and promoted.  
Addressing Continuing Struggles
The difference now is the Mercer team is building the hoshin kanri thinking and practice that counters such challenges. "We're already talking, for example, about when we sit down in the fourth quarter for our 2022 hoshin, about the lessons learned and how we can't wait to get in that room and really take what we've done this year on our current hoshin and come away with a really well-done hoshin that is very lean."  
Learning More
Make this the year that you FINALLY succeed at executing your strategy. Join the Hoshin Kanri Remotely workshop, and learn a proven way to create and achieve your company's annual objectives. Learn more and register.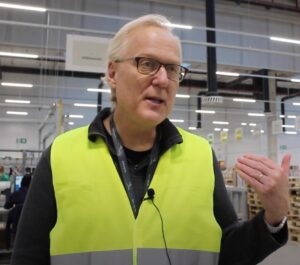 Meet Senior Lean Coach Mark Reich, who stands ready to design an education and coaching program to help you adopt hoshin kanri and A3 problem-solving at your organization. In the tradition of LEI's custom coaching approach, he'll create a learning experience that will help you learn as you address a real and meaningful business objective. Schedule time today to talk with a lean coach.
Hoshin Kanri Remotely:
Aligning and Executing on Your Organizational Objectives
Join us for a live online course to sharpen your leadership skills and discover a proven method for successfully executing your strategy.