Part two of two. Read part one, Addressing a Critical Problem in Strategic Planning and Execution.
Adopting hoshin kanri, the lean approach to strategy development and deployment, changes how leaders lead and how teams and people work – a prospect that can seem daunting. For Logoplaste, a company that is six months into its hoshin kanri adoption, the changes already are yielding positive results. Vitor Vila Verde, the company's global vice president of lean and strategy deployment, dubbed the difference between the plants piloting hoshin and those that are not "amazing."  
Built into the "hoshin way" are a structure and set of practices that ensure that strategic objectives are agreed upon and understood by everyone in the organization and then successfully executed. Still, it's vital to understand some of the fundamental changes required to successfully transition from traditional ways to hoshin kanri. Vila Verde shares what he and the leadership at Logoplaste have learned.  

Addressing the Fears  
Changing the culture to one where everyone at every level of the organization is managed by performance that leads to breakthrough results for the company will take some time, says Vila Verde. Among the most significant challenges is adapting the organization to the hoshin approach to setting and achieving stretch goals.   
You need strong teams in a PDCA problem-solving, standard work, and an effective daily management process, which we are developing at the same time" as the hoshin process.

Vitor Vila Verde, Logoplaste's global vice president of lean and strategy deployment
To achieve significant improvements, each team at each level must set stretch goals that they do not know how to achieve. In some cases, people resist setting stretch goals because they fear failing. To address this fear, Logoplaste is working to build its teams' capabilities. "You need strong teams in a PDCA problem-solving, standard work, and an effective daily management process, which we are developing at the same time" as the hoshin process, Vila Verde says. "We are in an early phase of Lean Transformation Culture. We have set a steep learning curve and are on our way to a different level of maturity."  
As vital, teams and individuals need to understand that they need not independently solve the problems that are keeping them from achieving their goals. Instead, he says they should "raise their hand, and we'll try to understand:  What is the constraint? Is it people capabilities, level of research investment? What is preventing you from being able to shift?" Additionally, Vila Verde says that leaders must take care when assessing stretch goals and not blame teams if they don't meet them, 
Leading People 
Adopting hoshin kanri means that developing people and team capabilities is part of the strategy development and deployment process. In addition to the catch-ball process between leaders and their teams to set and align everyone to corporate strategic objectives, a consistent cadence of meetings maintains the alignment and ensures the progress of each team and individual toward meeting their goals and enhancing their skills.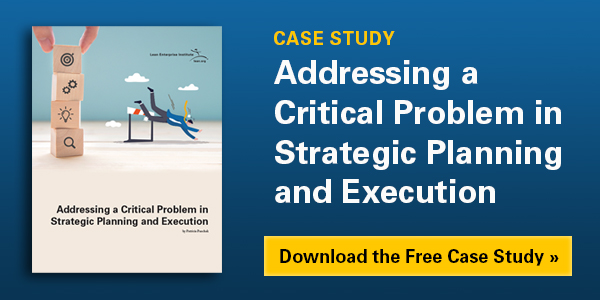 As critical as meeting at a regular cadence is the need to change how the leaders and teams interact during them. Instead of delivering directives, leaders and managers need to engage their teams, helping them solve problems and encouraging them to share their improvement ideas. These interactions focus problem-solving on addressing obstacles that would prevent teams from reaching their goals, which is necessary for the company to achieve its objectives.  
"A lot of ideas will come from the people who do the work every day, not someone that is at a higher level in the organization," Vila Verde says. With this approach, he adds, "this way, we will solve the problem faster, better, and with positive impact."   
The hoshin process, with its cadence of meetings and top-down, bottom-up dialog, reinforces this gemba culture. "So, we are working a lot on building capabilities in people and also optimizing the management system at a plant level – the way they do the work and the engagement of the teams," Vila Verde says.   
Assessing the Results 
With hoshin, Vila Verde says, Logoplaste measures capability development outcomes — problem-solving skills, standard work, daily management — along with progress toward the financial and operational objectives. The company uses a maturity matrix to gauge the level at which each plant is performing in each area.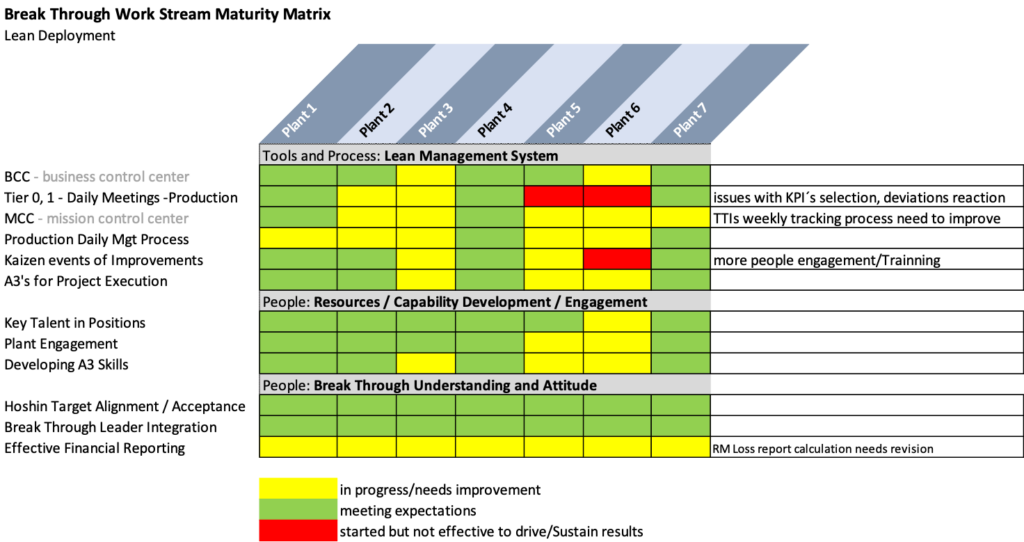 "It's a new way of working, and there is always a resistance to change," he notes. Setting up and following, for example, a daily management process takes perseverance and practice. However, people learn the new way by participating — and hoshin provides the structure and process that supports the needed discipline.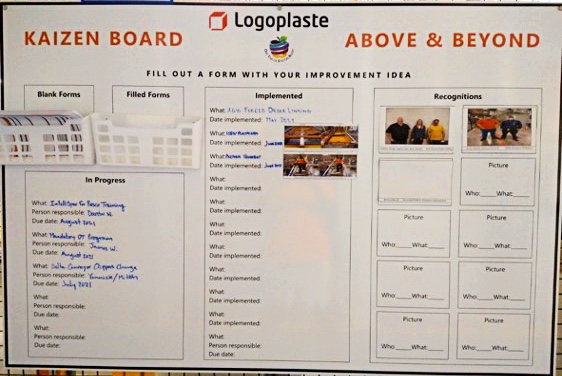 "It's beyond budget," Vila Verde insists. "What we want is that people will make the effort to improve." To that end, Logoplaste prominently encourages, tracks, and recognizes improvement ideas visually. At the same time, that doesn't mean that Logoplaste allows passiveness if a team meets expectations earlier than expected. If that happens, leaders work with them, so they continue to surface and address problems.   
Moving Forward 
"We know that when we work on the capabilities and a management system together, normally the results will come," Vila Verde says. He adds that, in the next few years, Logoplaste will assess the company's growth and cost competitiveness: "If we start to see this improving, it means that we are on the right track. If not, then we need to put more countermeasures in the plan to solve the challenges."
"Of course, we have difficulties, but it [hoshin kanri] is the best way to improve," Vila Verde asserts. "People are starting to understand this mindset — we need to have a culture of going out of our comfort zone in a set of challenges and at all levels from the top to the frontline work. This is a culture that we are starting to implement, and so far, we already see the results."  
As for how to get started with hoshin kanri, with all the new learning and behavioral changes, Vila Verde asserts, "the best way to start learning how to use hoshin is to apply it."  
Executing Strategy
Connecting Hoshin to Daily Management and A3.