Can electric bamboo bikes made in Bali offer a potential solution to global social, economic and environmental injustice?
"Runaway inequality has created a world where 62 people own as much as the poorest half of the world's population," according to an Oxfam report. The 1% now owns more than the rest of us combined. Our current corporate paradigm ignores most negative externalities (greenhouse gas pollution from the combustion of fossil fuels being the greatest) and effectively passes the cost of cleanup on to future generations and people that had nothing to do with creating the problem. In most instances the Earth has no agency, no voice and no representation. I believe all of this is unsustainable and the unproductive outcome of our existing economic model.
To me our current state is unacceptable. Rather than just complain about it or wait for someone else to fix the problem I decided to try an experiment. In August of 2016 I founded EWABI, an electric bamboo bike company in Bali. I defined it as an Earth Corporation (E-CORP), a business that is owned by the Earth, and committed to using Lean as a primary strategy. 
The following defines an E-CORP:
The enterprise is owned in trust by the Earth ("Green" bonds are used for startup funds and working capital. Once these loans have been paid off any resulting wealth/equity that is created is owned by and for the benefit of the Earth)
Right purpose – don't make things that hurt the planet or its many inhabitants
Inclusion, equality and empowerment (Profits are shared with employees up to 20%, Minimum Wage Plus, Defined Maximum Wage)
Circular Economy Design (Net Positive Resource Use, Zero to Landfill, Cradle to Cradle)
Transparency (Open Books, Open Source, Open Communication)
What does it mean that the Earth owns the business? In effect, there is no shareholder equity. The startup phase is funded by green bonds. Once those bonds are paid back the positive cash flow can be used to grow the E-CORP, invest in other E-CORPS or to protect the Earth as directed by the board of trustees. There will never be a distribution to benefit any individual, ever. Profits up to 20 percent can be shared with employees. There is a wage bracket. Minimum wage for EWABI is 50 percent above the prevailing minimum wage in the market of operation and the maximum wage is ten times the lowest wage in the company. This means that no one will ever take out more than ten times that of the lowest paid person in the enterprise. The books and documents are open to the public and the designs are all open source. An E-CORP strives for Zero-To-Landfill and Net-Positive resource use.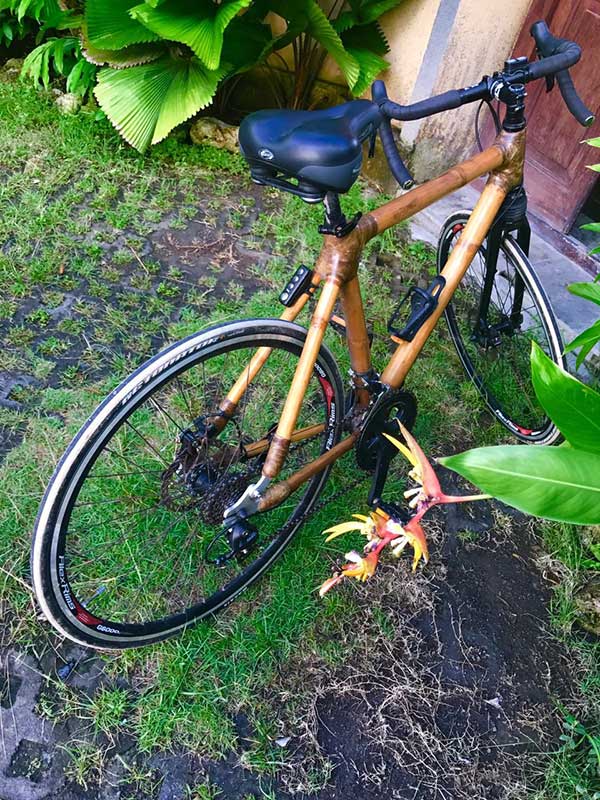 That is all well and good but if you don't have an exceptional product that meets someone's needs with real value then all the good intentions and E-philosophy means nothing. If however you do put together a great product backed by exceptional service and start to generate real wealth, instead of it going to the top 1% it will be distributed and allocated more fairly and equitably. That's where lean comes in. Lean is a way of approaching the creation of value by focusing on respect for people and continuous improvement.   Lean is simple yet challenging.  When applied with patience, conviction and kindness the results are transformational. I've written some previous articles about my struggles to learn and apply lean within Wooden Ships the knitting business I founded in 1992 with my amazing wife Paola Buendia and now I'm doing the same at EWABI.
EWABI's mission is to lower the ecological and economic cost of mobility and transportation. However, most people will not choose to ride EWABI bikes because they are helping save the planet. Instead they will choose them because of the awesome ride, the joy they bring, and the sense of community they foster. If you have any doubts about the power of bike culture and infrastructure to positively transform communities please read "Bikenomics."
We've established a small workshop that is already 100 percent powered by the sun and are building bamboo e-bikes that are being ridden by members of our electric bamboo bike club. Mobility As A Service (MAAS) is the model. You pay a monthly fee and have access to the latest bamboo bikes and e-bikes. This like-minded community of eco bike enthusiasts/activists is helping promote both clean mobility and E-CORP business principles. I chose electric bikes for their relative low ecological and economic cost as a mode of transportation. They are also super fun and support a healthier lifestyle.  Finally, the e-bike market is exploding worldwide. All of these reasons made EWABI the great vehicle for testing the E-CORP concept. 
How do you create an E-CORP? So far there are no formal legal structures to support E-CORPS so EWABI is registering as a PT PMA (foreign investment company) in Indonesia where it is based and writing the E-CORP principles into the by-laws. The formal legal shares will be in my name, and I have irrevocably pledged to follow the E-CORP charter. EWABI is also establishing a board of trustees with the obligation to ensure the charter is followed and will have the ability to change top management (myself included) if necessary. This board so far includes Craig Calfee (one of the world's top bike builders and a supporter of numerous bike related social enterprises throughout the world), Jim Womack (top management guru who introduced the world to Lean, the Toyota Production System, with his ground-breaking books The Machine that Changed the World and Lean Thinking), John Hardy (visionary founder of Bali's Green School and host of other enterprises that are pushing the boundaries on what true sustainability can look like in business), Chris Mann (Chairman of the Gourd of Guayaki the amazing mate company that is a model of how to run a business sustainably), and Mark Donovan (creator of the E-CORP concept, founder of EWABI and co-founder of wooden-ships.com).
These enormous problems facing society (climate change, social and economic injustice) seem daunting and overwhelming at times however if each of us acts boldly within our spheres of influence and impact, our collective action can bring about rapid positive change. Lean thinking provides us with a framework with which to maximize the value we deliver while helping solve our customer's problems and pain points. EWABI and the E-CORP platform are my attempts to serve the Earth and reduce inequality. I'd love to hear about your EWABI? 
Peace & Love,
Mark