"You've got to think about big things while you are doing small things, so that all the small things go in the right direction."
                                    –Alvin Toffler, Future Shock
Hoshin kanri, which can be loosely defined as strategy deployment, is more than just a tool for connecting goals, as I pointed out in my last post. Managers and leaders should see HK as part of a sociotechnical system for building organizational capability—in particular as a powerful way to develop people. That's why Toyota teaches problem-solving and on-the-job development (OJD, the coaching method) as core competencies of HK.
Ideally, hoshin kanri connects an organization's external strategy for success in the market with its internal capacity to deliver on promises to customers. In a perfect world, companies have complete control over what goes on inside the organization and even over the environment. As they make and follow a plan, everything works out exactly as expected. Toyota, which has grown up on a small island nation buffeted by tsunamis and earthquakes, recognized long ago that this is impossible—that uncertainty is a fact of life. And so they try to get control over whatever they can.  
I highlighted one powerful way that Toyota connects strategy and execution in my recent revised second edition of The Toyota Way, sharing principle 14 as "Learn your way to the futureHoshin kanri connects an organization's external strategy for success in the market with its internal capacity to deliver on promises to customers.  through bold strategy, some large leaps, and many small steps." Most companies need a bold strategy to plan for our uncertain and highly competitive futures.
To connect our plan to reality we need the capability to execute. And execution involves all the actions we take day by day. We need to connect our external strategy with our internal activities, recognizing there are some things we can control and much that remains uncertain.  When working on the second edition I attended a lecture by an old friend and colleague Robert Quinn which tied this all together for me.  He talked about his "Competing Values Framework" which has become a classic in organizational studies.  It is summarized below.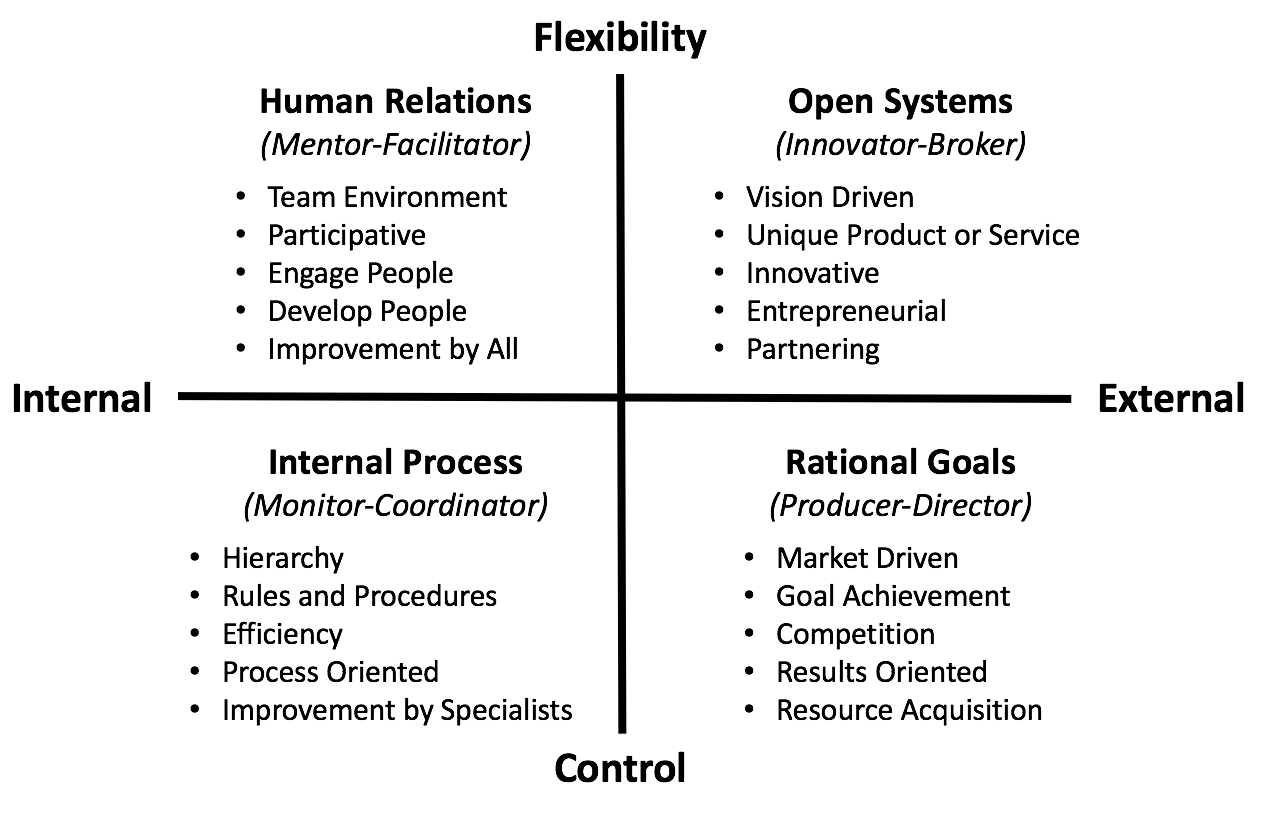 Develop the Capability to Execute
Quinn distinguishes external and internal organizational considerations, citing things we can directly influence like our professional staff and operations as internal. While it's a judgment call exactly where you draw this line, you can consider as external factors those environmental things that are less in our control: what our customers choose to purchase, what our competitors are up to, what new technologies are being developed, global economies, and what government regulations are being formulated.
Spring Spotlight: Creating the Purposeful Enterprise
Explore the best practices and insights examining this essential element of lean transformation in this and other articles in this occasional series.

Then take a deep dive into the latest thinking on the topic by joining LEI and leading lean executives at the next Virtual Lean Learning Experience, June 21.He further distinguishes between flexibility and control. Flexibility refers to adaptation and innovation. Control means rules, regulations, and negotiations. When we combine the two dimensions we get four cells:
Open Systems: External flexibility through innovation to try to get ahead of the competition through superior products and services.
Rational Goals: External control through specific transactions, mostly focused on short-term profits. We can acquire, merge, lobby, sell, and competitively price our goods, and offer promotions.
Human Relations: Internal flexibility by engaging and developing our people. Developing scientific thinking through kata is a way to create a flexible, adaptable culture.
Internal Processes: Internal control through rules, procedures, policies often referred to as bureaucracy.
There is a natural assumption when we see a table like this to assume we need to pick one cell indicating our dominant tendency. What makes Quinn's framework so powerful is the concept of paradox. We can be strong in competing areas like effective internal processes, for example, and also have excellent human relations, which is precisely what Toyota strives for. 
Benchmark Tesla and benchmark Toyota–but above all benchmark yourself.This simple framework gives us a picture of how we can balance our effort in the direction of competing values. We can assess where we are today and where we want to be in the future. We may have historically been strong on control, for example: building relatively standard products and selling aggressively with strong top-down management to maintain cost-effective internal processes, perhaps shipping production to low-wage countries. This strength may not be a recipe for success in the future as we face innovative competitors with superior products.
Consider the case of the auto industry which is being shaken up by what Akio Toyoda calls a once in a century disruption.  The movement of the entire industry is in one direction, CASE, (connected, autonomous, shared, electrified mobility.) If you stick your head in the sand and focus only on lower cost gas-engine vehicles, you will likely go out of business. I summarize (in an admittedly crude way) the profile of Toyota, Tesla, and other legacy automakers in Quinn's framework.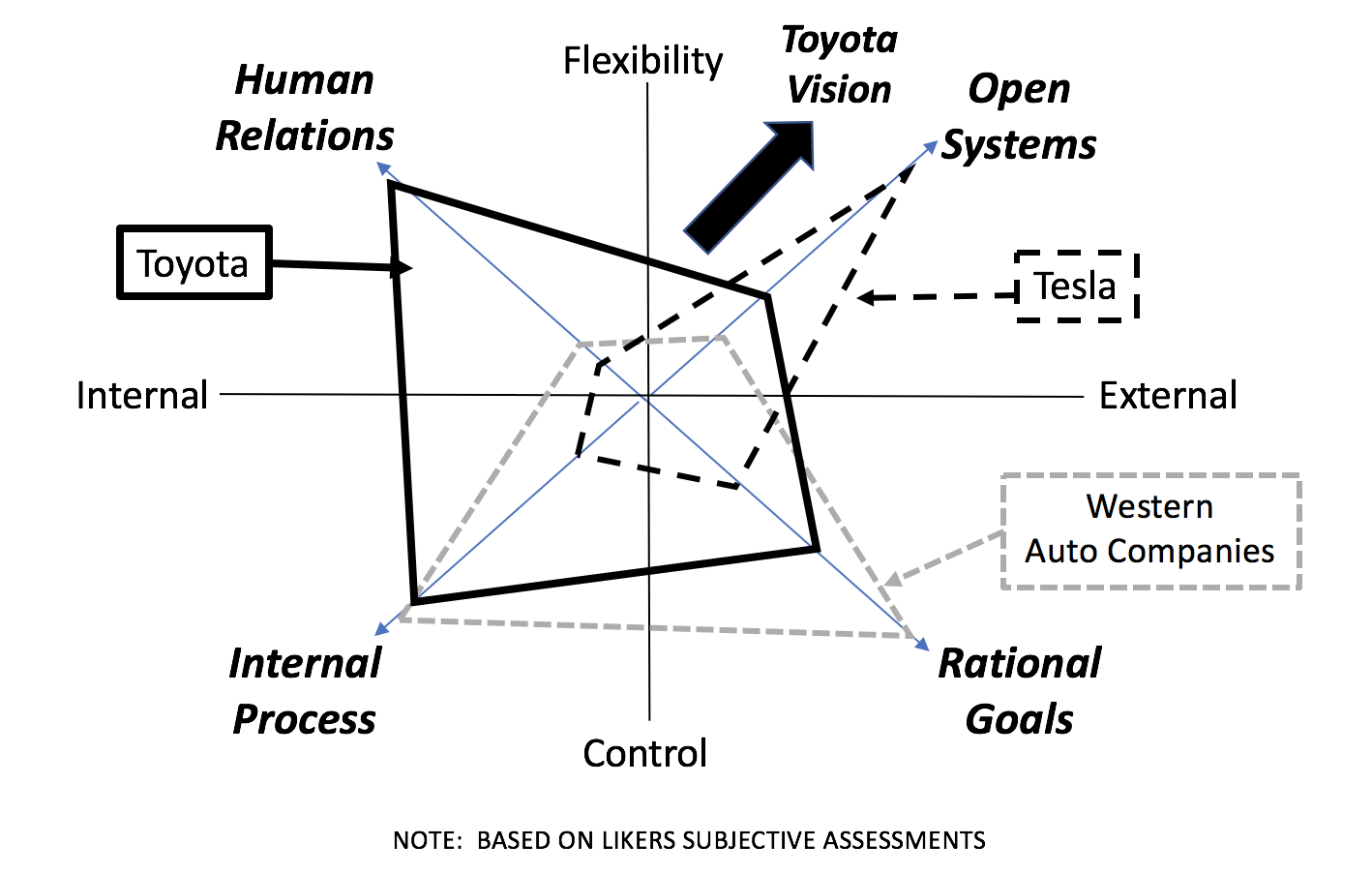 People often ask me whether Tesla is the new Toyota and companies should be benchmarking the Tesla Way. My answer is simple: benchmark both companies, but copy neither. You should benchmark yourself. Where do we want to be in the future as an organization? Where are we now? What steps can we take in the direction of our vision for our organization? Then you can experiment and learn. This is not a spectator sport where you decide who is worth betting on at the moment.
Blaze Your Path By Getting Products Out the Door
Tesla has followed its own unique path with remarkable success. Tesla's vision was to be the leader in future mobility focused on battery-electric vehicles and leadership in autonomous driving. They developed an exceptional product before Elon Musk got involved and then Musk provided the vision and showmanship needed to get investors onboard. Tesla had to look like a disruptive technology company, not an auto company, to get the funding needed, and did not have to worry about supporting existing suppliers or infrastructure.
Under Elon Musk's leadership Tesla blazed new trails and killed it in the open-systems quadrant. Internal execution was rocky at times but good enough to get vehicles out the door to customers waiting in line. Tesla is strongest in the one area that Toyota is less developed and Toyota dominates in the other three quadrants.
Toyota's success has come from relentless focus on quality, reliability, and efficiency. They are the king of excellent execution, with mostly conservative products. Good enough to have the features customers expect. They have in some cases done breakthrough engineering and the Prius is their best example. Even with the Prius, once Toyota developed the first production model they continuously improved on appearance, functionality, quality, and cost with the goal of making a hybrid that cost little more than a gas-powered vehicle. They succeeded.
Sales of Toyota hybrids now exceed total sales of all battery-electric vehicles. They are funding R&D into CASE at the level of tens of billions USD organically based on profits. Toyota Toyota's success has come from relentless focus on quality, reliability, and efficiency. does not need to impress outside investors. They have the money to invest in themselves and even outside companies. They are in a totally different situation than Tesla, with strong development in all four quadrants, though Akio Toyoda has been leading the company aggressively in the open-systems quadrant. He sees radical change in this once-in-a-century disruption of mobility as essential to long-term success.
Most other legacy automakers have focused most of their attention on control, internally and externally, but they are aggressively moving in the open-systems quadrant, investing billions in CASE. I believe to get balance they need to develop more in the human relations quadrant, focusing on internal flexibility to execute at the level of their external strategic ambitions.
Who will win and who will lose? The race is at a fledgling state and we may not know the answer for the next ten years or more. That is uncomfortable in a world where we desire certainty. "I want to know the winner right now so I can know who to invest in and who to benchmark!" If life were only so simple.
Where are you on the competing values model?  There are excellent instruments to assess yourself in a book by Kim Cameron and Robert Quinn. What is your strategy? Where do you need to be to get a good fit between the different quadrants? Have you been focused on control and you need to work on flexibility externally and internally? This of course only gives you a direction. Then you need to do the hard work of executing.