Part two of two. Read part one, which describes how the hoshin kanri process, combined with effective coaching, offers organizations a way to confront the challenges of implementing change.
While hoshin kanri is a process that provides a structured way to implement change in an organization, coaching strengthens that process by helping leaders and team members adopt the mindset and practices that ensure success.  
Seemingly easy to understand but challenging to achieve, here are five areas where a coach will help leaders execute a successful organizational transformation. 
Learn from, Don't Denigrate, the Past 
There are many ways to tackle a strategic planning process – each is valid for a specific business context. Indeed, the approach that was used in the past had its time and purpose. We must learn from that previous process and build on it, not discredit it. The hoshin kanri process provides a way to use the knowledge gained from earlier attempts as a platform upon which to build the next iteration. When we are dissatisfied with the current state (for whatever reason) and seek a different way to look at the company and shape its future in a changing environment, hoshin kanri offers a collaborative way to think deeply about the situation, build on common ground, and forge a path forward. 
Make it Personal through Practice 
Lean transformation of an enterprise requires that all people, at all levels, learn to solve problems collaboratively. Executive teams engaged in a hoshin kanri process lead the organization by example, demonstrating the process required to build capability. We know that in learning a new skill, there is no substitute for practice. When the team members see their leaders "walking the talk," they become more willing to follow the process. Through this consistent practice, both leaders and team members build intrinsic motivation. Coaching reinforces this need to practice the process, which, in turn, makes the process personal and ensures it inspires a move to action from within. 
Lean transformation of an enterprise requires that all people, at all levels, learn to solve problems collaboratively.
Build Trust through Facts 
Building trust requires the courage to have honest, open communications. Generating a certain level of discomfort is necessary to shift the conversation to the crux of the matter, exposing sore points and eliciting uneasiness with the status quo without assigning blame. Relying on the cold–heartedness of facts to make problems visible allows for an honest, dispassionate analysis of the situation, which, in turn, enables teams to reach a consensus.  
Balance Dissatisfaction with Inspiration  
The leader facilitating the hoshin kanri process is continually walking a thin line between creating dissatisfaction with the current situation and offering a healthy dose of inspiration with a vision of the future. Facilitators of every step in the process must enable the team members to passionately engage so it doesn't become stale, lifeless. They must remind the group to "go hard on the system, but soft on people."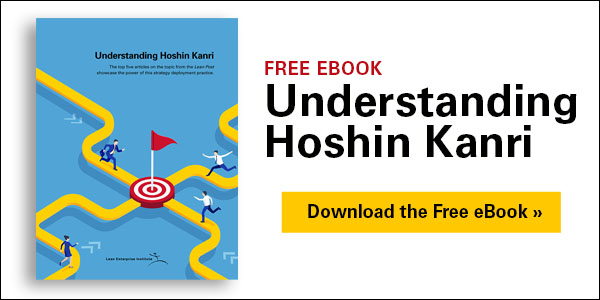 A leader's role is to support the team in balancing analysis, discovery, ideation, and consensus-building. The coach's role is to support the executive to improve self-awareness and reflection. 
Deploy Strategy, Coach at All Levels 
Hoshin kanri is a strategy deployment process that links the company True North with execution plans at all levels of the organization. Naturally, there is a need for coaching lower levels through the functional deployment of the corporate hoshin in succeeding iterations of collaborative discovery. By extending coaching throughout the organization, the experience and knowledge gained during the hoshin process are passed on to others via learning by doing. A process brings the hoshin to life and makes it relevant and appealing to all people involved. Clarity of purpose and what needs to happen is achieved in cycles of refinement. 
Coach for Personal Growth 
If transformation comes through personal growth, then the coaching that supports hoshin kanri should focus on helping leaders become teachers and coaches who are committed to both self-development and the development of others. Among the most important coaching points are the following: 
Understand

the importance of humility and hard work

, and h

ow

to b

e comfortable realizing

and admitting how much you need to learn and commit to doi

ng the hard work and experimentation

.

 

Recognize the

fear of change for what it is, the fear of the unknown

, and h

ow to face

it and

help others

do so, as well.

 

Trus

t that

enhancing

your team members

'

skills and abilities

is the key to

achie

ving organ

i

zational

success

, and

learn h

ow to facilitate

their personal and profess

ional growth.

 

Realize the fundamental differences between the process that led to the current state and how to leverage that knowledge

to

achieve

the desired future state.

 

Understand that l

earning by doing is essential to build deep understanding through shared experience

.

 

Appreciate how

focusing on

facts

builds

trust

and

learn how to

shift

the conversation

back to the facts

, reflect, and share back with the team

. 

 

Acknowledge the difficulties of s

tay

ing

the course 

and learn how to

embrace the process,

and

commit to self-development

.

 
What to Do Next?
Join us for Hoshin Kanri Remotely: Aligning and Executing on Your Organizational Objectives. Through this nine-week learning experience, you will sharpen your leadership skills and develop a deeper understanding of hoshin kanri (also referred to as strategy development and deployment).
Hoshin Kanri Remotely:
Aligning and Executing on Your Organizational Objectives
Join us for a live online course to sharpen your leadership skills and discover a proven method for successfully executing your strategy.