By Cristina Adalid Fontcuberta, Flávio Battaglia, Denise Bennett, Oriol Cuatrecasas, Alice Lee, Dr Carlos Frederico Pinto and Dr Javier SalaMercado
During the pandemic, ensuring hospital staff's health and safety is paramount, as healthcare workers are pushed to the limits of their physical and emotional capacity. The Global Lean Healthcare Initiative offers best practices that will help avoid burnout, ensure adequate supplies of personal protective equipment (PPE), streamline work areas to avoid endless searches for materials, and more.
This post is part seven of a seven-part series. For more quick tips developed at the hospital gemba by lean healthcare professionals, see the first six parts:
Part 1: Designing the Patient Flow to Fight Covid-19
Part 2: How Hospitals are Leveraging Visual Management in the Battle Against Covid-19
Part 3: Creating Standardized Work to Ensure Safety, Quality, and Efficiency
Part 4: How Short, Structured Communication Cycles Help Hospitals Solve Problems, Offer Support to Staff
Part 5: How to Build Skills Fast with a People-Development Plan
Part 6: How to Ensure our Hospital's Capacity in a Crisis
Level capacity and protect staff
Give people the time to recover. This is important to avoid staff burnout and the mistakes that often result from it. Limit working hours, creating a smarter shifts plan so that the teams are able to "run the marathon."
Assign tasks by balancing staff (which should include age, empathy, energy, mental strength, knowledge…) and try to cross-train staff in more than one area of the organization, as these multi-skilled workers can be moved where they are needed for flexibility.
Create a plan for managing different levels of capacity (for example, as you add new ICU beds to your Covid-19 flow). As your demand increases, gradually devise new plans on how machines/equipment/spaces are going to be used/moved/assigned each time. Allocating all resources from the beginning could result in not using them effectively; it could also make each potential mistake much more damaging. Conversely, a plan with several iterations allows you to integrate your lessons learned and improve your response.
Calculate how much material you need for each flow, process, scenario.
Don't be afraid to start from scratch. Set up the space using workplace organization techniques like 5S and 3P and create standards for each flow/process/scenario.
Ensure material is always available to professionals when they need it. It is key to reduce searching for things as, in hospitals, hours are typically spent walking and searching for materials. Always have someone responsible for replenishment and make sure you are making the most of the material you have.
---
EXAMPLE 1 – ARGENTINA For the first time since 1977, physicians in the Cordoba hospital are working no longer than 12 hours and nurses no longer than 8 hours. As of March 28, front-line staff – younger than 60 years old – has been divided into three groups: The first two groups work for five days (one from 8 AM to 8 PM, and the second from 8 PM to 8 AM); after that, the night shift goes home and stays in quarantine for five days (in case any Covid-19 symptoms appear) and the third group comes in. The day group will move to the night group, and so on. Additionally, we have a plan for managing different levels of Covid-19 patient demand and have decided how the different areas (i.e. ICU) will be converted for Covid-19 care in three stages.
EXAMPLE 2 – USA An ICU nurse in Boston noted how many PPEs she and her fellow nurses had to use as they entered and exited ICU rooms to adjust or respond to IV pumps. She proposed, got approved, and tested the process of moving all the IV pumps outside the rooms, at the door, to preserve PPE use and make it faster for nurses to do this part of their work. Obviously, the nurse would still don PPE and check on their patients and IV site, but this way they can reduce the number of times they need to enter/exit rooms (like when pumps beep).
EXAMPLE 3 – BRAZIL A hospital in our network has come up with a three-tiered plan to prepare for the different stages of the Covid-19 crisis.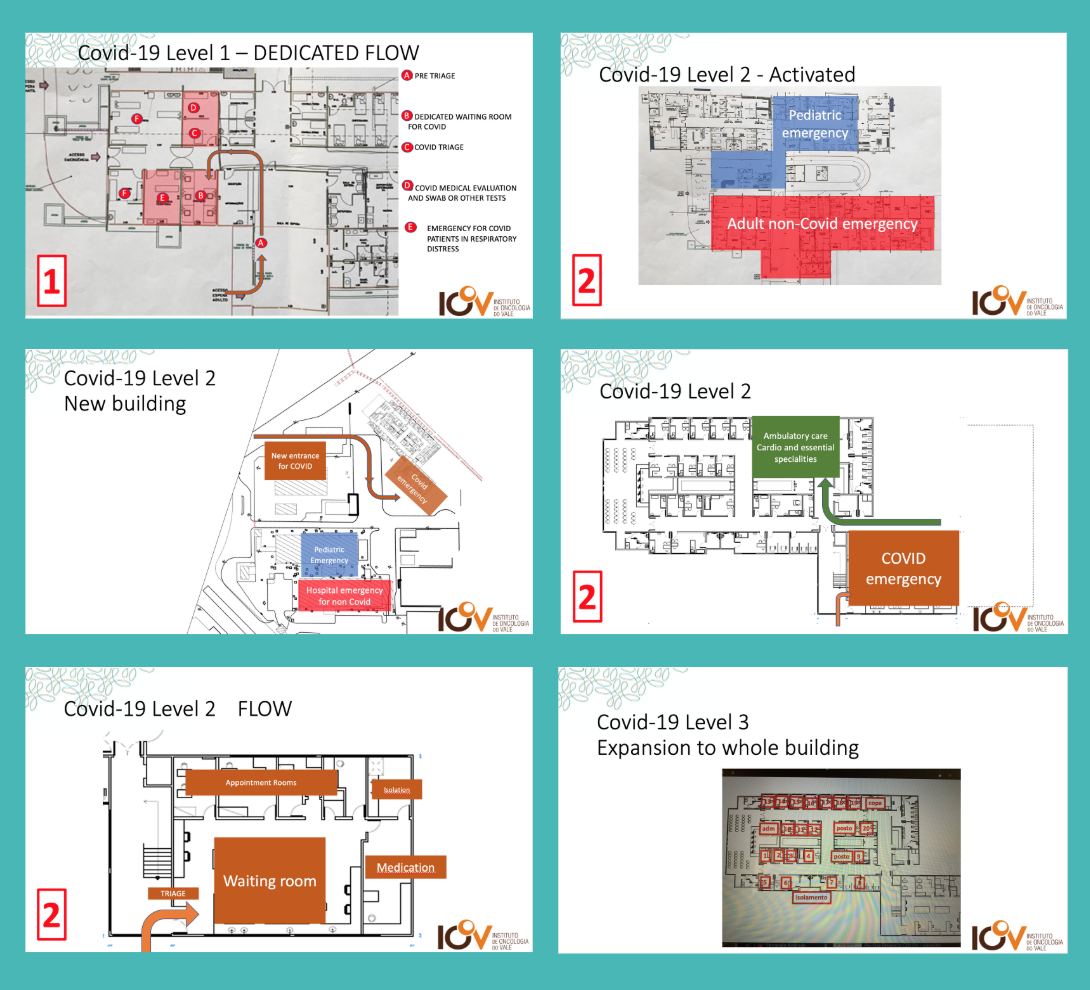 EXAMPLE 4 – ARGENTINA After their first suspected Covid-19 case – hospitalized on March 23 – turned out to be negative, the hospital in Cordoba realized a large number of PPE had been used (unnecessarily) to isolate the patient from caregivers and decided to review its process to minimize staff exposure and PPE utilization. They mapped all the touch points for that first patient over the 24 hours he awaited results and merged or eliminated some – going from 23 touch points per patient every 24 hours to 7 to 9 touch points with two patients in inpatient rooms. For their first confirmed Covid-19 case, hospitalized on March 29, the team had 10 touch points with a 57% reduction in PPE usage over 24 hours, for three consecutive days. For ICU patients, the original design started at 60 touch points per patient every 24 hours and is now expected to be around 20 touch points every 24 hours for seven Covid-19 ICU patients.This was achieved by deploying highly skilled professionals to the relevant areas and by implementing a Kanban replenishment system.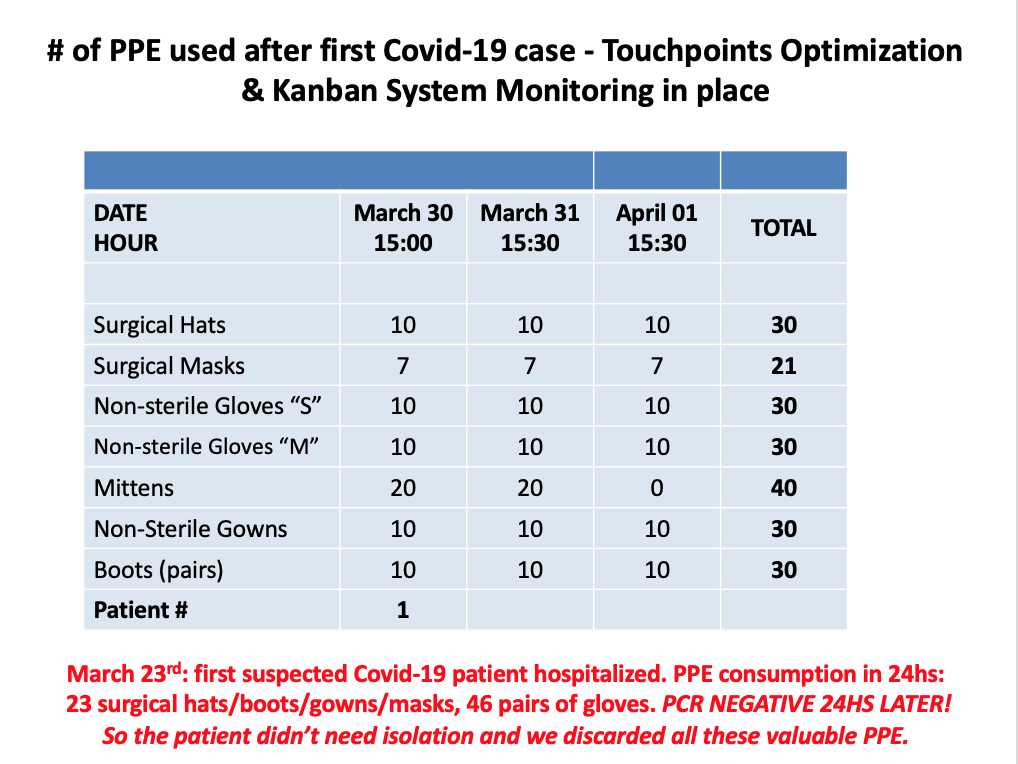 ---