Where to begin lean coaching and learning at a unique service organization like Community Servings, with many different moving parts, multiple stakeholders, and a changing customer and community need?
Lean is first and foremost about learning by doing, so during summer 2012, the LEI team headed to Community Servings (the gemba) to learn its processes. In July and August, LEI interns Jikku Mohan and Olivia Talman volunteered alongside regular staff and one-time Community Servings volunteers from local schools and businesses. With the help of LEI coaches Mark Reich and Danielle Blais, they interviewed people, learned how to see and map the work of the organization, and with Chef Tim Williams' help, began gathering data.
They learned that food is prepared in the one and only kitchen, made into "five-stacks" of individual meals by meal type (sorted by nutritional needs), and then stored in a large freezer room. Once these five-stacks of main entrees are appropriately chilled, they are pulled out of the freezer and put in ready-to-go client bags with additional sides and desserts. Once client bags are ready, they are stored in a walk-in fridge. The next day delivery drivers come into the walk-in fridge, take what they need for the day from their own lists, and load their own trucks. Mohan and Talman helped prepare bags and stack meals in the freezer. Along with Reich and Blais, everyone was given an overview of the entire process, beginning with food preparation to loading trucks and sending delivery drivers on their way.
Lean practice (and coaching) is also about making demonstrable improvements in one area of the business that can be learned from and translated elsewhere. So with Reich and Blais, Mohan and Talman began watching for problems and thinking toward potential improvements in kitchen and freezer processes. They learned that drivers couldn't always find what they needed in the walk-in fridge. Sometimes drivers took the wrong bags (a potential safety problem), and sometimes food expired and had to be thrown away because it sat in the walk-in fridge too long (a waste of food and funds). Why not start with some small experiments and color-code the bags, organize bags differently on freezer shelves, and reduce freezer inventory?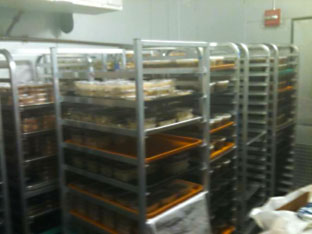 "Our organizations benefit tremendously when we take the time to slow down and talk with each other about the real business need and organizational problem we are attempting to address every day."
Williams and his team were aware of all of these day-to-day problems and in some cases had already been experimenting with improvements, but welcomed LEI's suggestions. Very quickly they figured out a way to reduce inventory of meals in the freezer by 30%.Then both teams began to think together: were the problems they identified really the problems the organization needed to address? What high-level organizational problem did they want to address? What could all of the smaller problems they identified, and potential process improvements they were experimenting with, tell them about the larger organizational problem?
For Williams, the answer is easy. "The problem is wasted food. Right now, production isn't the issue. Are the bags going out? …clients getting served? Yes. At the end of the day, whether or not we make any process improvements, the food gets there," he says. "But when there's wasted food in the walk-in fridge because food has been sitting there and I can't re-thaw it, that's dollars that could be spent feeding more people, serving more clients who need our help." Right now, the kitchen team ends up having to throw away 8-10 bags on average per day, which could mean 10 more individuals fed.
So the priority now, above all else, is making sure drivers take the right bags of food and meals don't sit in the freezer any longer than they have to. This is easier to do now that Williams' team has dropped inventory and taken another look at the way they organize the freezer. To make sure drivers take the right bags of food and bags move the way they need to move within the freezer (as kitchen staff and delivery drivers come in and out and take what they need), staff are thinking more and more about what they can do in terms of visual management. Whether it's color-coded bags, new tags on the bags, or new labels, they are finding ways to help drivers pick the bags they need and get meals out of the freezer before food expires.
It sounds easy, doesn't it? Just change the way you color-code something so that food doesn't go to waste. But like most problems, this one is trickier than it sounds.
There are five different kinds of meals to prepare and organize. Frontline staff (mostly volunteers) at Community Servings is forever changing, and regular staff members are used to the way they do things. Williams and his team only have so much kitchen equipment and space, not to mention wiggle room in terms of what they can or even want to change up on staff in terms of production and delivery processes. Like most companies, whatever the industry, Community Servings struggles with variation (with both product and schedule) and constantly evolving customer demands. On top of all of this, leaders within the organization must balance continuous improvement efforts with the needs, habits, and comfort levels of staff. Williams and his assistant chef each play three roles simultaneously; they each must 1) do their day-to-day job, while 2) managing others, while 3) keeping an eye on process flow, problems, and potential improvements.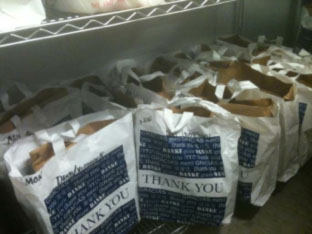 Danielle Blais also has her attention on storage in preparation for the winter holidays. "With Tim and the team reducing inventory by 30%, we thought we had a handle on space and storage capacity. Walking into the freezers in November was a different story though. Over Thanksgiving, the FIFO system I thought we could try was no longer a possibility. The winter holidays are quickly approaching and storage continues to be an issue. On top of regular production, they need to plan for another round of mass production in parallel. They're working hard on their surge capacity plan. This is an opportunity for LEI to help make holiday surges easier on the staff and volunteers."
For LEI, the Community Servings project highlights something we all struggle with in our organizations: the desire to identify and "fix" problems as soon as possible, with as little effort as possible, in order to keep the work "on track", do things right, and keep our customers happy. While jumping into the work and looking for problems to tackle is a good start because hands-on, experiential learning is the way we learn best, it is just a starting place. Our organizations benefit tremendously when we take the time to slow down and talk with each other about the real business need and organizational problem we are attempting to address every day.
Now that both parties, LEI and Community Servings, better understand the current state, have identified business problems and begun experimenting with process improvements, the next step is looking for ways to continuously improve and map out a future state that will address costs, time, quality, safety, and customer satisfaction goals.
Read about another application of lean thinking for nonprofits: "Lean For Healthcare Organizations in South Africa: An Interview with Lean4NGO Founders Steve Bell and Karen Whitley Bell"