Kaizen. It's a term that can be interpreted and implemented in countless ways. But in my mind, the essence of kaizen is to make incremental sustained improvements every day through observing the work and eliminating the burden, inconsistency and strain we often allow processes to operate with.
I have led many successful kaizen activities that target just those three things: burden, inconsistency and strain. The net effects of this narrowed scope of focus speak for themselves: participants can clearly see the improvements made in safety, quality, productivity, the reduction of waste and time saved. Formerly frustrated team members become happy team members – and nine times out of 10 a happy team member is a more productive one, too.
The sketch below outlines what I plan and do during a kaizen activity, how I think it through and how I execute it. It will probably look like a mess at first glance, but look again, starting with the word "Kaizen" in the upper left-hand corner. Look closely and read between the lines and sketches as you move your eyes from left to right, back and forth, up and down. When you do I'm sure you'll find my process helpful.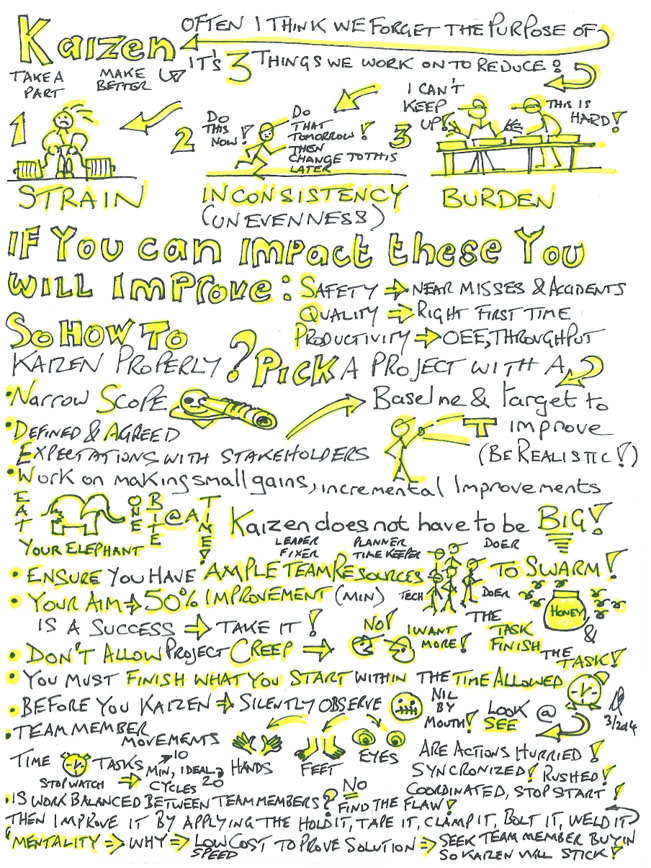 Click on image to view larger
Do you think the sketched process will help solve a problem you've been having implementing kaizen?