Faced with declining profits and sales during the global financial crisis, Starbucks responded with a variety of improvement efforts that included having thousands of U.S. retail stores share discrete best practices. The "blizzard" of good ideas – too many to fully understand or support – created pockets of unconnected work routines that managers and employees couldn't sustain.
In 2010, the company began linking the pockets by introducing "Playbook," a complete operating system based on the lean management principles of delivering more value to customers, consuming fewer resources, and training frontline people to solve problems.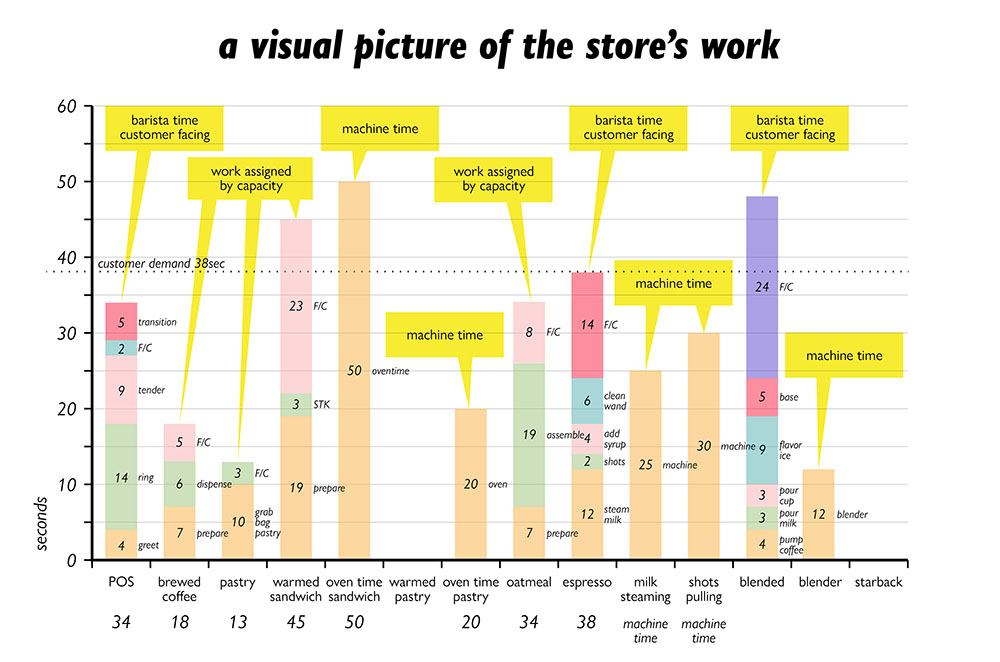 In Steady Work, the new book from the Lean Enterprise Institute, author and former Starbucks' Regional Manager Karen Gaudet offers astute business guidance for today's turbulent times and a heartfelt personal story about how the continuous improvement operating system revitalized the retailer during the global financial crisis and helped employees in Newtown, CT, get through the worst week of their lives. She talked recently with Chet Marchwinski, LEI's communications director, about the lessons in the book for leaders at restaurants or any industry.
Q: As someone who worked 30 years in the fast-casual restaurant business and still has friends there, what are your thoughts now as you see the business trying to survive the coronavirus pandemic?
"Standardization improves people's lives. Standardization is at the heart of solving the most critical business problems, developing people's capabilities, and advancing innovation in products and services."Karen:  I have been in conversations with many, many leaders who are still in the industry going through this challenge. There's a lot of complexity to the problems they face, let alone the very human problem of the health risks to them and their employees.
The systemic challenges that have existed in the restaurant industry are becoming its Achilles' heel at a time when it needs a stable foundation for thinking about work. The restaurant business has had standards – such as regulations for food safety — for a very long time. But It hasn't had a standard process for thinking about how work gets done. And right now, as demand disappears or shifts, the industry is trying to reinvent how it serves the customer by taking cafe locations and turning them into pickup locations or delivery locations or even drive-through locations.
Q: Do you have any tips for applying lean principles to improve existing takeout operations or helping dining restaurants set up takeout operations?
Karen: It's all about determining by observation how much time it takes to do each step in a work process. To make a salad, for example, how much time does it take to prepare the ingredients, assemble them, then deliver the salad for takeout or at the drive-through window?
Then you have to understand demand. Given the demand that's coming in for salads, how many salads do you need to produce in a certain period of time? Then you can determine how many people you really need doing that work and how to keep them safe. This is slightly different from a standard time and motion study because it takes the flow of the work or sequence of steps into account as well. Once you have the basic components of this information, you can develop a system that flexes with variations in demand.
This can also enable a common approach to teaching new skills in a routine way. Much of the work in the industry is changing as we speak. New people will need to be trained and current team members will need to learn new work and become productive very quickly.
Q: One of these days, the pandemic will end. How can restaurants recover quickly based on your experience at Starbucks during the financial crisis?
Karen: As I alluded to above, have a method to quickly train people who may have been laid off and get them productive quickly. Breaking work down into repeatable routines that are written down as job instructions will help people take on demand quickly. When work is done differently each time, there is a tremendous amount of waste and confusion. It's difficult to create strong productivity in a short period of time when there's no standardization or routine for how the work gets done.
Q: And it just so happens that you've written down how to do this.
Karen: We did this at Starbucks during the financial crisis in 2009. In Steady Work, I explain the process of how to analyze work by close observation and break each step into standardized routines based on point-of-sales data so managers and staff respond quickly and efficiently to changes in demand.
Q: Why did you write the book; what was your purpose or what problem were you trying to solve?
Karen: When I joined the Lean Enterprise Institute after my work at Starbucks, the exposure I had to leaders transforming their businesses grew. One day, I happened to be telling my story of implementing a continuous improvement (CI) system to the LEI team when then-CEO John Shook asked me to consider writing about it. I realized how unique my experience was but also how common the challenges are when any leader tries to change the way a business operates by introducing a lean management system, which is essentially a method for continuously improving how the business performs by systematically surfacing and solving problems.
The system we deployed at Starbucks, like other CI systems, turned traditional management approaches upside down by advancing the idea that the best way to understand a company, its functions, customers, and challenges was not from the C-suite but the frontline. In this system, the job of managers was not to give solutions to problems but to guide frontline people in finding solutions. The transformation I participated in was special. The immense and lasting impact it had on growing people's capabilities was so great, it seemed that sharing the story would benefit many other business people.
Q: What does the title, Steady Work, mean?
Karen: Steady Work means that a business improves people's lives when it improves how work is done.
In my example from the retail food industry, standardizing certain aspects of the work and connecting interdependent points of work processes steadied – stabilized – the business. It tamed the historical spikes in demand that occurred and applied a common logic for demand planning and staffing. When all of this comes together, problems are solved more effectively and people's lives improve.
For example, at Starbucks frontline partners were able to get their work done without rushing or stress. And managers were able to take a day off or go on a vacation with their families because they weren't always working overtime to solve every problem.
Q: What would you say is the book's hypothesis or premise?
Karen: Standardization improves people's lives. Standardization is at the heart of solving the most critical business problems, developing people's capabilities, and advancing innovation in products and services. Standardization ties the business strategy to the frontline work, aligning the enterprise.
Q: What were the business results from applying lean management concepts to the work at Starbucks?
Karen: The first result to show up was an increase in sales. The morning peak period expanded as customers realized they could rely on a more consistent experience in service. Additionally, on-hand inventory levels dropped significantly because the system enabled management to better understand how much product of each type was needed and when.
As the system became more and more stable, employee turnover dropped to the lowest levels ever, productivity went up, internal promotion rates climbed, and the cash flow began to seep into every line item on the P&L.
Q: Why should a manager or executive who doesn't work at a quick-serve restaurant read Steady Work; what's in it for them?
Karen: The story takes place while I was at Starbucks, yes. But regardless of the industry, an executive's role is to grow the business. If those who do the work are unable to successfully execute the business plan, they are working against each other and results are sub-optimal. When executives understand the work and dedicate themselves to ensuring there is a system that enables problems to be exposed and solved, then conditions for everyone improve and more of the business vision is realized.
Q: What impact do you hope the book has on a reader; on the practice of management?
Karen: My hope for this book is that leaders will see a bit of themselves in the story and will recognize that it is the culmination of many small incremental actions that build the practice of lean thinking and its capability to transform the business and its management system. Leaders are in the position to serve. I hope that after reading this story, leaders will increase their roles and responsibilities within the transformation of their business.
Next Steps
Get a copy of Steady Work to learn how task standardization and steady work cadences improve productivity, work culture, customer satisfaction, and profits.