One might expect that all restaurants in Japan are operated with lean principles, but as I quickly learned when we moved to Japan, lean thinking and practice is not synonymous with Japanese culture.
So it was with the joy of a lean geek to discover how many familiar principles I observed while dining in Japan at Kura Sushi, which local friends recommended to me and my family as a "must experience" Japanese conveyor belt sushi joint that our young kids would enjoy for the gadgets, while still meeting the mark for good food.
Kura Sushi was based on a similar concept as the "sushi boat" restaurants I'd eaten at in the states (where plates of pre-made sushi offerings are served via conveyors at your table); I found it to be much more than that. We all were wowed by the cute atmosphere and electronic gaming sounds, happy with the the low price and high quality fish, and giddy when our plates plates and drinks shot out via conveyer belt directly to our table.
But even more than the fun devices and decent food, I was thrilled by the Lean principles in action. I've now been back several more times to Kura Sushi in Japan to bring other lean thinkers in for this "lean sushi" experience. Just this past May when I was back in Japan, I went twice: once as part of a Japan Lean study trip I was leading, and once the following week with my kids who joined me after the Study Trip for their first time back to Japan in two years. In fact, our kids now 4 and 7, said that Kura Sushi was on their bucket list of things! Here's what we observed:
VISUAL CONTROLS AND 5S PRINCIPLES:
When you walk into a Kura Sushi restaurant with your "lean" eyes open, you will immediately notice the amount of visual controls and 5S principles used throughout the restaurant. For example, even my kids could easily find their table without help due to the color and number coding system in place: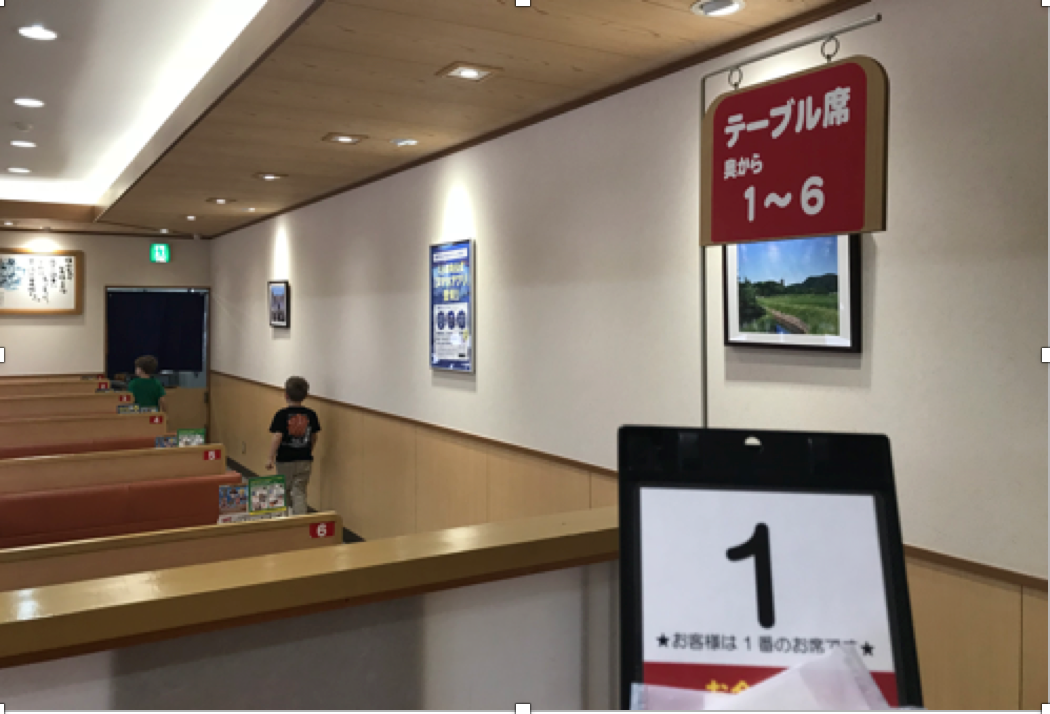 When your table is ready, you are given a color coded card with a number that matches the colors and number on the map hanging on the wall. A color coded map hangs in each aisle with corresponding numbers and colors representing each table. A numbered and colored sign is also on each table. This allows anyone to find their table easily: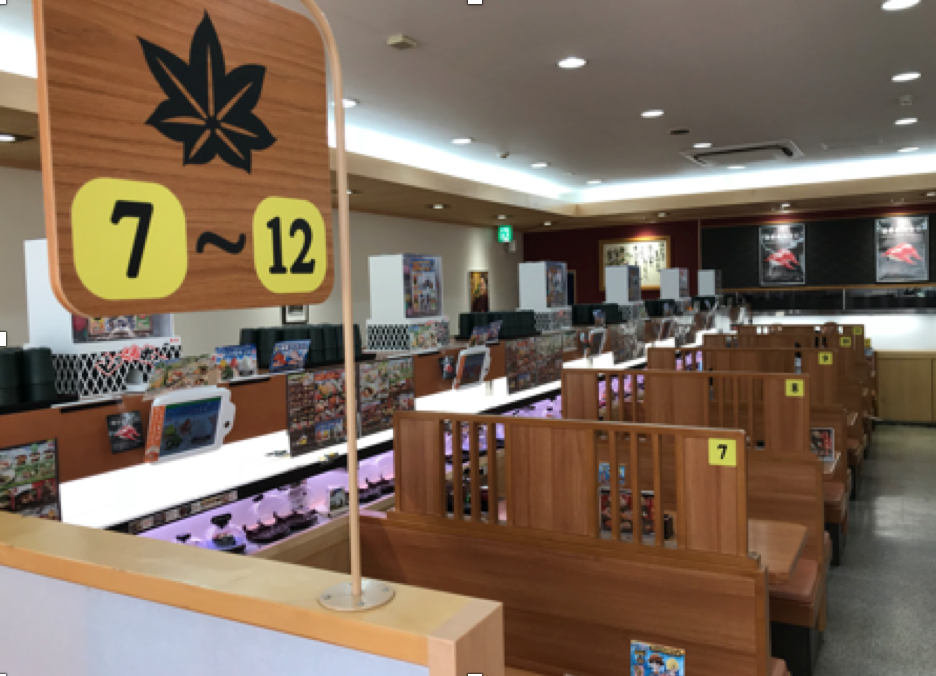 STANDARD TABLE SETUP
When you arrive at your table, you find that everything has clearly been "set in place" and there is a process to replenish cups, plates, and other items (or at least there has appeared to be a process as ocassionally the floating server would replenish items). As you see below, note the cups above and the condiments, chopsticks, matcha (green tea) makings on the table.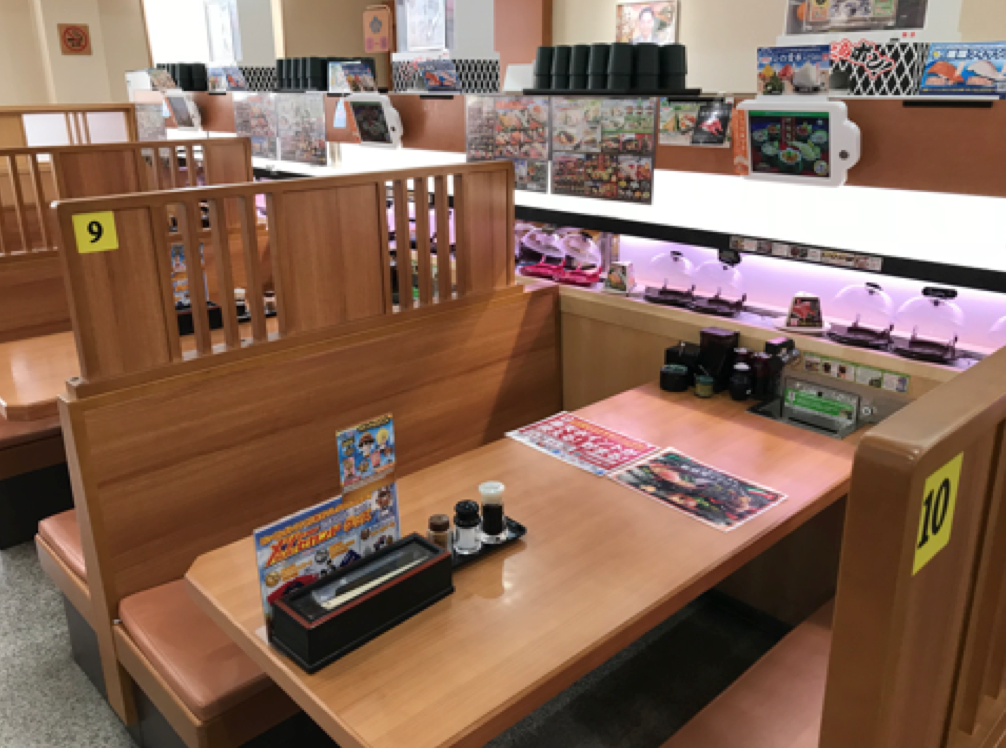 AUTOMATION WITH A HUMAN TOUCH
While I've never been to the back of the restaurant (I'm going to see if I can get a tour when I return to Japan in February to prepare for the next Japan Study Trip I'm leading in May), Kura Sushi shows on their website that they use a combination of humans and robots to prepare the food ("autonomization" – automation with a human touch).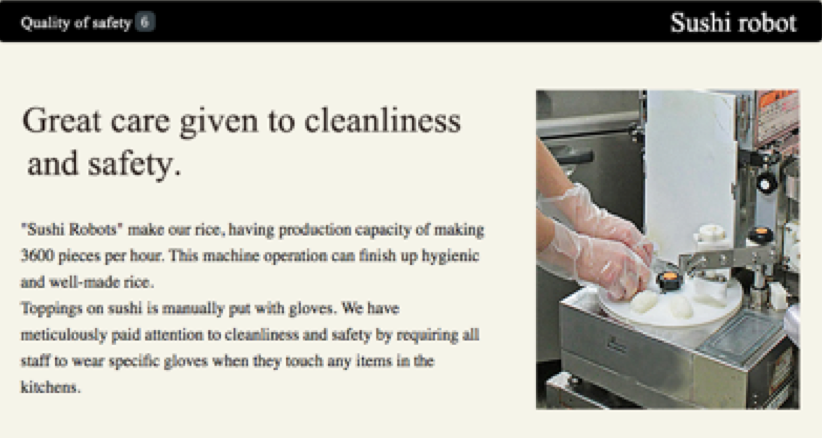 A MIX OF "PULL" AND "PUSH" (OR WHAT OTHERS MIGHT CALL FIXED AND FLEXIBLE)
Customers obtain food and specialty drinks in two separate ways. The first, which might be called "pull", or make on demand, happens when customers order through the computer system at their table. You can browse through the computer screens that show photos of the different food and drink options, and with a few touches submit your order directly to the kitchen. No server is required to take your order.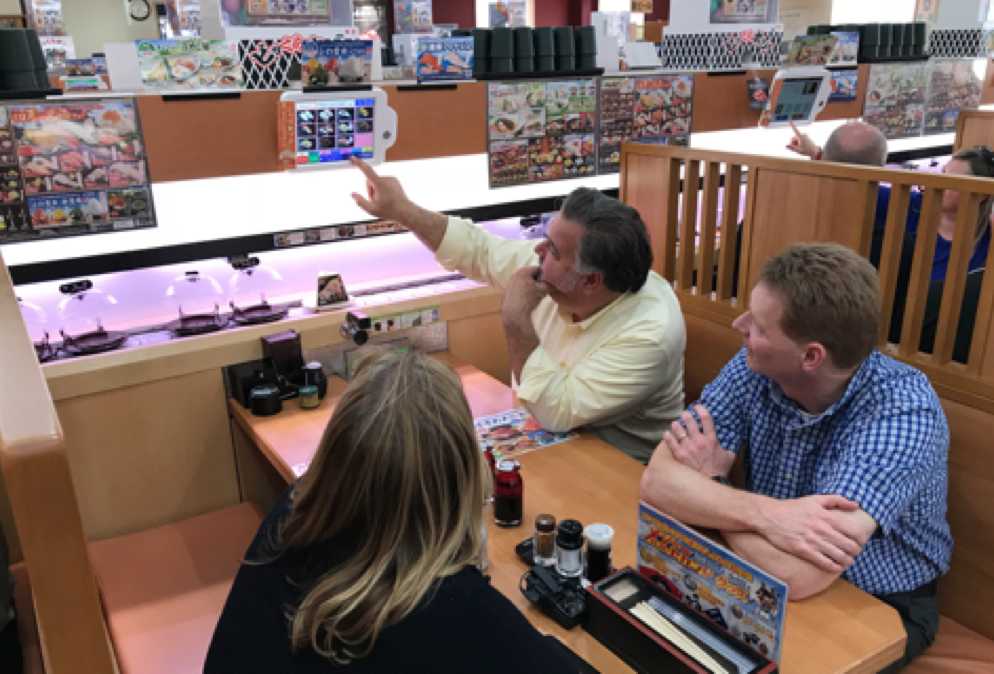 The kitchen manages WIP by limiting the amount of new orders the system will accept at any one time. The computer at your table will alert you with a message to "wait" until more capacity is available, and then let you know when new orders are being accepted.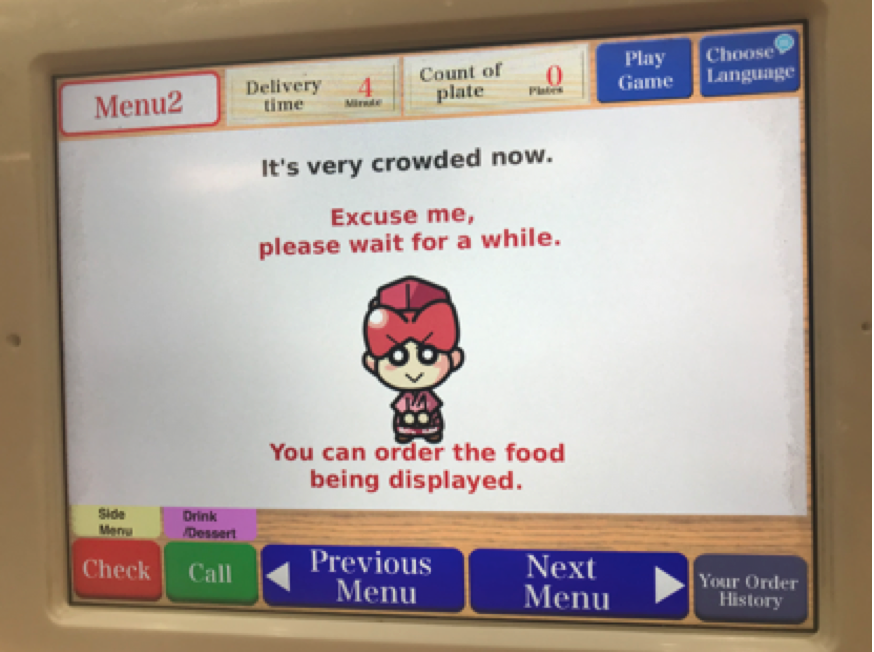 When your food is ready, it is zipped out to you on the conveyor belt, right exactly to your table, announced by gaming music and your table's computer. Pretty cool! And way better than anything I've seen at a sushi boat restaurant!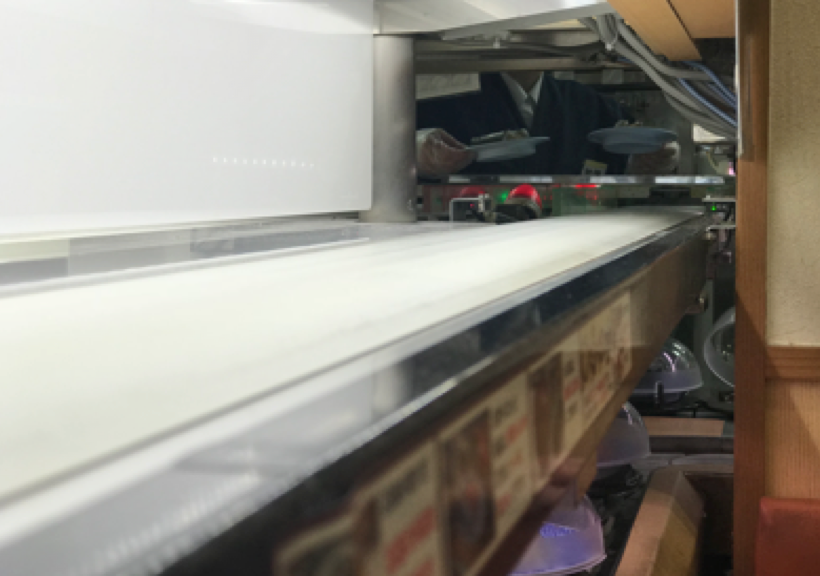 The other method is akin to a push system, in which you collect pre-prepared plates off the moving conveyor belt on a lower level, similar to a sushi boat restaurant. Dome-shaped covers protect the food as the plates circle the restaurant. Note in the picture below that the restaurant has the flexibilty to shorten the route if fewer customers are in the restaurant by shortening the distance the food travels with these movable plastic guiders.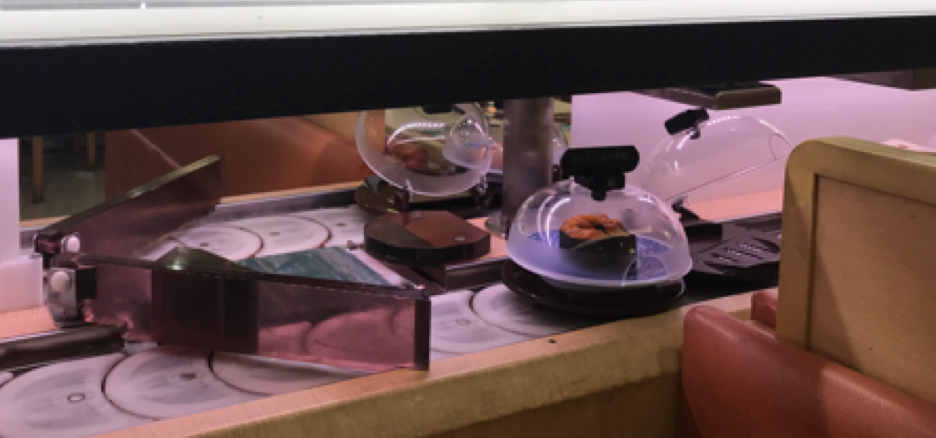 REDUCE WASTE BY UNDERSTANDING DEMAND
I've always wondered how long sushi has been going round and round at sushi boat restaurants? When does it expire? And how much wasted food is produced each day?
The concept of "mottanai", or deep regret of waste, is one deeply ingrained in Japanese people at an early age. For example, in Japanese schools like the one we visit on the Japan Lean Study Trip, children are taught not to serve themselves more than they can eat and to not produce more than demand.
After my first visit to Kura Sushi, I learned that the company deeply understands customer demand through studying data from bar codes on deposited plates to understand common customer usage and to plan for how much of each plate to pre-make.
POKAYOKE: MISTAKE-PROOFING FOR CUSTOMERS
There are several mistake proofing elements in place for customers.
For example, the soy sauce dispenser has a push button on top. With one push, perfect amount of soy sauce is dispensed for one piece of sushi. It makes it harder to make a mess or waste soy sauce or ruining your food.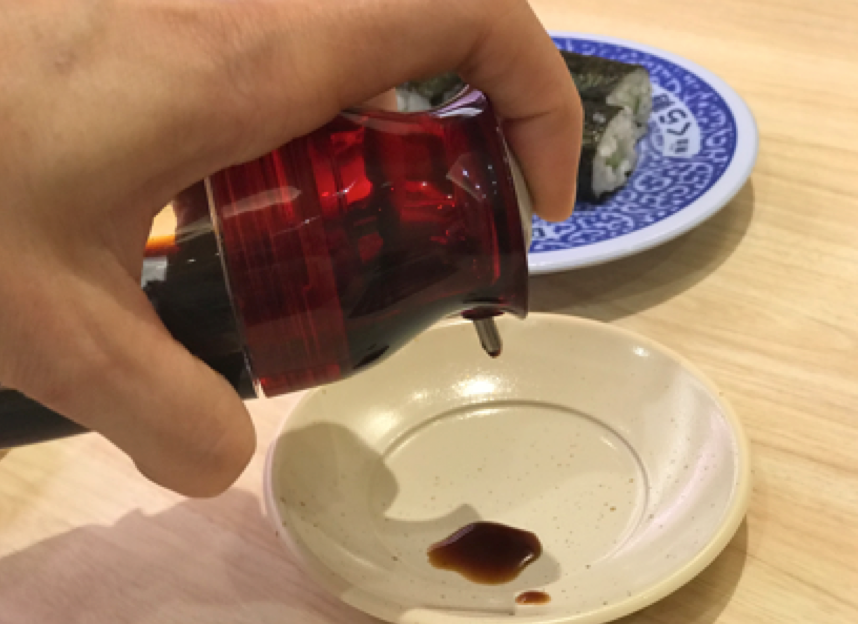 The visual display of menu options also helps reduce any errors in ordering. However, there was one fail in the process when I took my children on an excursion to city of Kanazawa, where fewer foreign tourists visit. Every other Kura Sushi restaurant that I'd been too had an option for English on the computer. However, not in Kanazawa! I was surprised, as it would be easy to have the computer program with the English menu. But still with the highly visual menu I was able to order mostly what we wanted, though mango juice looks very similar to orange juice much to my 7 year old's dismay.
ONE-PIECE FLOW FOR DIRTY PLATES
When you are finished with a plate, you deposit it down a shoot at your table. The plate is not only counted via bar code to add to your bill (and give data to understand demand), but the plate is automatically conveyed via an automated delivery system under the conveyor belts to the back of the restaurant to be washed. This eliminates plates from stacking up on the table, and helps prevents messes.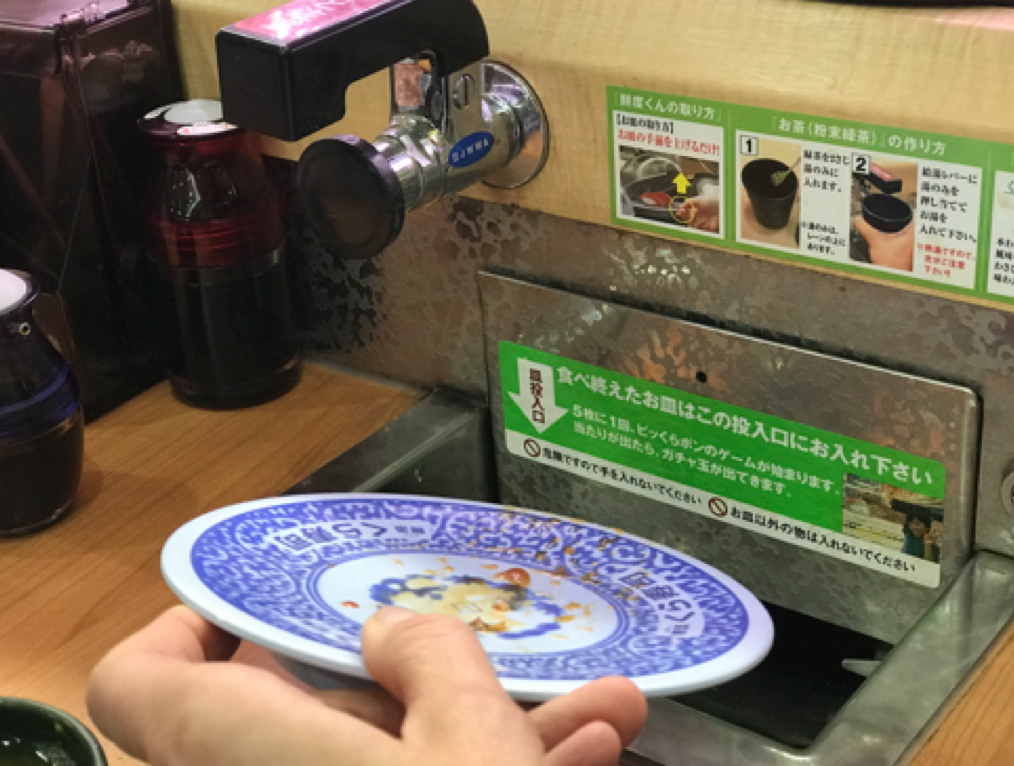 LEARN MORE
You can read more about Kura Sushi's philosophy and approach to providing fun, quality, fast food on their website (use Google translate if needed). They continue to innovate and have over 40 patents for their food preparation and devliery processes!
I'm sure there are many more lean principles in action – especially as I've never seen the back of the restauant! I'll be looking out for them (and maybe I can sneak a peak to the back) when I return to Japan in February to prepare for the next Japan Study Trip, or better yet, join me in Japan in May and experience "Lean" sushi for yourself!
Post-script: While writing this article I found out that Kura Sushi has established some restaurants in the US, one within 45 min of my house. I want to check it out to see how the process and food quality compares to Japan. Although, despite a good effort, I haven't yet found any Japanese food in the U.S. that compares with the quality direct in Japan!