Sometimes you get breakthrough insights by looking in unexpected places.
I recently visited Saskatchewan looking for a Canadian healthcare example for my keynote talk at the recent AME (Association for Manufacturing Excellence) Conference in Toronto. I heard there were good things going on there led by Dan Florizone, a charismatic hospital CEO who was one of the first visitors to Virginia Mason Hospital in Seattle. He inspired other local hospitals to follow his example and was quickly called to become the Deputy Minister for Health (the top civil servant) for the Saskatchewan Provincial Government. Saskatchewan has about a million residents, which makes it a great place to do experiments.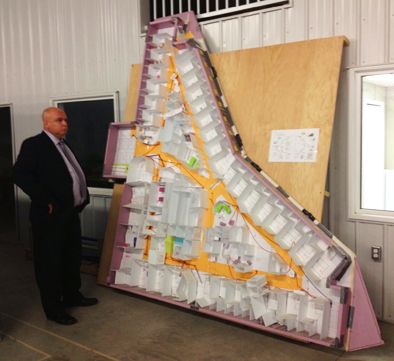 Florizone's next step was to establish a Province wide Hoshin to involve everyone from the top to the bottom of their healthcare system, which is now in its third year. When I got there they were into the next step on their lean journey, designing three new hospitals from scratch using 3P. They brought three groups of patients and hospital staff together in a warehouse to map the flows through the hospital and come up with the most efficient layout and build full-size cardboard mock-ups of the different room layouts. The architects and contractors were there only to observe until the final layout was agreed upon! Then they worked as partners to design and build each hospital in record time. We drove past the hospital being built in Moose Jaw and it is striking how much smaller it is than similar hospitals elsewhere. This will deliver big savings in both capital and running costs. If you watch the excellent videos of their 3P exercise you'll get the spirit of what they are doing.
Here's the surprise. Two months before I arrived Florizone moved to become Deputy Minister for Education and Deputy Minister for Lean across Government in Saskatchewan. (He must be the first Lean Minister anywhere on the globe!) He took me to see the Province wide Hoshin outside the Premier's office in their rather splendid parliament building in Regina. The interesting thing is that this Hoshin is not organized by Ministry but rather around key policy objectives, like reducing violent crime, healthy weights, early years, aboriginal attainment, etc. Below that are the contributions of each Ministry to achieving these objectives. This is the first initiative I have ever seen at really joined-up government.
And it's not just at the top. I also met Dale McFee, a former Police Chief who is now the Deputy Minister for Corrections and Policing. He described the local action teams he set up across the Province to bring all the agencies together several times a week to review and act on local problems. These teams are able to focus help quickly and address the underlying problems of the few households that account for much of the petty crimes, absences from school, emergency admissions, etc.
Inspired by what I had seen in Saskatchewan I invited Dan Florizone to join me as a surprise guest on stage during my AME talk in Toronto. It was a great success. You can see and feel his positive energy watching the talk (as well as hear lessons from lean healthcare in Florence, Italy, and the UK). Dozens of people came up to me afterwards to tell me his appearance had given them hope that Lean might after all be possible in government! Two weeks later I invited representatives Solihull Metropolitan Council in the UK to describe their lean journey to UK Lean Summit attendees. They also serve just under a million citizens. They told a great story describing how they engaged staff to realize their work was about improving the lives of their citizens rather than simply "leaning" their services. The reaction of the audience was exactly the same as in Toronto: "This gives us hope that Lean can be done in government."
I get a real sense that Lean is about to take off in local and city government around the world, just as it did in healthcare ten years ago. We already have many pioneering experiments in place. The inspiration that will give this movement momentum is learning how to truly involve citizens and mobilize the activities that will truly improve their lives, rather than seeing Lean simply as a way of delivering services more efficiently. This in turn opens up many new opportunities for building truly connected, lean communities in the decade ahead. Exciting stuff and a certainly a new lean frontier!
Virtual Lean Learning Experience (VLX)
A continuing education service offering the latest in lean leadership and management.