Fresh food was hard to come by in Seattle's Delridge neighborhood before a co-op started offering produce boxes during the pandemic. Delridge is a diverse section of Seattle that the federal government has classified as a "food desert" because it lacks nearby access to a grocery store.

Lean 'n Food: Reimagining the Food Industry is an occasional series that reveals how business leaders are transforming an industry sector with lean thinking & practice.
Read other recent Lean 'n Food Posts:
– Reach for Your Mind Before Your Wallet
– Rethinking the Retail Food Industry
– Planning the Purposeful Turnaround
– Reimagining an Industry in Crisis The Delridge Grocery Co-op (DGC) member-owners had intended to open a walk-in store in April, but the pandemic put those plans on hold. Thanks to some fast thinking by the co-op's all-volunteer team, DGC now offers pickup and curbside delivery. Using a value–stream mapping process, the volunteers established a step-by-step workflow to safely package and distribute food boxes to customers. Every Saturday, sidewalk markers show customers where to pick up their online orders at the DGC site.
The all-volunteer team now serves 40 customers every half hour, far exceeding its initial goal of 18 boxes, in addition to delivering about 50 boxes a week.
Here's how DGC volunteers applied lean practices to turn a food desert into an oasis during an extremely challenging time.
Putting Safety First
The co-op's primary mission is to provide greater access to healthy, affordable food and to be seen in the community as a valuable resource that reflects the heart of Delridge. With that purpose in mind, the core team began brainstorming alternative plans to use the retail space. The team members first identified the problems they needed to solve, which included:
Understanding

demand:

The team sent a survey to

145 people who said they would

purchase a

co-op

produce box

.

Seventy percent indicated they preferred

curbside

pickup

,

and 30%

said

delivery

.

How to

safely

serve customers:

It

's

challenging under normal circumstances to

recruit and motivate a steady stream of

volunteer

labor.

The virus created even more uncertainty about the available labor pool.

To attract and retain volunteers, the

DGC

team came up with

a

plan

to minimize contact.

Building a

production plan:

Once the team

members i

dentified

the two

pain points to address

,

it

aligned

on

a

set of

principles

to minimize contact

and then designed work to support each goal.

Some of the

critical

primary principles include

d

no congregating, no person-to-person hand

–

offs

,

and

achieving

the shortest lead time possible.
The Delridge Grocery Co-op Workflow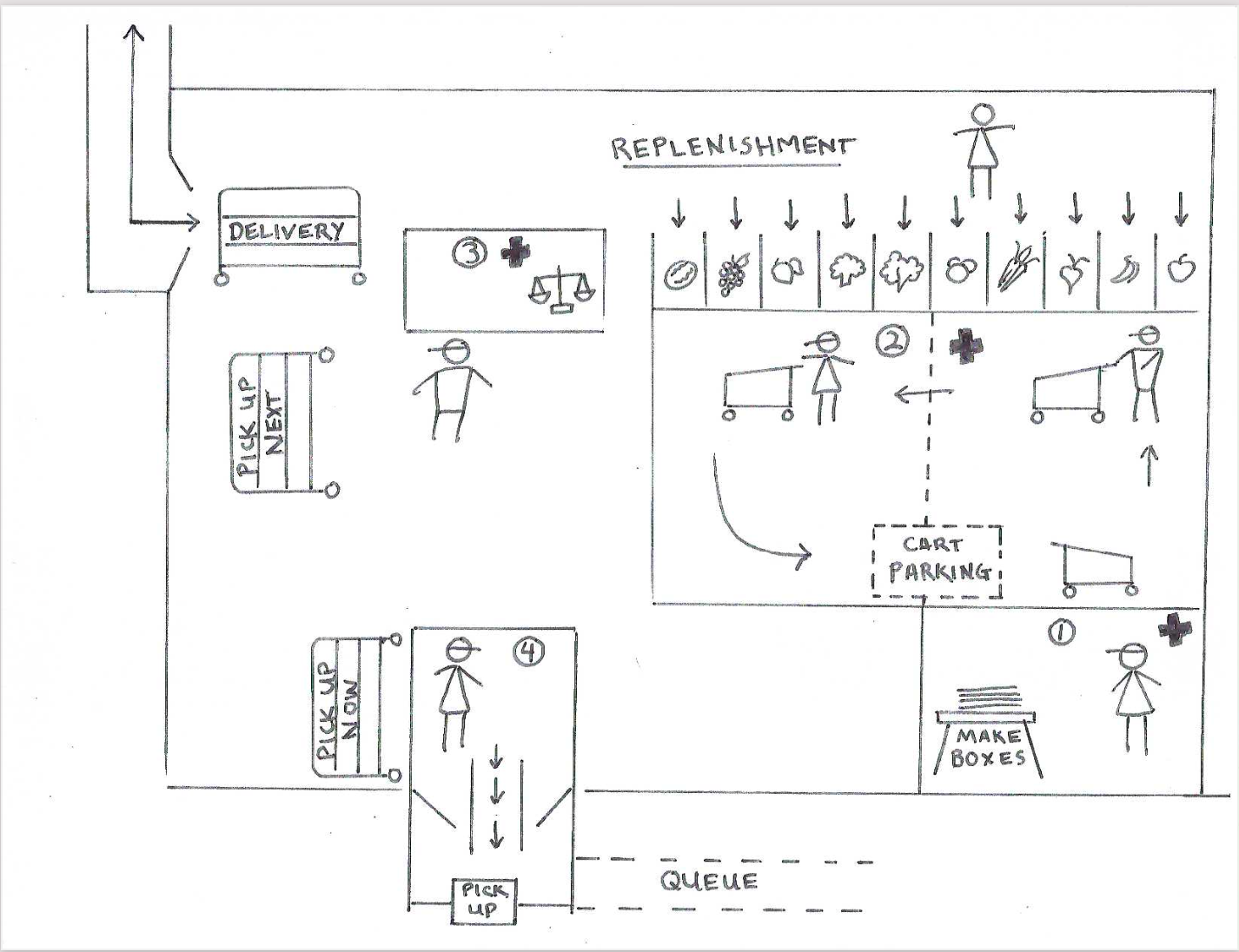 The team brainstormed a step-by-step workflow from the customer order to production/packaging to delivery. Three weeks later, DGC launched its pickup and delivery service. The process begins when customers place an order online and reserve a 30-minute pickup or delivery window for a pre-made Essentials Box, which includes a variety of organic fruits and vegetables.
To ensure proper social distancing, the team decided that no more than 10 volunteers should work at any given time. They established visual markers for 6-foot spaced work areas. The team also designated travel lanes with only one person allowed in each marked area at any given time.

Volunteers for the Delridge Grocery Co-op, from left to right: Angen Schmitz, Marketing/Customer Relations/Delivery; Brent Curtis, Produce Essentials core team member; Kate Knappert, Board president; and Seth McComber, Produce Essentials core team member.
Volunteers use shopping carts to move the box from the beginning of the assembly line to the end. The cart serves as the signal. Workers know to build the next box when they see an empty cart in their workstation, which helps avoid overproduction.
Volunteers, wearing gloves and masks, pack one box at a time to avoid congestion in the work area. The carts move to a packaging line where a volunteer fills each box in sequence, with bins designating each type of produce and the quantity that goes into the box. Another volunteer on the opposite side of the line replenishes each container. The team initially established a demand rate of 18 boxes every 30 minutes, a takt time of one box every 100 seconds, to support the safety principle of no congregating. The box then moves to final packaging and is sent in one direction for the delivery driver to grab and the other direction for customer pickup. The delivery driver drops packages off at the customers' homes.
For walk-up customers, six-foot–spaced visual markers on the sidewalk designate where they stand for pickup. Once a customer checks in, a volunteer brings a box from inside the store and drops it off on a table, allowing them to pick up their order without contacting the staff.

Learning on the Go
The DGC volunteers continually monitored their performance and sought ways to boost productivity and safety. Some of the key achievements implemented after continuous–improvement events and volunteer suggestions include the following:
About the DGC Co-op Core Team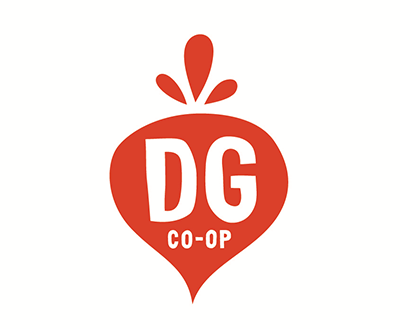 The Delridge Grocery Co-op comprises an all-volunteer board of directors and a core team of 14 people. A team dubbed the Produce Essentials Working Team led the effort to create its pickup and curbside delivery during the pandemic.
The core group of volunteers dedicate approximately 16 hours each week to deliver Produce Essentials Boxes to more than 100 customers each Saturday. Additionally, a consistent group of about 70 volunteers rotates in each Saturday to pack the boxes, dedicating a total of 600 volunteer hours since June 2020.
On the first day of production, the team beat

its target takt time by 20 seconds

using eight volunteers

and eventually reduced it to 45 seconds using just five volunteers.

Increasing the number of customer pickups to

40

packages

every 30 minutes

a

fter conducting a

weekly plan-do-check-act of work processes and measuring customer arrival rates

Use

of signals

to prevent overproduction

and

ensure the

team prepares the

right box at the right

time
The volunteers also came up with and implemented other time-saving ideas:
Switching to paper-based tape to seal boxes rather than plastic tape, which

is

cumbersome

to handle while wearing gloves.

Identifying

no-cost ways to elevate the boxes inside the shopping carts to minimize strain on volunteers' shoulders.
Many of these ideas come from daily production-team huddles and weekly core-team meetings, where the group discusses any documented struggles. Among other goals, the DGC team aims to implement one improvement idea each week and review the results the following week.
Looking ahead, DGC team members are thinking about ways to increase the number of reservation spots per 30-minute window to sell more boxes or shorten total lead time. Every stride the team makes in the production process helps them increase the amount of fresh food available in the Delridge neighborhood without sacrificing the safety of the community or the volunteers who serve them.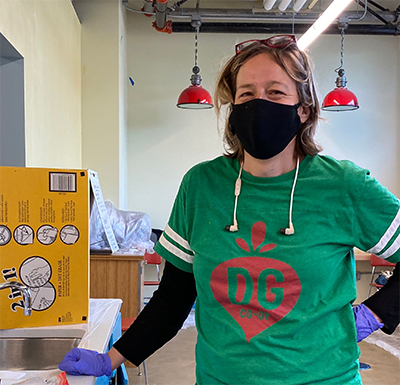 Meet Lara Anderson, one of several LEI lean coaches who stands ready to design an education and coaching program that meets your needs precisely. With our customized coaching and learning experiences, an LEI coach will guide your team through the practical application of lean principles and practices, helping them learn as they address a real and meaningful business objective. Schedule time today to talk with a lean coach.
Or learn more and register for LEI's new workshop, Learning to See Using Value Stream Mapping, a go-at-your-own-pace, web-based course based on the innovative information in the landmark Learning to See workbook, which introduced value-stream mapping to the world.