In the great Midwest, two organizations are dedicated to two very different lean transformations.
Cardinal Health (in Dublin, Ohio) and University of Michigan Health System (in Ann Arbor, Michigan) are two of LEI's "Co-Learning Partners." For several years now at LEI, we have partnered with a select group of such companies by supporting them in jointly conducting lean learning experiments.
All Co-Learning Partners have certain things in common:
A demonstrated executive commitment to lean transformations
An enthusiasm for collaborative learning where the work is actually done
A willingness to share their results among themselves, with us, with other co-learning partners, and with the global lean community
Under the Cardinal Health partnership, we've worked with them to create what's known as their Lean Leader program – a 15-month learning program designed to teach organization leaders A3 thinking.
Leaders begin with a small problem to solve and progress to tackling an enterprise-wide problem they need to solve with their peers, linking it to larger organizational strategy. With a mix of targeted learning and workshops, these leaders have spent the last 15 months learning and practicing lean thinking with both internal teammates and lean leaders and practitioners from other co-learning partners.
In April 2015, as part of a 2-day capstone learning event for Cardinal Health, we brought the newest wave of Lean Leader graduates together to visit various gembas to see examples of other companies undergoing lean transformations. With proximity to Ohio and some key relationships in mind, the team headed for southern Michigan.
The first stop on the journey was a trip to a less than truckload motor carrier. We visited not only for the opportunity to benchmark, but to witness firsthand another organization's commitment to making things better using lean thinking.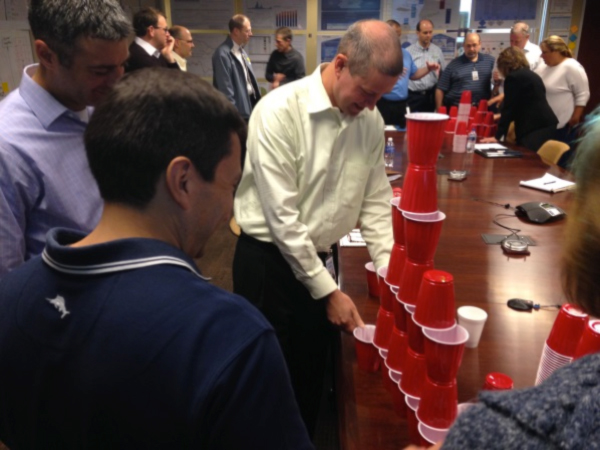 During what we thought was an ice breaker, their "VP of lean" divided the group in half and asked them to build the tallest tower out of cups. As people built towers, it was clear that one of the groups made the effort to ask the customer if there were any desired specs. Sure enough, the customer gave them the job instruction on how to build the tower. (Customer first thinking!) While this activity was fun and silly, it was clear how important connecting with the customer is to their operations. During the remainder of the morning, our whole group walked through this company's obeya room, learning about the five top priorities of the company, and how the work of each team supports these priorities.
Later in the day, we visited a company we know to be committed to customer first thinking and empowerment of front line staff to solve problems. This company focuses on cuisine and food products, not healthcare and medical supplies like Cardinal Health, but both have similar logistical challenges.
We began by walking through the company's mail order facility looking for system flexibility, a culture of learning (4 hours formal learning, 2 hours teaching per month!), and demonstrated teamwork.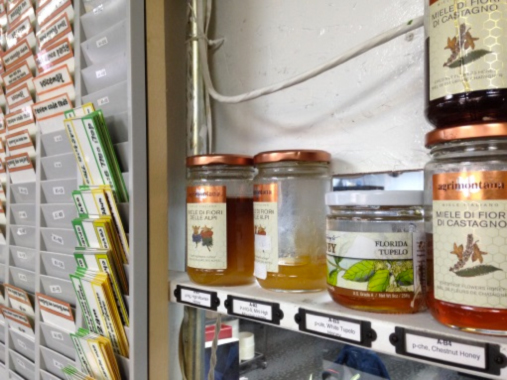 When the group visited the call center within the Mail Order Facility, the team saw in action how the company brings the lean principle of "go and see" to answering phones. For example, when a customer calls to inquire about a jar of jam, the operator can walk a customer through product specs, clearly naming the look of the jar, and then tasting the product by having the products showcased in the room, without ever putting the customer on hold or calling them back.
One of the biggest "a-ha" moments for everyone was how this company split up the work of those folks who work in the call center. Instead of evenly distributing calls that come in, they load up the first operator, and appoint a backup team member for when operator 1 becomes overloaded with calls. This "hot seat" position rotates every 2 hours as to not overwhelm any one individual. When you're not in the hot seat, there are offline tasks you can take care of as part of the entire team's daily work.
Why break up the work this way? The company couldn't really know call volume or individual staff capacity when they had spread out all the work. This gives them a baseline to work from and improve upon. Upon reflection, the Cardinal Health team spoke about learning to load up their pickers (instead of evenly distributing the work) and that giving full work (completed within takt time) makes waste visible and provides a target for kaizen.

Finally, the day finished up with a visit from Dr. Jack Billi, the Associate Vice President for Medical Affairs at the University of Michigan Health System (UMHS). As part of the Co-Learning Partners program, Dr. Jack Billi has been the cornerstone with the UMHS partnership. With the Cardinal Health group, he discussed the triumphs and challenges of the organization's lean learning efforts over the past few years of their lean journey. He spoke openly about when training negated just-in-time efforts, ultimately resulting in training that wasn't needed or was given too early (which meant people eventually needed re-training). He also noted the deep engagement from top leaders at UMHS and their commitment to patient-centered care and bettering the patient experience.
The next day began right at UMHS' Gemba so co-learning partners could see the improvement activity going on with regard to on patient flow within the adult and children's emergency departments. The team first noticed careful visual communication UMHS provides to patients. For example, three identical signs that say, "You are now leaving the Cardiovascular Center," as studies show you need to see something three times to truly register the message.
Next, the team checked out one of UMHS' medical supply closets. Paired up with the warehouse manager, the Educational Nurse Specialist walked the team through their 2-bin system, complete with an orange kanban type tag which alerts the tech when product should be ordered from the warehouse. This is meant to minimize the quantity of supplies on the floor, creating a FIFO (first in, first out) system and maximizing valuable patient care space. As medical supplies and logistics are the forte of Cardinal Health, instead of moving the paper kanban to the second bin (creating extra work), the two teams discussed to let the bin be the kanban!
At the conclusion of the day, we reconvened the Cardinal Health group to debrief on the last two days of gemba visits and their lean leader program as a whole. After seeing multiple industries and approaches, the team noted the pros and cons of using an obeya room and system flexibility (amongst other tools and methods), and how they related these to their own lean transformation.
Like their peers at UMHS, A3s are fundamentals for problem solving and are something that they now will be expected to teach "up, down, and sideways." But how to cascade improvement and spread faster without risking consistency? Is the organic approach of creating problem solvers the best method? Or is the idea of a model line/site a better approach?
For Chris Dillinger, Director of Operational Excellence at Cardinal Health, he says much of the focus now on alignment: "Cardinal Health continues to align itself to better serve our customers. With our laser focus on continuous improvement and with programs like Lean Leaders to leverage our talent, we are set up for success as the future of healthcare evolves."
One of the biggest lessons he's learned? "Experience has taught us that lean transformations require internal lean leaders to drive and sustain benefits. Having these resources are essential in keeping us well-positioned to be successful today and in the days to come." And in the meantime, the Cardinal Health team heads back to Dublin, Ohio – A3s in hand, ready to help create the next wave of Lean Leaders.