Dear Gemba Coach,
I've been offered the job of a lean director in an industrial group. The offer sounds very attractive, and they tell me they're serious about lean. But I've been burned before. What should I look for?
Ouch – tough one. When people tell you they're serious, they usually mean it. But do they mean it?
This is very hard to know by meeting with them or even by going to the gemba. The current attitude of people or state of the workplace doesn't help because leaders are hiring you precisely because they want to change that. In the old days, I remember some senseis who would start with "first clear up the shop" and test you on 5S for years before getting serious, but that's just not practical.Leaders' favored skills are taking decisions, getting people to do stuff, and then dodging political bullets when stuff hits the fan. Lean is all about building one's success by helping others forward, recognizing them, and developing them. 
I still don't quite know how to figure this one out mostly because the people asking for help don't know themselves. Over the years, I've learned to try and test two fundamental attitudinal assumptions:
Intent: Do they really want to win or do they just want to stay in the game?
Open-mindedness: Are they really ready to change or just looking for alibi activities not to change?
Intent really matters. Wanting to win means having some idea of what success would look like – product, service, growth, profitability, selling the company. It also means taking total responsibility for the current state. Yes, sometimes (often) the tides are contrary. Yes, we don't have the right people in the company. Yes, markets are evolving in unpleasant ways. Still, wanting to win means accepting that we are being challenged by society and asking oneself: What do we need to change in order to benefit from these challenges.
Are They Really Ready?
And then are they ready to change? Change is fun, but change is hard. Habits are habits. We all know we have bad habit that we'd like to change (but can't seem to) and good habits we want to nurture – but we often don't know which are which. The main problem for senior leaders is that what got them here won't get them there. A cute baby doesn't make a nice kid, or a popular teenager, pleasant young adult, good parent, successful middle-ager or wise senior. The qualities that make you good at one stage can just as well hinder you at the next.
Leaders get to be leaders mostly because they take charge and get things done. Their favored skills are taking decisions, getting people to do stuff, and then dodging political bullets when stuff hits the fan. Lean is, by contrast, all about building one's success by helping others forward,  recognizing them, and developing them. You don't do things to people, you do things with people – which is quite a large change.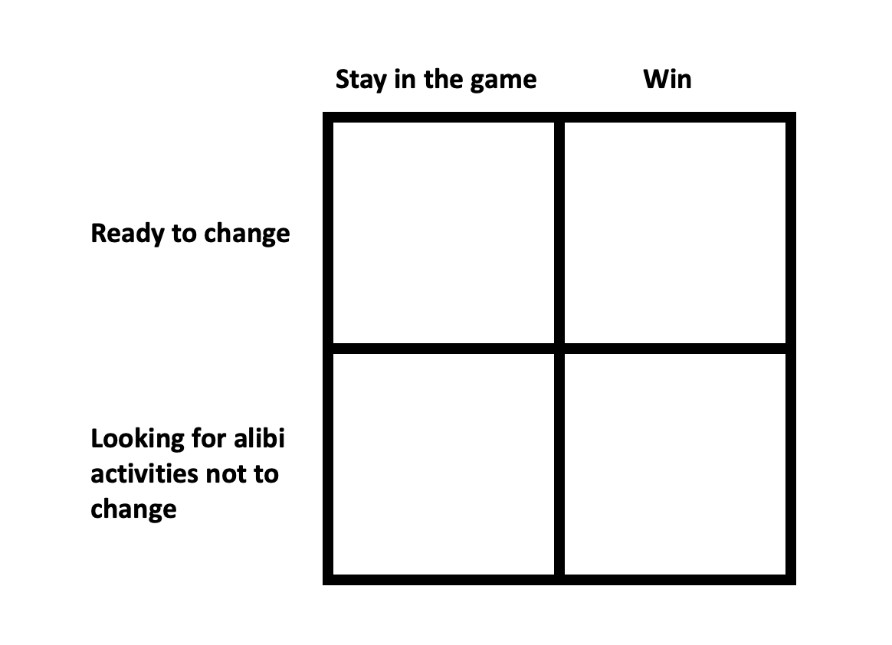 Mind the Scenarios
Most people will tell you they want to win at the competitive game, but when you push them on it, they have no clear idea of what "winning" means. They just want to stay where they are and not lose ground.
Most people will tell you they're ready to change but when you test them on any real change, such as going to the gemba, listening to unfavorable information, or having sincere conversations about testing assumptions, they revert to controlling the conversation to avoid considering real change and bring you back to the activities they had in mind in the first place: doing stuff that shows they mean to do something but without really challenging the operating system.
You end up with four different scenarios:
Want to win, ready to change: This is going to work and be fun because all the lean tools are about exploring with the people on the ground what needs to be changed to win and getting them on-board with what the job is and how we get it done together.
Stay in the game, ready to change: Real, interesting changes will happen but chances are they won't stick because the will to sustain and keep challenging over the long terms won't be there so one change will come after another but revert to what it was before when circumstances are adverse. Interesting, but overall frustrating.
Stay in the game, looking for alibi activities: This is an easy one; it's what most lean programs are. You can have a company-wide program with 1/ value-stream mapping wall-to-wall, 2/ kaizen group activities to eliminate spot waste and 3/ team daily huddle, briefs, 5-minute meetings (call them what you will) and everyone will be very happy.
Win and looking for alibi activities not to change: This is a dangerous one – don't go there.
 In the end, your own motivations and aspirations matter just as much as theirs. Which scenario are you looking for?
The win/change scenario is fun, but a tough climb and means that you must be wanting to win and willing to change as well. In practice, this means understanding that your relationship with the leadership team is essential to success, and as in any relationship you will have to adapt to build rapport and find common ground.
I am sorry to say I really don't know how to help with that question. The only advice I'd have is to listen to your feelings about them – trust your right brain. It probably picks up stuff your left brain is trying to leave out in the attempt to rationalize your decision. In the end, it will come down to one simple, but hard question: do you feel safe with them? Will they feel safe with you?