You may have seen Mark Reich's piece on hoshin at LEI recently as well as Josh Howell's post last week on developing and sharing LEI's Lean Transformation Model (an LEI hoshin item he's been responsible for in 2014, going into 2015). This piece picks up where they left off.
In 2014, I headed up team responsible for the hoshin item dedicated to "Defining the new LEI customer – who they are and what they need." Our customer is part of everything we do, but defining them and their needs… well, it's like describing the air you breathe in great detail. It requires stepping back from the day-to-day work and slowing down to think about who exactly our customer is now, if and how they've changed, and how they're using our products and services. It requires research.
After building a cross-functional team, we gathered to define what we even meant by customer. There were several things to consider. First, we had to remind ourselves that we are actually not our customer and we need to look at things from their point at all times. We also had to decide if we want to acknowledge the difference between consumer and customer, as each has unique needs. A customer is the person who purchases your products, a consumer is the person who uses your products.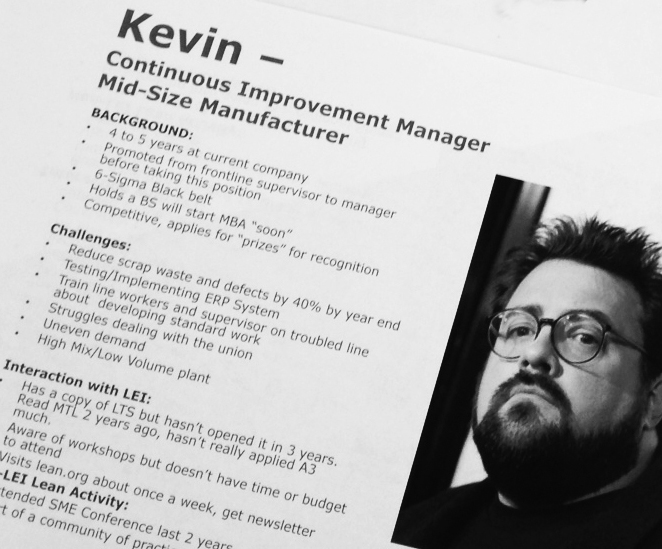 We explored various options, and looked at what has been done in the past. We looked at the project as a whole and grasped the situation. After much fact finding and discussion, we developed new customer personas. Using a personas exercise similar to Menlo Innovations' (as described in Lean Product and Process Development 2nd ed), we started to develop 5 personas, which evolved to 7.
We built them buy looking at our customer data base and finding matching criteria, mostly around industry, and role within the company. We started by sharing what we knew about them from data and from everyday interactions and experience over time. What we found was that we knew quite a bit about our customers, but had never had a consistent, reliable process to make the best use of this knowledge across the organization. Both the activity of persona building and the discussion around the activity led to many "ah-a" moments.
Then we needed to confirm that our personas were accurate. This involved calling some of our customers and asking them questions, mostly to prove or disprove our theories. This is where we are now. Our next step will be to create "in-house" representatives for these personas who will champion the needs of that persona in LEI activities such as product and content development. In parallel with these activities we are developing customer cards. The cards are essentially baseball cards that will be kept at our desks for quick reference and a constant reminder of our customer.
If I had to summarize everything we've learned from this hoshin it is that we already knew quite a bit, but we didn't have an up-to-date process to download what we know about our customer and let it inform everything we do. In addition to our primary audiences – the lean executive, lean manager, and CI professional – we realized there are many "lone wolf" lean people in organizations who feel like they are the only person trying to gain traction on lean problem solving and improvement activities. We also have a ton of "newbies" to Lean who think it's about counting the seconds or increasing output as opposed to culture change. The list of learnings is long, so we've got a lot more work to do.
This hoshin is carrying over into 2015 as part of a the new hoshin, Define and Execute an LEI-wide Product and Service Strategy. Continuing to learn about our customer and keeping the customer's point of view in everything we do is the cornerstone of this strategy.
Have our learning activities in 2014 created value for our customer? Tell us what you think! Are you getting what you need from LEI to do your job better, to make things better for your organization and team? Tell us in the comments.