Part three of a three-part series on Developing a Lean Quoting Process. For why and how to set up this new approach to quoting, read the first two parts:
Part 1: "Why a Lean Transformation Requires a New Quoting Process," which introduces the need for a unique quoting process that will allow you to quote faster and redirect your quoting team's efforts toward the few key quotes that will increase your company's profits.
Part 2: "Creating a Lean Quoting Process to Support Your Lean Transformation," which details the part of the process that moves most quotes quickly through to completion.
**********
You've decided to treat your lean transformation as a growth strategy (part one), and you've developed a lean quoting process that supports it (part two). In this process, you've created a filter that helps you respond to 95% of customer inquiries faster than the competition. This approach allows you to focus on the small handful of high-value opportunities. Here's how to handle those high-value quotes.
With a process in place to complete the vast majority of customer inquiries, your quoting team will have the time it needs to win the quotes that represent strategic opportunities that will drive exceptional growth.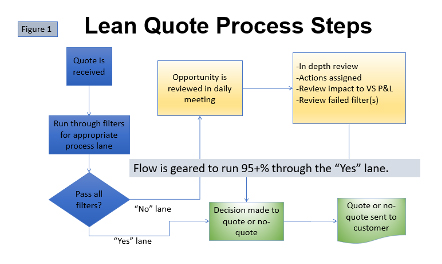 As shown in the flow chart above, any quote that fails a filter due to capability, capacity, material content, or strategic direction will go to the Daily Opportunity Review Board Meeting. This meeting should be held at a location where all functions of the value stream can come together to discuss these quote opportunities that will drive your sales and profits. The meeting enables you to push the value stream to a higher level by using lean accounting to take advantage of the gains you have made with your lean improvements.
This meeting needs to be a priority for all concerned, not just for the quote team. You want to have people representing the plant floor, the quote team, value stream engineering, the value stream leader, accounting, sales representatives, and occasional visits from the general manager, marketing, and continuous improvement. At this meeting, you'll discuss key and/or large quoting opportunities as a team, and the decisions made will be by the team.
The purpose of this cross-functional team is three-fold. First, when it comes to these strategic quotes, you need to hear all functions' concerns or issues, if any, about the quote. Second, with everyone attending these meetings regularly, you can get most of the answers right there at the meeting that the quote team would previously have to wait hours if not days or weeks to get an answer. Third, this is a great learning opportunity for all attendees. Everyone will learn more about the overall business and make better decisions because of what they learn at this meeting.
What this stand-up meeting setup could look like is shown below.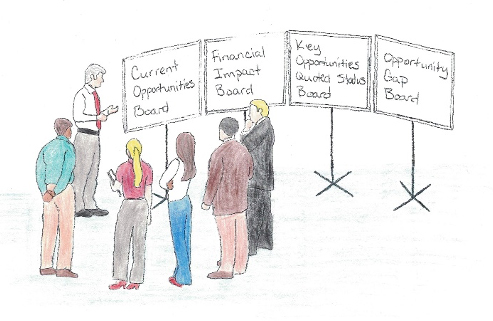 The key reason for a stand-up meeting is that you want the meeting to be fast and focused. If you allow folks to sit down, it will be easier for people to have side conversations and become a distraction to the meeting.
Note that there are four boards. They are the Current Opportunities, Financial Impact, Key Opportunities Quoted Status, and the Opportunity Gap Board. At the start, it will be best if the value stream leader runs the meeting, but after everyone is comfortable with the process, you should encourage others to take turns running the meeting.
How the boards work is as follows:
The Current Opportunities Board will have all quotes that failed a filter, and the final disposition has not been made. There will be critical data about the job being quoted, action items assigned with due dates, and any other pertinent comments. After deciding to quote or not quote, you take the opportunity off the board.
The Financial Impact Board is where you will review how strategic opportunities will impact the value stream profits using lean accounting. The board will contain the lean P&L for the value stream in question, other value streams, and the plant P&L. It will also show non-financial data to consider, such as impact to inventory, quality concerns, and how it affects your value stream capacity.
The Key Opportunities Quoted Board will be used to track the jobs you decided to quote and will stay there until the job is won or lost. Once a job is either won or lost, you take it off this board.
The Opportunity Gap Board is where you will document jobs you passed on because you lacked the capability or capacity to do the job. You will use this board in your annual or semi-annual value stream assessment to see where you can expand your core competencies and the potential sales level. It also helps marketing see where new opportunities may lie.
The first few meetings will be a bit awkward because most of these participants usually are not asked to share their thoughts and opinions on future business opportunities. But as you continue with these daily meetings, and encourage active participation, they will become more comfortable with the process and start interjecting their thoughts and opinions.
Each meeting should start with a review of the open quotes on the current opportunities board. Who had an action item, and was it completed? Are there any other issues/concerns that the group needs to address? Finally, are you ready to quote or decline to quote? If so, you assign any further action items, log them on the key opportunities quoted board, then move to the next existing quote.
When you have reviewed all existing quotes, you ask the team if there are any new jobs to bid. You gather the available information and post them on the board. (As your process matures, the owners of these opportunities may even prefill the board before the meeting.) While working on putting the critical information on the board, you will begin discussing the opportunity–items such as customer, market, size, application, any concerns, what data is missing, etc. You then ask what the next step is. Do you need to gather more data from the customer? Are there core competencies the group needs to review? Are there any material concerns about the job? Etc. You then determine the next step, assign it to an individual, and get a due date from the person responsible. Then you move on to the next new quote.
For large jobs, you will want to examine the impact on the value stream P&L using the financial impact board. Here you will fill in the changes that will occur within the value stream if you get the business. You will not use standard cost accounting data, but will use real numbers, including projected sales, material purchased (including scrap assumptions), and overtime, new hire, or capital equipment costs. Ideally, your lean efforts freed up enough of your quoting team's time to absorb it. Reviewing this data will tell you if you are helping or hurting your value stream or, if not helping the value stream, whether it will help the plant as a whole. After reviewing the impact on the financials, you can better decide if you want to pursue the job further. Once the job is either won or lost, remove it from this board. If won, you should have your new job process in place to take things from there.
Obviously, there is more detail about this process, but this gives you an overview of how you can creatively improve your quoting process to significantly improve your sales, while protecting your margins and how to do so without a standard cost system.